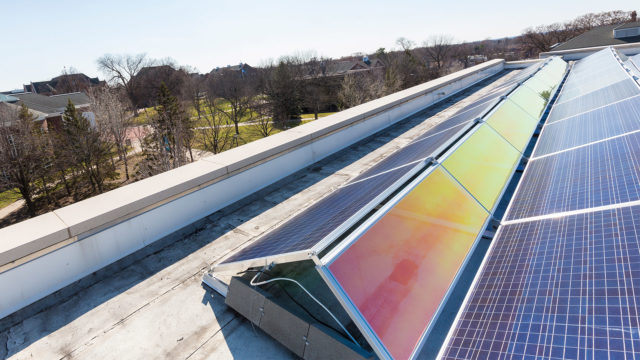 Today, the Macalester College Board of Trustees voted on and approved the following set of actions designed to decrease the college's impact on climate change. Today's vote was in response to recommendations from the student-led Fossil Free Macalester (FFM) and the college's Social Responsibility Committee (SRC). These recommendations have prompted substantive and sustained Board discussion. The full text of the Board's response to FFM and the SRC is below.
————————————————————————-
Response from the Macalester College Board of Trustees
to the Social Responsibility Committee
The Macalester College Board of Trustees has received a recommendation from the Social Responsibility Committee (SRC) to install a permanent ban on all future investments in private oil and gas partnerships.  These partnerships currently make up about 5 percent of the endowment of the college.
There is strong consensus on the Board that climate change is a defining issue of our time and is being worsened by human activity.  Both individuals and organizations, including Macalester, must do all they can to mitigate the impact of climate change through modifying their own behavior and through advocating for larger scale improvements in public policy.
The Board would like to thank both Fossil Free Macalester and the SRC for their recommendation, which has inspired a sustained period of careful thought about the college's sustainability practices and investment policies.
In lieu of adopting the SRC proposal, the Board will be taking the following actions.
(1) The Board has directed the Investment Committee, in its regular evaluation of investments, to approve new investments in private oil and gas partnerships only when the Investment Committee believes the investment is reasonably likely to result in a net reduction of greenhouse gas emissions. That is, rather than simply defining the conditions under which we would not invest, we are defining the conditions under which we would invest.
(2) The Board believes that the most profound impact Macalester can have on climate change is through its core work: educating students about the causes and effects of climate change and sending alumni into the world to create policies and practices that reduce those causes and effects.  It also believes that the college can most powerfully affect public perception of this issue by continuing to improve its own practices around sustainability:  we need to consume less energy by adjusting our individual and institutional behavior, including by reducing the carbon footprint of our own campus.
To that end, we have taken the following steps or will take them in the near future:
The campus sustainability function has been redesigned to bring this work more completely into our student experience. A Sustainability Director position has been created with a mandate to lead, create, and deliver integrated sustainability-related programming at Macalester. The director will help facilitate the expansion and integration of sustainability-related themes into the curriculum. In addition, this role will be charged with actively seeking ways to integrate the work of key co-curricular offices – Entrepreneurship, Civic Engagement Center, Career Exploration, Alumni Engagement Office – into purposeful programming that advances our students' understanding of the impacts of and approaches to this problem. This decision will take the sound foundation that we have built regarding sustainability and weave it more thoroughly into the full range of educational activities on campus. [Effective January 2020.]
We have studied all of the rooftops on campus to evaluate feasible additions to solar power generating capacity. At the October 4 meeting of the Finance Committee, an expenditure of funds to install solar panels on the roofs of the gymnasium and the natatorium was approved. This follows the successful installations in 2019 of solar arrays on the roof of the new Theater and Dance/Classroom building and on the roof of the research/residential building at the college's Katharine Ordway Natural History Study Area on the Mississippi River in Inver Grove Heights.
A commitment signed by the college in 2015 to access power from solar installations ("solar gardens") in Dakota County is now coming on line. As of today, the contracted sites are producing at an annual rate that is expected to reach about 20% of the college's annual consumption.
The college has invested a substantial sum in energy efficient building projects in the past six years, including the replacement of all of the windows in the Library, Old Main, and Carnegie Hall. An aggressive program of lighting replacement to install LED bulbs around the campus has lowered our energy consumption substantially in those locations. This program is ongoing as new opportunities are identified. The Facilities Services department will continue to propose steps to reduce our carbon footprint in the coming months and years.
(3) The Board has directed the college administration to develop what is known as an Environmental, Social, and Governance (ESG) policy that would be used to assess all future investments made by the college. Such a policy would measure the sustainability and ethical impact of any investment, as well as the governance and ethical practices of all our investment partners, and would be a comprehensive way to ensure that our investments are consistent with the mission and values of the college.  These guidelines would cover issues including, but not limited to, sustainability. An initial survey of managers regarding ESG practices has been completed.
(4) Macalester plans to join Climate Action 100+, a coalition of more than 360 active investors who have identified 161 of the largest contributors to GHG emissions. Their approach has two particularly attractive features:
Rather than exiting their investment positions with the target companies, the investors use their ownership position to advocate for policy and operational change in the company's operations with respect to climate change. In other words, this is a form of action characterized by principled engagement rather than simply withdrawal.
Some of the targeted companies are fossil fuel extractors, but the majority are greenhouse gas producers, including those who produce products that consume fossil fuels such as auto companies and airplane manufacturers, as well as retailers, airlines, and utilities who continue to utilize technologies that create large quantities of GHGs. In the end, it is those organizations who create products that consume fossil fuels or who have a scope of operation that contributes disproportionately to GHG production that can have the most positive impact on climate change through their actions and leadership.
A membership in this organization, which represents investors with more than $34 trillion in assets, would give us a limited seat at the table in these discussions, but it would also signal our interest in this form of action.
The Board believes that, taken together, these actions will bring Macalester's investment policies and institutional practices into closer alignment with our mission and will send a clear signal to our internal community and an external audience that we believe climate change to be a threat that must be confronted immediately and forcefully.