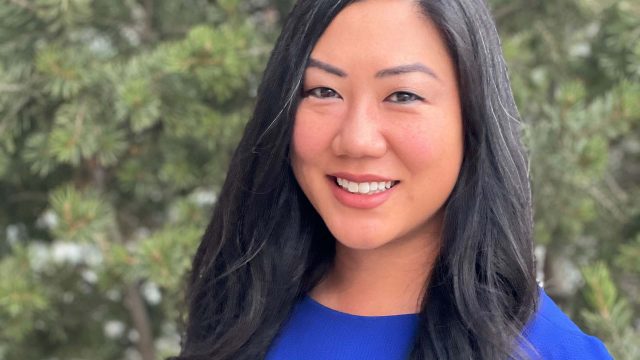 Today, Macalester College Executive Vice President and Provost Dr. Lisa Anderson-Levy announced that Dr. Kathryn Kay Coquemont will join the college as Associate Vice President for Student Affairs and Dean of Students beginning in January 2022. 
"What most impressed me about Dr. Coquemont is her ability to think strategically while listening closely to the needs of community members. I believe her deep passion for enriching  the student experience will contribute greatly to Macalester," said Dr. Anderson-Levy. 
Dr. Coquemont was chosen by the hiring committee for her expertise, her leadership supporting historically underrepresented students, and her experience collaborating closely with faculty. 
"I am thrilled that we will welcome Dr. Coquemont to Macalester. She brings a deep commitment to social justice; a wide range of experience in student affairs and higher education; a collaborative and strategic leadership style; and a tremendous interest in, and care and respect for, students" says Joan Ostrove, Chair of the AVP/DoS search committee.
Dr. Coquemont comes to Macalester most recently from Salt Lake City Community College (SLCC) where she was Associate Vice President for Student Success. Her responsibilities included: co-chairing a team of deans, faculty, and administrators to recreate general education course curriculum to include transition support, major exploration, and retention pedagogy through an equity-minded lens; overseeing the creation of the Dream Center, the Gender and Sexuality Student Resource Center, the institutional Land Acknowledgement, First-Gen Celebration, & Women's History Month programming; and creating a five-year strategic plan to increase grants serving first-generation, low-income students. 
A seasoned student affairs professional, Dr. Coquemont brings a wealth of experience in diversity, equity, and inclusion. At SLCC, she led institutional learning circles focused on anti-racism and co-chaired task forces for increased institutional support of Hispanic/Latinx and Asian American, Native American and Pacific Islander students. She also created and facilitated the professional development series Path of the J.E.D.I. (Justice, Equity, Diversity, & Inclusion) at SLCC, and received the 2017 President's Award from NODA, the Association for Orientation, Transition and Retention in Higher Education, for her leadership in creating an organizational infrastructure to prioritize diversity, equity, and inclusion through the creation of a Sr. Diversity Officer role and a standing DEI committee.
Prior to joining SLCC, Dr. Coquemont spent more than five years at the University of Utah directing a wide range of student programming and served as an instructor for a number of Leadership Studies courses. In addition, she spent two and a half years at Georgetown University, where she led a team of student affairs professionals and student leaders. 
Dr. Coquemont received her Bachelor of Journalism with honors and a Master of Education from the University of Georgia, and her PhD in Educational Leadership & Policy from the University of Utah. She has served in a number of leadership roles for professional associations including on the National Association of Student Affairs Professionals (NASPA) Board of Directors.
"I look forward to serving students as I lead the Student Affairs division for Macalester College," said Dr. Coquemont. "After meeting with staff, faculty, and administration, it is evident I am joining a strong team of colleagues who center student learning and social progress."
Dr. Coquemont and her husband are proud parents and are excited to become part of the Macalester community. She's a dog lover who likes to bake, play MarioKart, and is passionate about immersing herself in the diversity of our world.