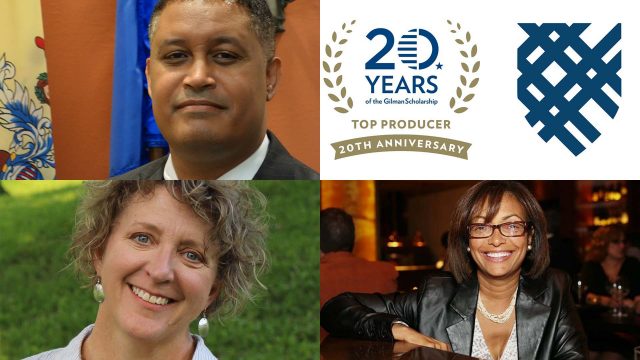 Maccolades is a monthly round-up of the most recent accolades and accomplishments earned by members of the Macalester community. Below are highlights from October 2021. 
History rebuilt
Dr. Walter Greason, professor and chair of the History Department, was recently honored by the T. Thomas Fortune Cultural Center and the Ranney School in New Jersey for what he described as the "culmination of three decades of teaching and research." Dr. Greason's work on historical erasure provoked a mass organizing campaign that rebuilt a National Historic Landmark: the home of T. Thomas Fortune in Red Bank, N.J. A civil rights advocate and leading African American journalist of the 19th and early 20th centuries, Fortune lived in the home with his family from 1901 to 1915. After decades of neglect endangered the home, local activists turned to Dr. Greason based on his research about Fortune. The National Historic Landmark was rehabilitated and opened to the public in 2019, restoring Fortune's name and revitalizing economic interest in this historically segregated community, Dr. Greason noted on his website. 
Extracting accountability
Dr. Jessica Smith '03, an anthropology professor at the Colorado School of Mines, published a new book called Extracting Accountability: Engineers and Corporate Social Responsibility. Accessible to a wide audience, the book is an ethnographic study of how engineers who work in the highly controversial mining and oil and gas industries manage competing accountabilities — to their corporate employers, to their profession, to multiple publics, and ultimately to themselves. Understanding controversial industries from the inside helped "chart out more productive and respectful ways to have debates about more sustainable resource futures," Dr. Smith said. Douglas Rogers, a professor of anthropology at Yale University, called the book an "empathetic and incisive ethnography." 
A $50,000 thank-you for staying in Minnesota
Faye Price '77, a visiting instructor in the Theater and Dance Department, won the 2021 McKnight Distinguished Artist Award. The annual $50,000 award recognizes Minnesota artists who have made significant contributions to the state's cultural life. Although they had the talent and opportunity to pursue careers elsewhere, these artists chose to make their lives and careers in Minnesota. "We are thrilled to celebrate Faye, who has brilliantly demonstrated how theater can advance civic conversations about race, equity, and justice," said Tonya Allen, president of the McKnight Foundation, in an announcement from the foundation. In the same announcement, actor James William '77, who first appeared on stage with Price when they were fellow students at Macalester, said: "Faye is all things an artist should be. She is smart, talented, fearless, well-read, but also humble. She has paved the way for so many people and continues to do so."
Debate whiz
Gabe Karsh '25 won a policy debate tournament hosted by the University of Kentucky. Competing in the junior varsity division with Luis Toro from Oakton Community College, the pair won all nine ballots in elimination rounds, leading them to victory over Gonzaga University in the finals. "I had a great time debating with my partner Luis," Karsh said. "I am so grateful for all of the help and support we received from the coaches at Oakton Community College, Rutgers University, and Beau Larsen here at Macalester."
Building a ladder of opportunity
President Suzanne Rivera has been named to the national board of directors of College Possible, a national college access and success nonprofit. As an incoming board member, Dr. Rivera will help shape College Possible's ongoing work to help students from low-income backgrounds navigate the college admissions process and successfully persist through degree completion. 
"I am very proud to be joining the board of College Possible because the organization's mission resonates deeply with my personal belief that higher education must remain a powerful ladder of opportunity—especially for students from historically excluded groups," said Pres. Rivera. 
Voices from the opioid epidemic
Amy Sullivan, visiting assistant professor of history, published a new book called Opioid Reckoning: Love, Loss, and Redemption in the Rehab State. More than half a million Americans have died from opioid overdoses since the late 1990s. "Statistics can be numbing, especially when conveying death—there's a feeling of hopelessness that arises," Dr. Sullivan said. "With this book I hope to bring the stories of ordinary people who have been devastated by the epidemic (and those who are working to end it) to the forefront of our minds and conversations." Dr. Sullivan explores the complexity of America's opioid epidemic through firsthand accounts of people grappling with the reverberating effects of stigma, treatment, and recovery. Taking a clear-eyed, nonjudgmental perspective of every aspect of these issues—drug use, parenting, harm reduction, medication, abstinence, and stigma—Opioid Reckoning questions current treatment models, healthcare inequities, and the criminal justice system. 
Major Kudos from the State Department
Macalester College has been recognized by the U.S. Department of State's Bureau of Educational and Cultural Affairs for having produced the most Gilman recipients over the past 20 years in the Small Institution 20-year Overall Top Producer category. A total of 108 Macalester students have received Gilman Scholarships since 2001. "The Gilman Scholarship plays an important role in helping students with high financial need feel more confident about the feasibility of a study abroad experience," said Kevin Morrison, director of the Center for Study Away. "More than anything, it helps us reassure students that there are resources beyond the college to make their study abroad affordable, especially students who may be relying on aid that can't be applied to study abroad (i.e. work study) to make ends meet." 
How to be considered for future Maccolades
If you've recently earned an award, fellowship, or honor and would like it to be considered for inclusion in next month's Maccolades, please let Communications & Marketing know by filling out this Maccolades form. For recent book publications, please use this book publication form.