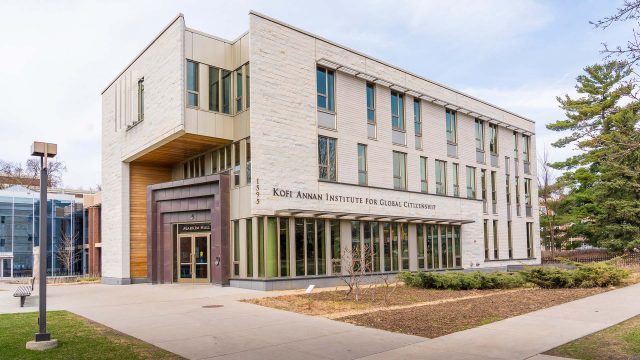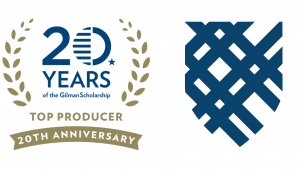 Saint Paul, Minn. — Macalester College has been recognized by the U.S. Department of State's Bureau of Educational and Cultural Affairs for having produced the most Gilman recipients over the past 20 years in the Small Institution 20-year Overall Top Producer category. A total of 108 Macalester students have received Gilman awards since 2001.
"I think this is recognition that Macalester is effective at identifying eligible Gilman applicants and providing the information and support needed for them to complete strong applications," said Kevin Morrison, director of the Center for Study Away. "It also shows that Macalester students are competitive when it comes to applying for and receiving national-level awards."
Throughout the Benjamin A. Gilman International Scholarship Program's 20-year history, it has reshaped study abroad to make it more accessible and inclusive for American students by providing scholarships to outstanding U.S. undergraduate students who, due to financial constraints, might not otherwise participate. Since the program's inception in 2001, more than 34,000 Gilman Scholars from all U.S. states, Puerto Rico, and other U.S. territories have studied or interned in more than 155 countries around the globe.   
"The Gilman Scholarship plays an important role in helping students with high financial need feel more confident about the feasibility of a study abroad experience," said Morrison. "More than anything, it helps us reassure students that there are resources beyond the college to make their study abroad affordable, especially students who may be relying on aid that can't be applied to study abroad (i.e. work study) to make ends meet." 
Based on 20 years of data, the top 20 institutions in four categories are being honored: small, medium, and large institutions and associate-awarding institutions. Colleges and universities in 27 states, plus D.C. and Puerto Rico, are represented, as well as 33 Minority Serving Institutions. 
As the recent Department of State and Department of Education Joint Statement of Principles in Support of International Education noted, "All Americans need to be equipped with global and cultural competencies to navigate the ever-changing landscapes of education, international business, scientific discovery and innovation, and the global economy.
Learn more about Macalester at macalester.edu.