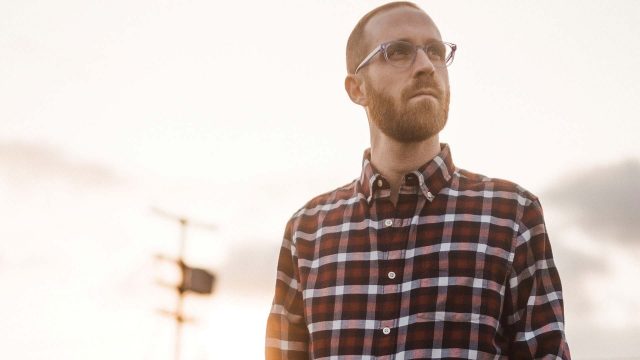 By Elizabeth Tannen '05 / Photo by Chava Sánchez
Journalist Aaron Mendelson '09 has heard it again and again: numbers don't work on the radio. But he's got a different take: it's not that people can't follow numbers in audio reporting. They just need to be well contextualized in the stories those numbers tell.
Mendelson works as an investigative reporter for KPCC, National Public Radio's Southern California affiliate. He specializes in data research, uncovering the kind of information most of us would be hard pressed to find.
Mendelson doesn't rely only on data for his reporting. For all the time he spends sifting through public records, he spends at least as many hours in the field, talking to people whose lives intersect with those records.
But, he says, the data is what can spark a story and guide him to those conversations.
Take, for example, one of his biggest recent projects: a longform exposé of an LA slumlord. The idea came when he was on vacation in Mexico, reading Matthew Desmond's Evicted, which chronicles the stories of Milwaukee tenants, landlords, and others caught up in what's become the big business of evictions.
At first he just wanted to know which Southern California zip codes had the highest rates of evictions. But in poring over law enforcement records, he noticed something else: a pattern of strikingly similar names in the plaintiff column.
By combing through county tax assessor data, Mendelson was able to trace the similar handles to a single owner, Mike Nijjar. A conservative estimate, Mendelson reported, is that businesses connected to Nijjar own 16,000 units. And, according to Mendelson's extensive reporting, many of those units are in devastating disrepair—forcing low-income tenants, who are often also immigrants and BIPOC, to deal with bedbugs, electrical problems, mold, fires, and more.
His story revealed not only the numbers but the personal stories of tenants like Vernon Moore, who told Mendelson about the persistent mold, and Nancy Romero, who shared about bedbugs.
Mendelson explains how crucial data research was in developing that story: "If you want to find out who the biggest landlord is in LA, that's something you can't easily Google," he says.
A lot of supposedly public data, like court records, also costs money to obtain. "And who does that hurt?" Mendelson says. "Not corporate lawyers, but community groups trying to research a landlord, or freelance journalists working a story."
His report received a lot of attention, and some are hoping it can lead to a legislative response. Oakland area assemblywoman Buffy Wicks introduced a bill that would track data including ownership, rents, and vacancies for landlords who own more than five units.
During his Macalester years, Mendelson didn't imagine a career in journalism. He didn't expect much of any career upon his graduation: the Great Recession began during his senior year and prospects everywhere seemed scarce.
But he did develop an intense habit of reading the news while at Mac. "I've always been a super consumer of the things I like," Mendelson says. He recalls picking up free copies of the New York Times available in the Campus Center every day.
He also grew an appreciation for film and nurtured a lifelong passion for music. Mendelson majored in media and cultural studies, and spent much of his time in the basement office of WMCN, Macalester's radio station. In addition to hosting a "prime time" music show, Mendelson held just about every administrative position possible at the station—including office manager, music director, and program director. "That was a huge part of my experience," he says. "It's probably not a coincidence that I wound up working in radio."
After graduation, during the height of the Great Recession, he worked a sequence of AmeriCorps gigs: first for a workforce center in north Minneapolis, where he encountered the Recession's brute impact.
His next placement was also where he got his first taste of news radio: KFAI, a Minneapolis community radio station. He recalls covering high-profile events like the mayor's State of the City address and a Habitat for Humanity-sponsored visit from former President Jimmy Carter. He also supported interns who delivered the hourly news update and, along the way, learned the tools and skills of audio production. He remembers thinking, "this is something I could do."
That eventually led Mendelson to the journalism graduate program at the University of California–Berkeley. One of his courses at Berkeley, taught by two New York Times reporters, was in data journalism: broadly, the use of statistics to support reporting, encompassing the spectrum from watchdog investigations to features about baseball.
"I liked how you could find stories through examining charts and maps that you wouldn't find anywhere else," he says.
In addition to reporting on housing, Mendelson has investigated police shootings and Los Angeles mayor Eric Garcetti's outsized charity fund—one that's received donations from the likes of Rihanna and the government of Qatar. He and a colleague recently published an investigation about a group of egregiously mismanaged nursing homes—mismanagement that has often proved deadly.
Even when he's deep in data, Mendelson says that his work is "not as monastic as people might think."
He toggles back and forth between the numbers and the actual humans who can help him decipher what they mean. And then he turns it all into a story that listeners can understand—even when numbers are involved.
"I do get pretty excited when I come across something big," he says. "So I tend to want to share it right away."
Elizabeth Tannen '05 is a freelance writer in Minneapolis.