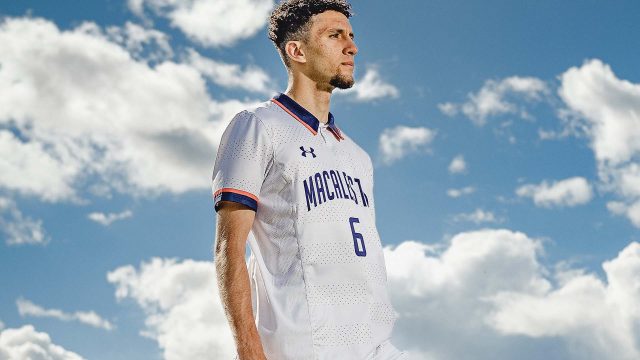 This fall, Omar Anwar '22 is playing MIAC soccer for the first time in nearly two years, and you can imagine the midfielder's jumble of excitement, nerves, and joy.
He's waited a long time for competition to resume after making an immediate impact in Mac's soccer program early on, starting 14 games his first year and logging more than 1,000 minutes on the field as a sophomore. Anwar's game-day routine is back: wearing his soccer polo to class, keeping his AirPods close for pump-up music from A Boogie and Lil TJay, watching game clips of Spanish midfielder Sergio Busquets, and fueling up with a pre-game meal of salad, pasta, and lots of Gatorade.
The routine is methodical now, but Anwar is candid that his Macalester journey hasn't always been so smooth. "When I came in freshman year, I was very, very disorganized," says Anwar (St. Paul). "I pulled nine or ten all-nighters in my first year that were just unnecessary; I would back myself into holes. I had to learn to be organized and accountable."
As he traded all-nighters for morning study sessions, Anwar found plenty of support from his teammates and coaching staff. "Part of our culture we've established as a program is that we're going to do well in the classroom," he says. "I always had resources from the older guys: What classes should I take? Where can I get these textbooks? What's the best way to study? That was huge."
And Anwar found another home in the Economics Department, especially in an investment banking course with Professor Joyce Minor '88 that proved pivotal for his path. This past summer, Anwar interned in New York City with Piper Sandler, and saw quickly how his coursework had prepared him for projects at the investment banking firm. "More than anything, Macalester taught me how to think critically," he says. "Instead of feeling daunted by a problem, Mac has given me the ability to attack it head-on, break it down into multiple steps, and work toward a solution."
It's been a big journey already for Anwar, who returned to Minnesota with a job offer in hand and will rejoin Piper Sandler after graduation—and he's feeling introspective as senior year gets underway. He knows soccer's role in his life will change after this fall. He's trying to lead by example, pass along his own lessons learned to younger teammates, and savor his time on the field for one final season.
"I want the best for this team because it's my last chance to be on a team like this—I wouldn't be where I am today without coaches and my teammates pushing me, on and off the field," he says. "Being part of this program is probably the most rewarding thing I've done in my life so far."