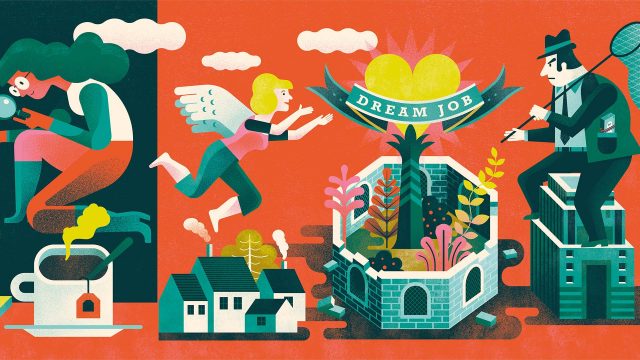 By Rebecca DeJarlais Ortiz '06 / Illustration by Gwen Keraval
There's an abundance of headlines and hot takes in 2021 about the future of remote work, traditional office space, and work/life balance. Those questions are on sociocultural anthropologist Hilary Chart's mind, too—but as a visiting instructor in anthropology, she also wants her students to think more broadly. Together they examine today's worlds of work: through the diversity of worker experiences, historical shifts that brought us to this moment, and class discussions infused by student observations during the pandemic.
When you're teaching about this massive topic, where do you start?
From the very beginning, it's crucial that my students understand that we are not coming at this from a very formal definition, but that we're thinking of work as a human experience. The first thing we do is de-center conventional ideas of work and open our thinking to all kinds of human experiences of labor, effort, and livelihood—not just nine-to-five jobs in an office, but anything people get paid for, as well as work that's unpaid, and forms of work we don't see happening around us all the time, including important activism and advocacy work that many Mac students are engaged in. Cracking open that model allows us to see a lot of different kinds of labor that are out there, and imagine different ways of doing work.
How has your class drawn on examples from the pandemic?
Students are keenly aware of working worlds in a way that they weren't before the pandemic. They've had to restructure their own work lives as students and manage themselves in new ways. They've seen their families and communities upended and heard conversations about the upsides and downsides of different ways of working, including flexible schedules that can blur the line between work and non-work. They've also heard more broadly about existing inequalities that the pandemic has brought to light—and the different ways that work can be privileged, including the privilege to be safe at work or to work remotely. They're thinking really critically and also bringing important conversations from their own families and communities into class.
How does your research play into your teaching?
In my research with aspiring entrepreneurs in Botswana, I've come to recognize how much loving one's work can actually be its own burden. The idea that your work has to be very meaningful or should fulfill you is very particular and relatively new. And there's this dream that being an entrepreneur is the ultimate privilege: to do what you care about, and work for yourself. Feeling passion for your work all the time, though, is difficult, and puts incredible pressure on your livelihood.
We talk about the ways in which loving your work is great, if that's the way it works out, but that it can also set people up for exploitation: "You love your work, so I don't have to pay so much, or can ask you to stay late." And when there's an expectation that jobs are deeply meaningful, they may be undervalued in terms of compensation: "You care for children because you love it, not for the money, right?" Meaning becomes a form of payment in itself that can substitute for other kinds of remuneration.
What does an anthropological lens add to this study?
Anthropology is about appreciating and connecting across human difference—and embracing complexity. It connects everyday, intimate experiences to broad scales and trends. When we talk about migrant labor, for example, we're talking about how it supports our economy and how remittances sent home support other economies, but we're also centering human experience: what it means to cross the Sonoran Desert, what it means to live in limbo on a border. Moving across these scales also encourages students to think about their own work experiences and connect these to the shared histories of work and particular types of work ethics.
What's one key historical shift still visible in our work worlds today?
In class, we talk a lot about what anthropologist Karen Ho calls the shareholder value revolution. A lot of businesses—particularly in an American context—once saw a corporation's goals to be longevity and stability, with a lot of responsibility to its employees and its community. In the 1980s, that really changed: a company's primary responsibility came to be seen as to its shareholders.
That shift has had lots of reverberations for our work lives today. One effect is the idea that we need to make profits more quickly, and a lack of interest in corporations' longevity. We've seen a rise of more insecure labor and more gig work, for example, when there's less responsibility felt to workers by employers. The ability to pivot or to flip a company, to move it elsewhere quickly, may be really great for shareholders, but not for employees or for the communities that businesses find themselves in.
What do you want students to carry forward?
I hope that they gain an appreciation for work's deep complexity. In one unit, we take kinds of labor that are conventionally talked about as either totally empowering or totally exploitative, and we say, "Is this the only story to be told here?" We consider the limitations of flat victim stories told about child laborers and sex workers, for example, as well as the darker sides of celebrated efforts like micro-finance promotion. People build meaningful lives under exploitative conditions, just as jobs that look amazing can take advantage of folks.
Rather than painting the world in terms of heroes and victims, I want students to see these complexities. I hope that deeper understanding will ultimately help us better address the inequities and injustices that exist in our working worlds.