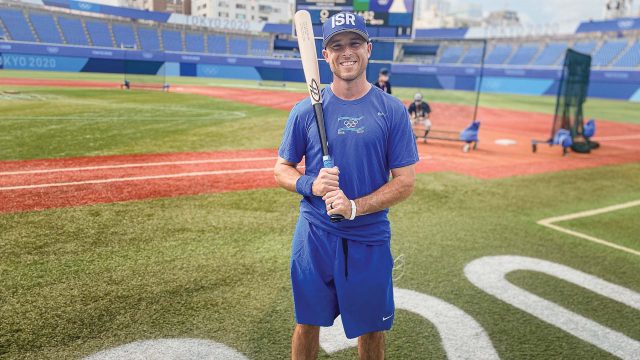 Mitch Glasser '12 has competed in countless baseball stadiums since he picked up the sport as a kid. But seven years after his All-Region Mac baseball career concluded, he stepped into a ballpark that he won't soon forget: one with "Tokyo 2020" banners hanging from the rafters. This past summer, Glasser competed at the summer Olympics as a member of the Israel National Baseball Team and was named to the All-Olympic Baseball Team after batting .412, the fifth-best average at the Olympics. Midway through competition, he talked with Mac director of sports information Matt McLagan about the experience. Their conversation is excerpted and adapted here.
Unexpected path
I always said I was going to the Olympics someday—I just didn't say that it was going to be in baseball. I always joked with my wife, Maggie Wood Glasser '12, that it was going to be in table tennis. Gabe Feingold '12 and I would spend hours battling on Kofi Annan's table in the Leonard Center. Now this whole baseball thing has kind of pushed back my table tennis dream. Once this is done, I'll focus on my next sport.
The call
In 2016, I was playing for the Joplin Blasters in the American Association when I received a call from the manager of the Israeli World Baseball Classic team, asking if I was interested in being part of the WBC qualifier. I said, "Absolutely." I was all in, whatever it took. I played for them in 2016 at the qualifier, and that's what started the whole journey.
Olympic spirit
Although there are no fans at our games because of COVID-19, the volunteers bring so much energy and positivity. I won't forget walking into the opening ceremony with the volunteers dancing and cheering to create a special atmosphere. In the village, all the athletes are so driven, but they also just want to feel the positivity and camaraderie before they compete. In the dugout, it is a special feeling to have everyone genuinely cheering for the success of one another.
Looking back
I have so many positive memories from Mac that I remember so vividly. And if you had told me at Macalester that I'd still be playing baseball almost 10 years after graduating—the younger version of me would not be disappointed. I couldn't be more proud to be a Scot and be out here representing the MIAC and DIII Athletics.