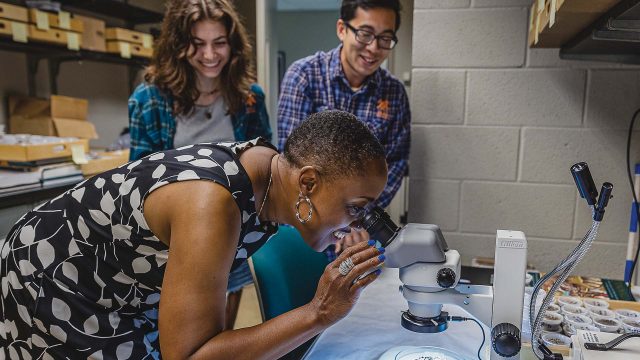 Three years ago, Dr. Lisa Anderson-Levy began to get to know Macalester in one role, as a Mac parent. In July, she joined the community in a new capacity: as the college's new provost and executive vice president.
Anderson-Levy comes to Macalester from Beloit College, where she spent the past 13 years as an anthropology professor who also served in multiple administrative roles. As an anthropologist, her scholarship focuses on race, class, and gender in the Caribbean and United States, and she's committed to providing students with tools to understand their worlds.
"The search committee was particularly impressed with her proven experience facilitating meaningful change for greater equity and inclusion, among many other strengths," says committee chair Professor Victoria Malawey. "Dr. Anderson-Levy is the kind of leader who will shepherd us with grace and grit into a new era."
We asked Anderson-Levy to share the approaches that guide her work—and will help her as she and President Rivera launch a strategic planning process to shape Macalester's future.
Office hours
As a faculty member, it was really important that my scholarship, teaching, and advising were inextricably intertwined. Often, students would come to my office for advice about work or life—and while it's important to support students as they move through the curriculum, it's also important to be curious about who they are and who they want to be, and to hold space with them as they figure that out.
Whole selves
It is important to acknowledge that students have lives beyond the classrooms. They may be worried about their families, money, or their health, and they bring all of these concerns to class. Being able to see students and work with their whole humanity is important because what they're dealing with outside the classroom impacts what's possible in the classroom. Our work with students must integrate their intellectual and social lives.
Valuing inquiry
Students come to Macalester to work with faculty who are doing cutting-edge research. I've been impressed by and support the college's longstanding commitment to faculty scholarship and the high-impact research opportunities that are available to students who collaborate with faculty. Research not only helps faculty stay current in their field, it generates what happens in the classroom. Our students' experiences are amplified by the incredible scholarship in which faculty members engage.
Making plans
A strong strategic plan requires community input and has to be an expression of our entire community. While we may not have consensus on every point, we need to come together on the major themes. My goal with strategic planning is to identify mechanisms for community members to provide feedback, so everyone is heard and feels involved.
At the heart
My equity and justice work and perspective informs everything I do, including encouraging students to find their paths and supporting faculty and staff to do meaningful work. For me, being at a liberal arts institution is about creating a generative environment in which students grow roots that make them flexible and resilient—roots that prepare them for the rest of their lives.