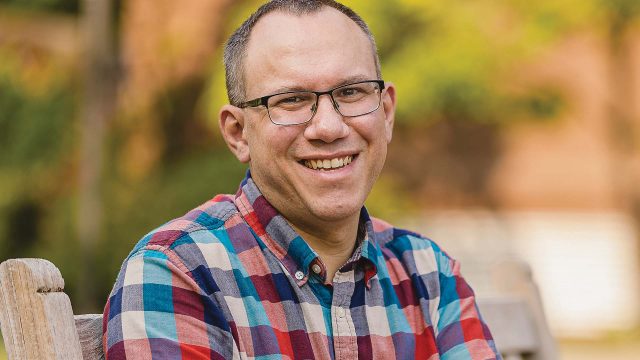 Ever wonder about all those books lining professors' shelves? We're with you.
Professor of Mathematics, Statistics, and Computer Science Vittorio Addona focuses on medical applications of statistics, as well as sports statistics.
Any standout books you've read recently?
During the pandemic I needed a fun read, and I enjoyed The Ballad of Songbirds and Snakes, a prequel to The Hunger Games series by Suzanne Collins. I also read as much Malcolm Gladwell and Michael Lewis as I can, and most recently, I liked Lewis's The Fifth Risk and Gladwell's Talking to Strangers. In particular, The Fifth Risk was ostensibly about the Trump team's transition after the 2016 election, but at its core aimed to elucidate the importance of government, and the millions of things that good governments do which are invisible to the masses.
What's one of your all-time favorite reads?
A few of my favorites from Michael Lewis are Moneyball, Flash Boys, and Home Game: An Accidental Guide to Fatherhood. I also can't pass up an opportunity to mention 99: Stories of the Game, a sports memoir by Wayne Gretzky; A Time to Kill by John Grisham; and, of course, Harry Potter and the Prisoner of Azkaban by J.K. Rowling.
What book is crucial to understanding your academic niche?
A statistician strives to separate real relationships from random noise. People can get fooled into seeing patterns when there's nothing there. Nate Silver explores these issues in The Signal and the Noise: Why So Many Predictions Fail—But Some Don't. Moreover, The Book of Why, by Judea Pearl and Dana Mackenzie, examines the science of establishing causality. If you've taken a statistics course, you know the phrase, "Correlation doesn't imply causation." But sometimes it does, and it's worth thinking about when that might be! We can never be certain that a relationship is causal but it's important to take steps that get us closer to that belief.
Any guilty-pleasure reads?
Perhaps I've been subconsciously missing my homeland—I really enjoyed Canada by Mike Myers; Born into It: A Fan's Life by Montreal Canadiens superfan Jay Baruchel; and Waging Heavy Peace: A Hippie Dream by Canadian rock legend Neil Young.
What book would you recommend to everybody at Macalester?
The Alchemist, by Paulo Coelho, inspired me when I read it as a teenager. One of its main themes is how to face adversity in the pursuit of one's dreams. That really struck a chord with me.