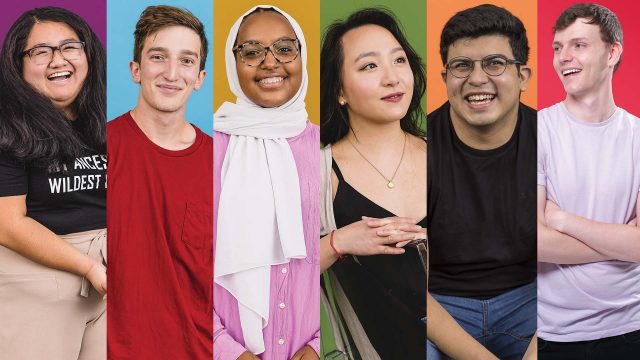 By Kim Catley / Photos by David J. Turner
This fall, 16 percent of students at Macalester are among the first in their family to attend college.
They come from all kinds of backgrounds: rural and urban, BIPOC and white, immigrant and U.S.-born, low income and solidly middle class. They're just as academically and intellectually prepared as students with a family history of college attendance. But they often need a little extra help with the information that students whose parents earned a degree absorbed by osmosis: the vocabulary of higher education and the shortcuts and secret handshakes that make it easier to navigate a complex institution. Getting into college isn't the same as feeling like you belong there.
"There's been a national endeavor to provide access to first-generation college students," says Sedric McClure, assistant dean of multicultural life. "First, institutions began to recognize that high achieving students were admissible to highly selective institutions but didn't have the resources to enter into the space. So, that became a focus. Then, we began to see the emergence, in significant numbers, of first-generation college students in these spaces. But what does that mean for creating a sense of belonging?"
At Macalester, faculty and staff are working on a range of efforts to ensure first-generation students have the resources to find their way. In the Admissions Office, this means avoiding college lingo or taking the time to explain the application processes and services provided by different campus offices. A working group is identifying financial gaps, such as cost-prohibitive textbooks and health insurance, and tickets to campus events. And writing workshops from the Macalester Academic Excellence (MAX) Center help students understand expectations around academic writing and scholarly research.
One new program launching this fall targets the transition to college while also formalizing a connection between the Admissions Office and the Department of Multicultural Life. Aisha Gonzalez, senior associate director of admissions for diversity and inclusion, and her colleagues Makaya Resner '19 and Veronica Zapata '19, are overseeing a cohort of 20 first-year students who are BIPOC, first-generation, and/or LGBTQ. Resner and Zapata will have regular one-on-one check-ins with students to identify information gaps, connect students with faculty and staff in other departments, and find other resources around campus.
"We're able to say, 'I have a friend in that office. Let's go talk to them together,'" Gonzalez says. "It feels more student-centered, and requires a personal connection."
Those connections can make a difference for any student but are especially critical for those who identify as first-generation. Programs like Bridges and Barriers, Bonner Community Scholars, and Pluralism and Unity help students quickly build relationships with faculty and staff and plug into a support network. Then, they have someone to go to when they run into challenges.
However, not all first-generation students are involved in these programs. Macalester is working to reach more students, while also looking for indicators that a student needs help connecting, even if they're not in a specialized program. Ruth Janisch, associate dean of educational partnerships, works with several student cohorts—such as those in the Bonner Community Scholars Program, Mellon Mays Undergraduate Fellowship, and QuestBridge—that include many first-generation students.
Janisch has been working with colleagues to ensure Macalester's administrative offices aren't too siloed, creating disconnects for students. After all, she says, students come here for a holistic experience and don't divide their world between academics, work, clubs, and extracurriculars. First-gen students, in particular, may find complex organizational charts confusing and be dissuaded from seeking services if they're directed from one office to another.
She also says student voices are critically important as the college seeks to identify and meet the diverse needs of first-gen students. She cites Honoring the Journey as one initiative that developed organically from student advocacy. The pre-Commencement ceremony is an opportunity for first-generation students to recognize the friends, family, faculty, and staff who supported them throughout college. It began in 2014 after students asked if there were any Commencement events focused on families.
As Janisch tells it, "Students were saying, 'This moment is not exclusively about me. It is actually deeply meaningful for my entire family and community. How is Macalester going to see and welcome them?'
"Now it's a tradition, and many of us can't imagine Commencement without it," she says. "I think that co-creation is what makes it so meaningful. It wasn't me deciding Macalester needs something. It was our community saying, 'How can we do this?' and building it together."
---
Haley
"You have to navigate totally different worlds"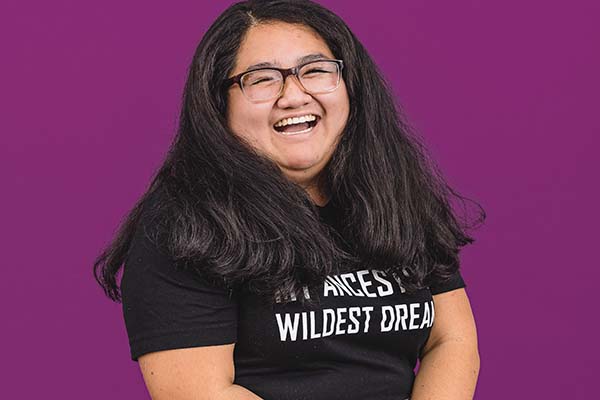 Being first-gen and applying to college is super hard. Your parents can't support you because they don't know how to. You have to know the ins and outs of everything. I was lucky; my college counselors were used to helping first-gen students get into college, because essentially everybody was first-gen at my high school.
A big program that draws in students of color, low-income students, and first-gen students is the extended Spring Sampler for admitted students. You stay over in a dorm and get to meet people and see more of campus life.
One of the sampler events, the C-House Kickback, was the biggest reason I wanted to come to Macalester. Being a person of color and low-income on this campus is not easy. You have to navigate totally different worlds, especially if you haven't been at a predominantly white institution before. Hearing about people's experiences at the C-House Kickback—the good and the bad was really nice. I knew that I'd have people who would support me and make this experience go well.
A huge part of being first-gen and low-income is having to support your family from afar. As someone who's a pillar of my family and used to carrying so much, leaving and choosing to focus on myself during college was a big thing to navigate. And, of course, family things just kept coming up. During that first year, there was a lot of asking myself, Do I drop this assignment and potentially fail my classes to help out with my family? Or do I let my family go and focus on my education?
–Haley Vien '22, Oakland, Calif.
Kody
"It can be difficult living in an area where there aren't as many resources"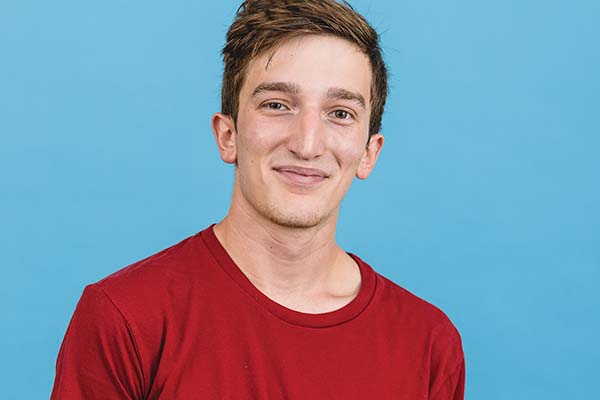 My dad is a factory worker in Michigan, and my mom is a stay-at-home mom. My parents didn't go to college, but my mom always emphasized college as a path for my sisters and me to get out of my family's generations of low-income jobs. I graduated first in my high school class, but my graduating class was only 120 students.
I was in fourth grade when my oldest sister left and went to a small school in Wisconsin. Going to the college campus as a little elementary school kid—that was intimidating, but also really exciting. I was like, Wow, this is going to be me one day. And now it's here.
The hardest time was in my first year at Mac when COVID hit and we all had to leave campus. I didn't grow up with the Internet at home, but I had to finish the rest of school at home. Sometimes I'd have to drive into my town and sit outside the library or a fast-food restaurant to use the Wi-Fi just to turn something in. It was very challenging for me in terms of my mental health and just being able to do the work.
It can be difficult living in an area where there aren't as many resources—little things that I probably shouldn't have had to worry about on top of all the work. COVID made disparities more obvious.
–Kody Harrington '23, Allegan, Mich.
Hanan
"I wasn't aware of what to look for"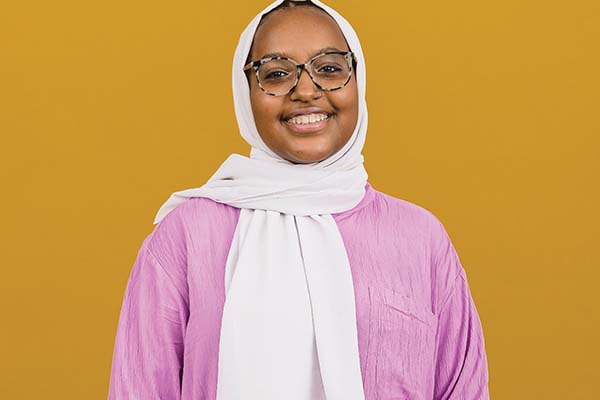 I'm from Seattle, and my parents and my two older siblings and I were all born in Ethiopia. We moved to the U.S. in 2001, when I was a couple of months old. Both my parents got a high school education, and my siblings and I are the first in our family to go to college. My parents expected us to go to college, but they were unfamiliar with the U.S. higher education system.
My siblings and I all had different experiences with applying. My oldest sister had no one to guide her; she had to figure it all out herself. But with my older siblings in college, I had a little more support figuring out all the forms that are required and the essays I had to write.
I struggled with knowing where to apply. A lot of my peers knew what school they wanted to attend or knew about a lot of schools across the country. I was only familiar with a couple of universities in my state and wasn't really aware of what to look for when applying to college—things like campus culture, the size of the surrounding city, and what programs and opportunities the school offers.
I learned about Macalester through the social-emotional learning coordinator at my high school, who thought Mac would be a good fit. I had never been to Minnesota or Macalester before I arrived on campus to move in.
I remember there was a BIPOC ice cream social the first week of school. A bunch of upperclassmen first-gen students came up to the freshmen and said, "You have to ask us questions. That's what we're here for." That was really helpful. They helped me know who I can reach out to and what resources are on campus.
–Hanan Sherka '23, Seattle
Diana
"There were people advocating for me"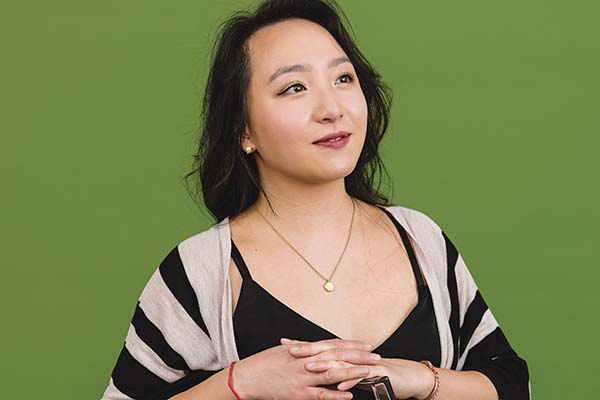 "First-gen" in my family means the first generation to go to college as well as the first generation to be born and raised in the U.S. My family is Hmong, and my parents emigrated from Laos as refugees of the Vietnam War. My parents were initially skeptical about college, especially for my older siblings, the first to go. In the Hmong culture, girls don't leave home until they get married. But seeing my siblings succeed and build a better life afterwards convinced the whole family of the value of higher education.
My dad passed away in my freshman year, so that made it difficult for me to transition into adulthood and into college. He was the head of the household, the pillar, the foundation. To lose that, especially when I was just starting college, completely turned my world upside down. I was getting support and started doing better, and then my younger brother passed and my whole world crumbled.
I was struggling with mental health when I applied to the Mellon Mays Fellowship my sophomore year. The fellowship supports underrepresented students who conduct independent research about a topic they're interested in. I wanted to look into Hmong identity, because we are a diverse community.
I was very shocked when I was accepted, because I was not doing well during that time, academically. I think I had actually been put on academic probation. And it was a last-minute application, because Professor Rivi Handler-Spitz really pushed me to apply.
Mellon Mays was the light at the end of the tunnel for me. It opened up so many new opportunities, and the support that I received from the staff and faculty was what I needed—deep understanding, empathy, and humility.
It was very different from before, when I was trying to get help by approaching different departments at Macalester on my own. I knew what to do to improve my grades; it was easier said than done when I was struggling with mental health.
With Mellon Mays, there were more people doing behind-the-scenes outreach and advocacy for me. That really helped me and allowed me to stay at Macalester, and it gave me the space and time I needed to recover and do well.
–Diana Her '22, Cottage Grove, Minn.
Hugo
"They'll pass that knowledge on"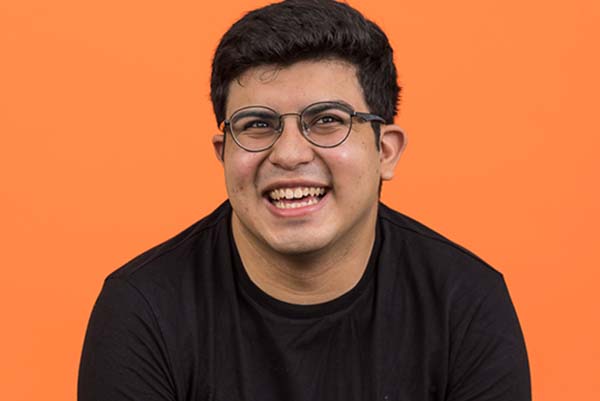 I'm first-generation, not just among my family here in the U.S., but my entire history of my ancestors and my family in Mexico. I come from a family of immigrants, and my parents came to the United States with nothing—and now they have a son who goes to college. I'm the first one to finish high school, the first one to go to college, hopefully the first one to finish college.
I had no one to ask what college is like, and I didn't know what to expect. That led to a lot of anxiety. Going to my first day of classes was hard because it was completely different from high school. I had to figure out stuff on my own.
I hope to go to graduate school, earn my PhD, and then become a professor. Or, apply for a teacher licensure program and teach science. I definitely want to be in the field of education.
Every time I help somebody by teaching them something, they'll pass that knowledge on to other people. It helps a whole community. I also want to help students—especially students of color who don't know what they want to do. I've had lots of mentors in my life, and most of those mentors were people of color. It's sometimes hard to be a student of color, and I want to make it easier for students to fight for their goals and pursue their dreams.
I volunteer as a tutor around the St. Paul area, helping students with homework or assignments. I always tell my students to take risks. When I first got to Macalester, I didn't know what to do. The minute that I took risks, reached out, asked for help, went to events, joined clubs—all these things that college offered me—things got so much better.
–Hugo Huitron '22, Chicago
Austin
"It feels hopeful in a way that I can't even begin to describe"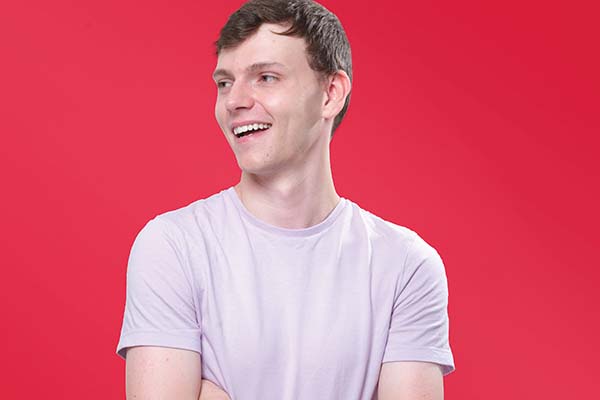 The experience of being first-gen boils down to a constant feeling of cultural dissonance when you're at an institution like Macalester. I think the people who really identify with the term "first-generation" are the ones who show up to Macalester without the faintest clue what this institution does and how it works. Neither of my parents have a college degree, my grandparents don't have a college degree, my aunt and uncle don't. Applying here was a self-driven thing. An older student on my debate team in high school taught me everything there is to know about college and pointed me toward Macalester specifically.
A lot of the cultural dissonance I felt was class-based as well. Being first-gen doesn't necessarily mean that you grew up poor, but my goodness, I grew up poor. And when you go to a school like Macalester, you feel it immediately—I did not grow up the same way as most other students.
Another challenge is the fact that rural sensibilities cut strongly against the sorts of behaviors that are essential and expected at a school like Macalester, like feeling comfortable walking into professor's office hours and asking them for help. The first time I talked to somebody with a master's degree, or especially a PhD, was at Macalester. It takes a lot of time to learn the cultural cues that would have been embedded in you if you'd grown up around people who went to college, and you have to catch up on a super accelerated timeline.
Macalester has all these people and institutions on campus that are meant to be helpful, but they don't necessarily recognize that the population they're trying to serve is most resistant and least comfortable asking for that help if it isn't proactively provided.
My first semester went great. Then the work got a little bit more difficult, and it was compounded with social issues and medical issues, and I flamed out. My first semester of junior year went so terribly that I got suspended. I took a semester off. I worked full time for about a year. And then I went to Metropolitan State University. The energy at MSU was, "We are here to make sure that everybody that wants and is willing to work for a degree can get one." It gave me the space and the self-confidence to dig into some of the issues that I was having with my personal health.
But I knew that if I wanted a leg up, I needed to go back to Macalester. I knew that there were some caring people there who would give me the support that I needed, now that I had learned how the institution works.
When I walked across the stage at Commencement, it did not feel real. There's certainly an element of guilt that, just by nature of having a college degree, I have a lot of class privilege over my immediate family and all my childhood friends. It makes me feel a little dissociated from them, but it also feels hopeful in a way that I can't even begin to describe.
When I got my actual diploma in the mail, I opened it and I just started crying. I thought, I have a degree, it's in my hands, that's my name on it. It says, "You did this." It took generations of work by my family, and generations of work from other families, to get this in my hands. That will never be lost on me.
–Austin Ahlman '21, Norfolk, Neb.
First-generation initiatives to know
Bonner Community Scholars: A four-year program led by the Civic Engagement Center in the Annan Institute for Global Citizenship (IGC) providing leadership programming, academic support, engagement opportunities, and a social network. While the program is not specifically for first-generation students, they are strongly encouraged to apply.
Mellon Mays Undergraduate Fellowship: Housed within the IGC and facilitated by faculty, the fellowship aims to increase the number of students from underrepresented groups, and others with a demonstrated commitment to eradicating racial disparities, who will pursue a PhD and enter the professoriate in selected core fields. Fellows benefit from a targeted series of grants and seminars, beginning with the early stages of graduate school and continuing through the postdoctoral years.
Bridges and Barriers: A program from the Department of Multicultural Life (DML) that centers first-generation students, helping them clarify pathways to personal and academic success and build a network of support among faculty, staff, and students at Macalester.
Pluralism and Unity: Offered by the DML, members of P&U co-create a community grounded in intergroup dialogue, and seek to deepen understanding of diversity and social justice issues.
QuestBridge: A national nonprofit based in Palo Alto, California, that aims to increase the percentage of high-achieving, low-income students attending selective, leading colleges. QuestBridge supports students through the college application process, in securing financial aid and scholarships, and throughout the college experience.
Mac Day and Multicultural Fly-In: Visit days for admitted students (formerly known as Samplers) provide a broad look into life at Macalester.
C-House Kickback: Hosted by Admissions and the DML during the Multicultural Fly-In program, current BIPOC students share their experiences at Mac and help admitted students make the college decision that is right for them.
POSSE: In 2022, Macalester will welcome its first cohort of Twin Cities POSSE Scholars, a small, diverse group of talented students.
Honoring the Journey: A special gathering during Commencement weekend co-hosted by the Annan Institute for Global Citizenship and the Department of Multicultural Life. Seniors acknowledge the family and friends who supported their journey to graduation as first-generation college students.
Kim Catley is a writer based in Richmond, Va.