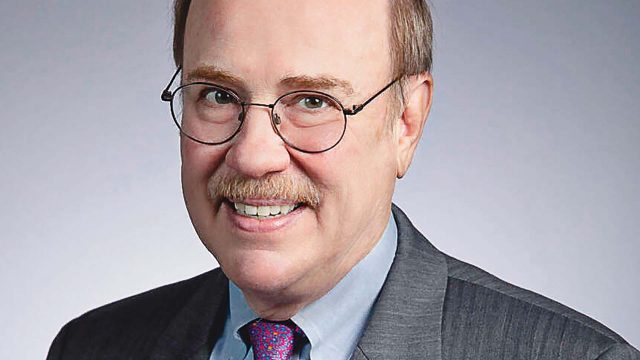 Steadfast service
Larry Dessem '73 has a long history of supporting and advocating for Macalester, including serving for twelve years as a trustee; hosting alumni gatherings with his wife, Beth Taylor Dessem '73; talking with prospective students; and serving on career panels. Today as a Class Agent, Dessem uses tactics like social media videos—usually donning Mac gear with a grandbaby on his lap—to encourage his classmates to give. He's also recruiting other Class Agents to help generate momentum for the Class of 1973's 50-Year Reunion gift. In honor of his tireless efforts, the Macalester Fund honored Dessem this year with the Class Agent program's Golden Squirrel Award.
College years
Dessem enrolled at Macalester in the fall of 1969, and his college education overlapped with a period of immense and rapid change on campus and nationwide. "It was a very unsettled time, and I'm so thankful that I was at a place like Macalester, because I was surrounded by such thoughtful faculty and staff and students," he says.
Formative faculty
By senior year, Dessem could've graduated early but decided instead to take classes with four professors he still wanted to fit into his schedule. Among them: political science professor Chuck Green, who later wrote Dessem a long recommendation letter for law school. "Twenty years later, I was a faculty member and realized how much work those letters took," he says.
Giving back
"You get to a stage where you look back and think about the people and institutions that molded you," Dessem says. "My Macalester experience was so seminal in so many ways. How can I help others have that experience? Everybody's got different ways they can contribute—you learn that from day one at Mac, the lifetime of service."
The pitch
"I'd encourage anyone to get involved as a Class Agent," Dessem says. "You're supported so well by Mac staff that you really can't mess it up, but you can start to realize how rewarding it is. You think you're helping someone else, but along the way, you're helping yourself in all kinds of ways. It's a good life, and we make it better by engaging with others."