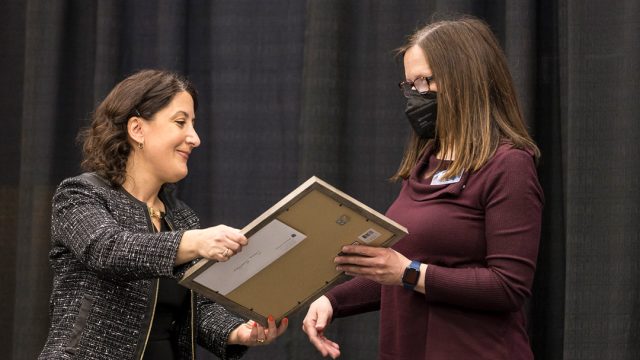 Saint Paul, Minn. – Sara Suelflow, director of digital engagement and public affairs, has been awarded the 2022 Staff Outstanding Service Award.
Macalester President Suzanne Rivera announced the award and read from this citation:
In celebration of the ways in which your quiet and dedicated leadership has shaped our campus and brought us closer together, we are proud to recognize you with the 2022 Staff Outstanding Service Award.
Your connection to Macalester runs deep. You are a proud member of the Class of 1988, and you joined the college as an employee in 1999 as director of web services.
Today, as director of digital engagement and public affairs, you oversee communication in the college's digital channels, from our website to social media. Most days, you stand at Macalester's virtual and enormous front door. For context, the college website has nearly 18,000 pages and the home page averages one million visitors each year. The college shares digital content on five platforms: Facebook, Instagram, LinkedIn, Twitter, and YouTube. You and your team ensure that countless communications are strategic, accessible, and expertly edited, and reflect all members of our community. 
When the pandemic hit and the college moved to remote work and instruction, your responsibilities were amplified within hours. You and your team helped campus partners quickly make the shift to digital communications, helped craft microsites, and fostered community through communication during many lonely and unsettling weeks.  
Everyone on campus has been touched by your work. In addition to your broad digital role, you served as one of the primary COVID-19 communications leads. As a member of the Infectious Disease Task Force, you helped ensure that new policies and rapidly changing information were effectively shared with our community. With patience and empathy, you connected with students, staff, and faculty. You updated our COVID-19 Frequently Asked Questions page as it grew and grew in complexity. This work involved many long hours and many late nights. Throughout this stressful and challenging time period, however, descriptions of you are the same as always: positive, calm and collaborative, laser focused on elevating the others around you, and, simply, excellent. 
You continue to safeguard our community's well-being through your work on the Incident Management Team. Working closely with Public Safety and other campus partners, you monitor ongoing situations, issue alerts, and provide crisis communications that are timely and clear. This role, too, means you respond whenever it is required–24/7/365. Colleagues say you are always willing to jump in and always ready for what's next. 
Again and again, colleagues report that projects are always better when you are involved. They praise your institutional knowledge and firm allegiance to upholding Macalester's reputation. The truth is, Macalester is made better when you are involved. 
Thank you, Sara, and congratulations on this award. You are an asset to the college, and we are truly grateful for your outstanding service.