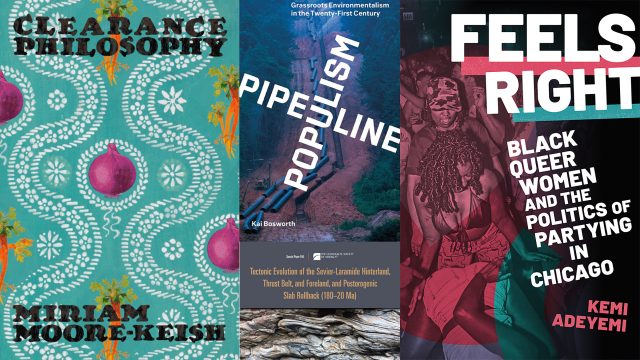 Miriam Moore-Keish '19, Clearance Philosophy (Bottlecap Press, 2022)
"Pasta Water, Onions"
They said it should taste like tears,
then you know it's good enough.
The chefs I see on the internet assume
their viewers know what tears taste like
and maybe they should—haven't we all
experienced onions before?
They tell me how to cut onions
to avoid weeping, because onions only
lash out when distressed—I learned this.
I learned how to cradle them,
the cutting board their manger,
and slice in grids: leaving the root in tact
because they cry when they forget
where they came from.
My mother drained pasta in her
great-grandmother's colander
but I've learned to scoop pasta out
of the pot and finish it in the sauce
—you preserve the pasta water this way.
It's an underrated ingredient, really.
The water keeping us alive,
the starch emulsifying the sauce
and bringing everyone together,
the salt a cycle of breaking:
becoming the rock it came from,
then eroding again and again,
into streams, rivers, and oceans.
All of it down the drain from
my great-great-grandmother's colander,
rusted from generations
of the same family's tears,
pasta water falling from our eyes—
or maybe it's this onion I'm cutting—
both of us forgetting our roots.
—Miriam Moore-Keish
---
Kemi Adeyemi '07, Feels Right: Black Queer Women and the Politics of Partying in Chicago (Duke University Press, 2022)
"Feels Right looks at the queer dance floor through routine and spectacular moments of distress and discomfort so that we might take black queer women seriously as complex beings who adroitly navigate bad feelings and disagreement, and who do so in the pursuit of complex black queer community. We watch, we judge, we desire, we throw shade, we take it out on one another, we scheme to see one another, we flirt, we grip up on one another, we daydream about one another—all in one continuum. We do this against all odds, as spaces for us dwindle, as life for us feels as perilous as ever. We find one another on the dance floor even if we don't acknowledge or talk to one another. We're all exhausted but we get on the dance floor because we love each other, in  some way. We believe in one another that much, want to be around one another that much. We want more for one another that much."
---
John P. Craddock '80, faculty emeritus, geology; Brady Z. Foreman '04; Alexandros Konstantinou '08; and David H. Malone; Tectonic Evolution of the Sevier-Laramide Hinterland, Thrust Belt, and Foreland, and Postorogenic Slab Rollback (180-20 Ma). (The Geological Society of America Special Paper 555, 2021)
Editors Craddock, Konstantinou, and Foreman told us more about research, fieldwork, and the joy of intellectual curiosity.
"The Rocky Mountains represent a major physiographic region of modern day North America. Their characteristics influence weather patterns, shape ecosystems, yield important natural resources, and serve as a dynamic backdrop to North America's rich cultural history. Our research and special volume published by the Geological Society of America examines the tectonic processes that led to its development and its evolution through deep time."—Brady Foreman
"When we're out in the field, the most critical items are food and water that will allow us to survive. After that, the three most essential field items for a geologist are 1) a Brunton compass (for orientation and for measuring trends and tilts of structures in the field); 2) our maps to orient and sketch geologic unit contacts (topographic maps and satellite images); and 3) our waterproof field notebook, with pencils. A rock hammer is a close fourth item." —Alexandros Konstantinou
"As a student, I benefited from an environment full of academic rigor and intellectual curiosity led by the late geology professor Jerry Webers. One of the pleasures of being a Macalester faculty member was sharing in that same intellectual curiosity with students, leading them to solve research problems, and sending students like Brady and Alex off to graduate school." —John Craddock
---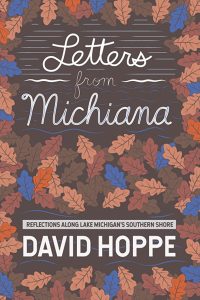 Kai Bosworth '10, Pipeline Populism (University of Minnesota Press, 2022)
David Hoppe '73, Letters from Michiana: Reflections Along Lake Michigan's Southern Shore (Victory Dog Publishing, 2022)
Karl von Loewe '62, Lost Roots: Family, Identity, and Abandoned Ancestry (Atmosphere Press, 2022)
Marie Zemler '99 (pen name Ron de Beaulieu), Minneapolis Murder & Mayhem (Arcadia Publishing, 2022)