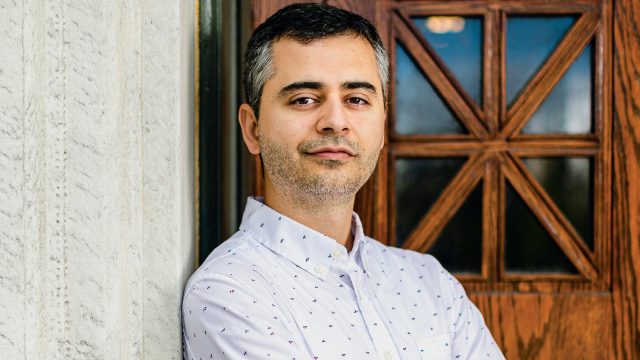 By Daniel P. Smith / Photo by Adam Glanzman
In March 2020, weeks before COVID-19 would overtake the nation, Omar Mansour '16 visited Cabell County, West Virginia, to confront another public health crisis.
The 288-square-mile county on the West Virginia–Ohio border told a gripping story of the despair the opioid epidemic had unleashed upon American communities, as well as the resilience and demands for justice many residents were leveraging to reverse the devastating trend. Mansour was there to help local leaders determine the cost of interventions to rebuild community health—as well as the cost of not taking action.
In Cabell County, an estimated 81 million opioid painkillers had flooded the not-quite-100,000-resident county over an eight-year period, according to court documents. At least 10 percent of Cabell County's population, including one in ten newborns, are affected by opioid use disorder.
In addition to the eye-opening numbers, Mansour recalls the tale of young siblings orphaned twice in twenty-four hours. A day after the children's parents died from a fatal overdose of opioids laced with fentanyl, their grandparents—and newly entrusted caregivers—overdosed on the same tainted batch of drugs.
"You see the devastation firsthand and hear stories like that, and it's hard to look away," Mansour says.
Mansour's work with Johns Hopkins University epidemiologist Caleb Alexander, MD, however, has enabled some communities to begin healing. His experiences in the field fueled the former Macalester biology major to double down on efforts to improve human health.
Finding his niche
Born and raised in Jordan, Mansour attended high school in the Netherlands, where he encountered Mac students studying abroad. Listening to their stories of Mac's liberal arts focus and the international student body, Mansour ditched thoughts of attending college in the U.K. to enroll at Mac.
Although Mansour arrived in St. Paul considering pre-med, his work with two Community and Global Health professors—Christy Hanson and Vittorio Addona—transformed his focus.
Hanson's International Public Health class sparked Mansour's interest in advancing human wellness through policy. As a sophomore, Mansour worked alongside Hanson on a project for Kenya's Ministry of Health. The two identified risk factors for treatment interruption among patients with tuberculosis in the East African country.
Meanwhile, Addona, a statistician who studies the medical applications of statistics, spurred Mansour's enthusiasm for epidemiology, a field marrying population health with mathematical concepts. Addona taught Mansour in four courses and supervised his research.
"Omar possesses a rare combination of intelligence, discipline, perseverance, and a desire to do meaningful research," Addona says. "He was always capable of identifying what tasks needed to get done to move a project forward, and then completed those tasks with diligence and thoroughness."
Following his undergraduate studies in biology and statistics, Mansour earned a master's degree in epidemiology at Johns Hopkins University, regarded by many as one of the nation's premier schools of public health. One of his Johns Hopkins professors was Alexander, who serves as an expert witness and advisor on opioid litigation. A month before graduation, Alexander invited Mansour to join his fledgling effort advising local governments on opioid litigation. Mansour accepted.
"I had no idea what it would become," he admits.
Projects with a purpose
Over the next three years, Mansour crisscrossed the country, from West Virginia to California, studying the far-reaching impacts of the opioid epidemic. He toured towns with staff from local family services agencies, counselors, law enforcement officials, teachers, and municipal leaders. Every visit left Mansour with a heightened sense of purpose.
Alexander designed customized abatement programs for each community, such as treatment centers, public education, and increased access to Naloxone, the medicine used to reverse opioid overdoses. A health economist calculated the cost of Alexander's prescribed interventions, a figure local governments would later use in court cases when seeking abatement from manufacturers, distributors, pharmacies, and others charged with driving the opioid crisis. Meanwhile, Mansour completed the underlying modeling and statistics for Alexander's plans. Specifically, he forecast the burden of the epidemic in public health terms with or without certain interventions over the next fifteen years.
Mansour's work made the complex digestible. It provided political leaders, judges, and the general public straightforward and accessible information to explain the extent of the problem and the value of potential solutions.
"If you fail to make a clear and compelling argument, then you're not going to get support," Mansour says.
Alexander's team continues advising local governments in about twenty cases collectively seeking some $100 billion in abatement. Its work contributed to the $12 billion settlement in 2019 between roughly 2,000 local governments and Purdue Pharma, the manufacturer of OxyContin. Any awards from these lawsuits fund many of the much-needed interventions Alexander designed.
"Having seen the devastating effects of the opioid crisis firsthand, I'm honored and humbled I was able to use my skills to help here," Mansour says.
Last year, Mansour left Alexander's team to pursue a PhD at Harvard University in pharmacoepidemiology, a field devoted to evaluating the effects of pharmaceutical use in large populations. He plans to focus his research on the effectiveness of various cancer-treatment strategies. Mansour predicts that increased access to health data, technological developments like artificial intelligence, and a promising pipeline of oncology drugs will dramatically change cancer treatment over the next two decades.
"I want to be a part of that change," Mansour says. "I want to keep doing my part to help people."
Daniel P. Smith is a Chicago-based freelance writer.