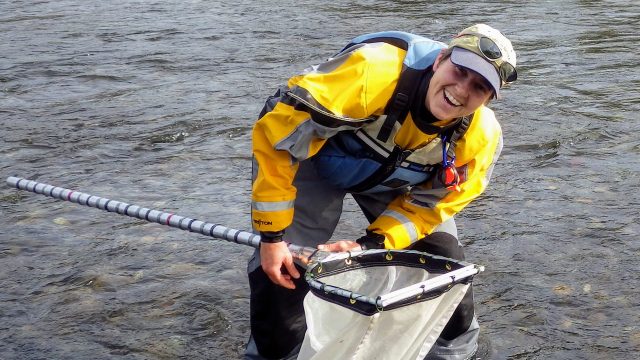 A biology major, Jo Opdyke Wilhelm says she found a love for ecology while studying abroad in the Republic of Palau. The senior environmental scientist for the King County Water and Land Resources Division in Seattle has been in her role for seventeen years, but her path wasn't always so steady. "In my first ten years out of college, I did a ton of three- to six-month seasonal positions and temporary jobs and did ecological work on the side," she says. "I worked in Papua New Guinea, and I've touched most corners of the United States chasing opportunities to get experience and figure out ultimately what I wanted to do."
Today she designs, implements, and monitors stream, river, and near-shore habitat restoration projects in the role of ecologist or project manager. The team takes down barriers and hard armoring that humans have put into a system, but they also create habitats. "All of those habitats are critical for salmon, especially when they are young and just coming out of the gravel," she says. "They need quiet water to get out of the main floods, to find food, to grow, and get big. Without proper habitats, they are less likely to be able to survive and come back and spawn and create the next generation of salmon." Wilhelm shared some career lessons she's learned in the field and elsewhere along the way.
Take jobs you believe in
The passion piece of mission-driven work comes naturally to me. I've always looked for jobs that I believe in. One of the things that I love most about what I do now is that we're making change on the landscape. We're taking degraded systems and trying to improve and restore them. Over time, you can see the change. You see it when the big yellow steel vehicles are out there moving dirt, and when the first floods come through. Watching how these projects evolve and watching the fish use them is amazing.
Speak up
If you get eight ecologists in the room, you're probably going to get eight different opinions. The reality is, none of them are wrong and none of them are right, but some people speak more loudly and more confidently. My ongoing journey is having confidence in what I've seen, and what I've understood, and what I've learned, and then applying that to the projects and making sure that my opinion and my voice are being heard in those conversations.
Don't discount joy
Recently, I was encouraged to apply for a supervisory job. Part of my brain was saying, "Go for it, this is a step up," but I couldn't get excited about it because I really love what I'm doing now. The mistake I've seen people make is doing what society is encouraging them to do and not listening to their heart. I'm privileged in that I was able to say, "No. It'd be a little bit more money, but I'm okay where I am." It can be valuable and important to recognize what you like to do and what you find joy and fulfillment in, and staying true to that.
Be prepared
Depending on what I'm doing, when I'm out in the field I've got my personal protective equipment—steel-toed boots, reflective vest, hard hat, eye protection, ear protection. Project engineering plans (hard copy or on my phone), project specifications, my phone—for looking up water-quality data, compliance information, regulators' contact info in case there is a fish kill I need to call in. Water, snacks, car keys, GPS, mallet and stake to mark spots visually, lots of flagging tape, Sharpies, chest waders, knee boots, sampling equipment (for water quality or fish), measuring tape, and my EpiPen and Benadryl. I have an allergy to some kind of stinging insect, but I haven't figured out what it is yet.