Download PCARD Statement Review (PDF)
Each month cardholders are required to log onto the Wells Fargo Commercial Card Expense Reporting site and review their prior month's charges. During the 1st-6th days of the month cardholders, add descriptions for each charge, update any FOAPAL information, and submit their statement electronically to their approver.
To Log onto Wells Fargo follow the Commercial sign on link or go to Pcard Portal sign on
Enter in the Company ID: Macal196, Your User ID, and Password
Then click "Sign On"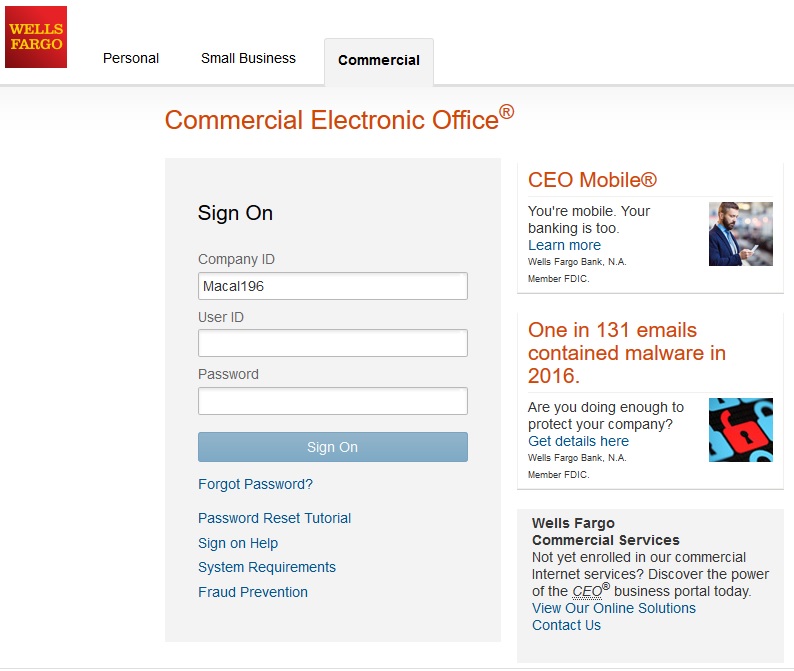 Generally, the default is set to view the open statement. If you login throughout the month, you will have to select View Cycle-to-Date.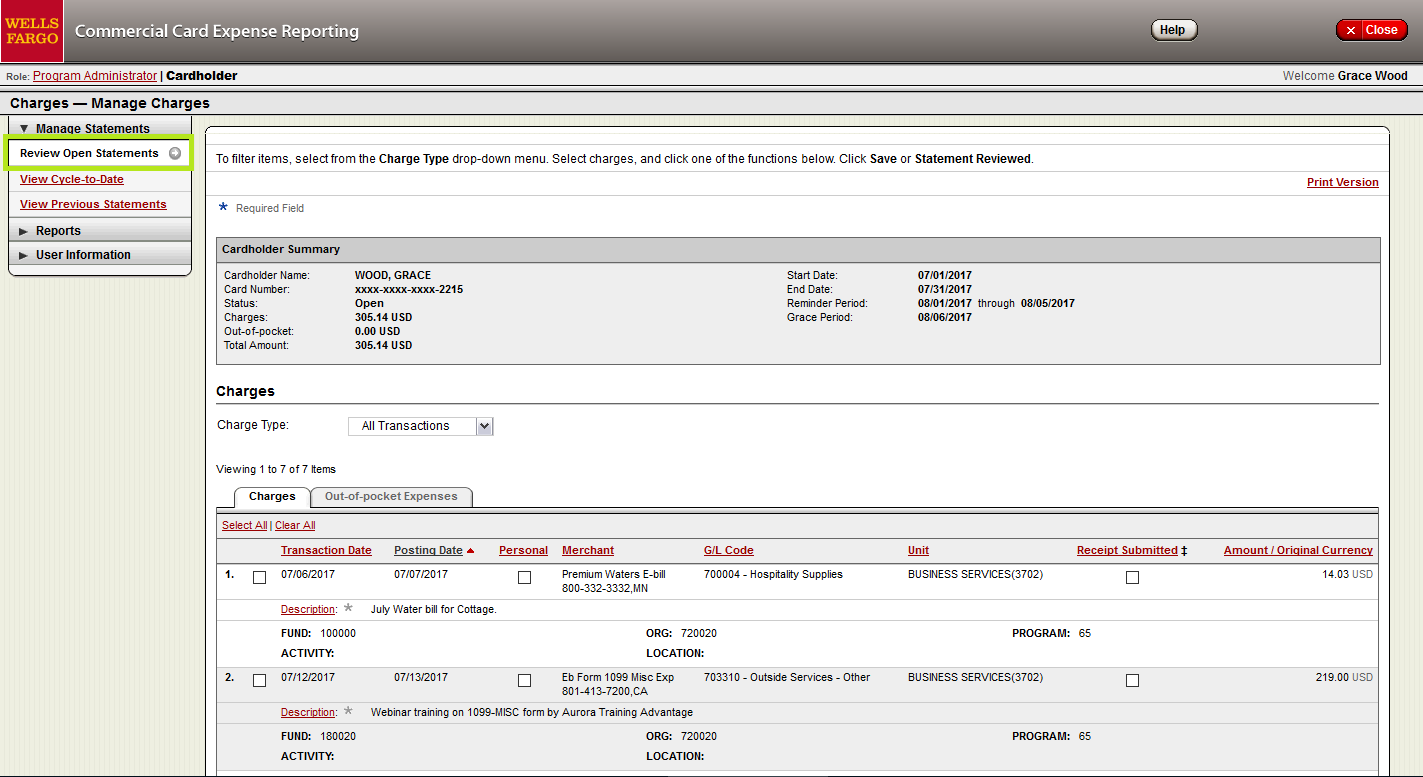 Before printing your statement add descriptions, split transactions, mark Receipts Submitted, and if needed mark charges Personal for reimbursement back to Macalester.
At this time, it is most helpful to organize all receipts in the same order as listed on the statement. Receipts can be clipped or stapled together. Sometimes Amazon or Staples receipts print in a different order than how they post on the statement. If this happens, mark the transaction number from the statement by the total on the receipt.  All transactions over $50 must have receipts. If any transaction over $50 is missing a receipt, the Missing Receipt Declaration form (PDF) must be filled out and submitted with the Pcard envelope. For federal grants, all receipts must be submitted, regardless of dollar amount.
Once all receipts are in order check the "Receipt Submitted" box for each transaction. If a receipt is missing, do not check the box.

To update each transaction select the box next to the transaction number or click "Select All" and then "Reclassify".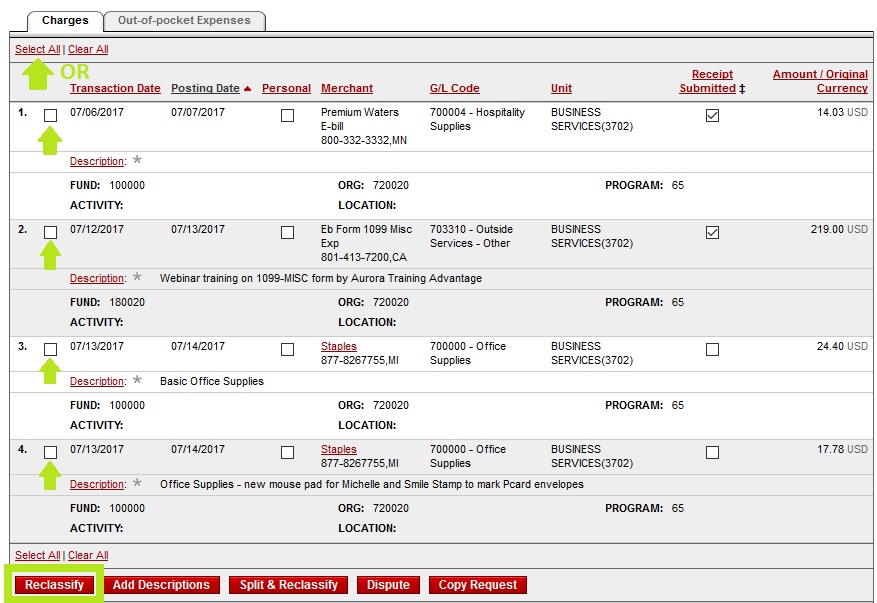 Each transaction needs a description and FOAPAL code. Your Pcard is created with a default FUND, ORGANIZATION, and PROGRAM code. The ACCOUNT or General Ledger code switches based on the category of purchase. Wells Fargo is linked with Macalester's accounting structure to select the appropriate Account code. However, it is not always correct.
To update the Account (General Ledger Code), first click the "X" by the incorrect code.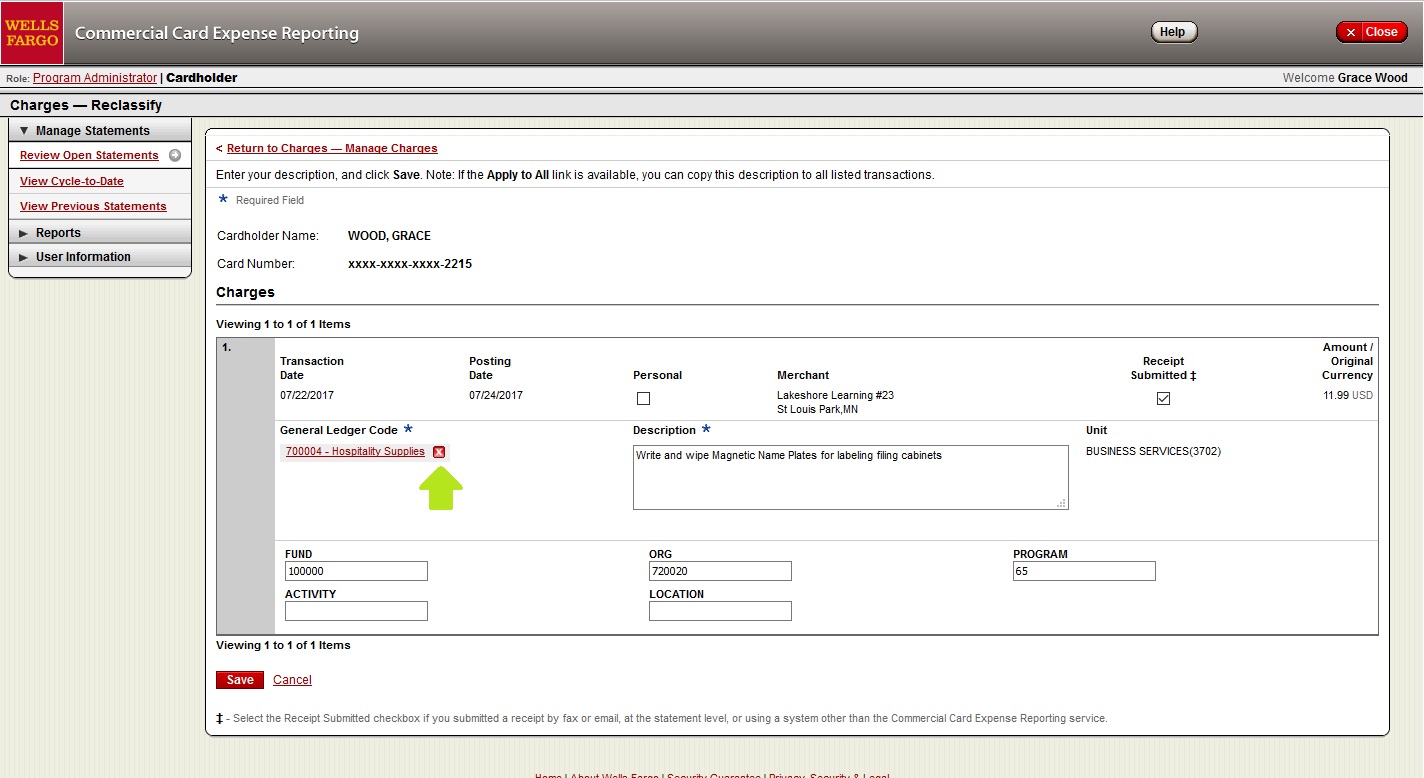 This automatically turns the incorrect code into a "small magnifying glass" that when clicked brings up an Account code menu.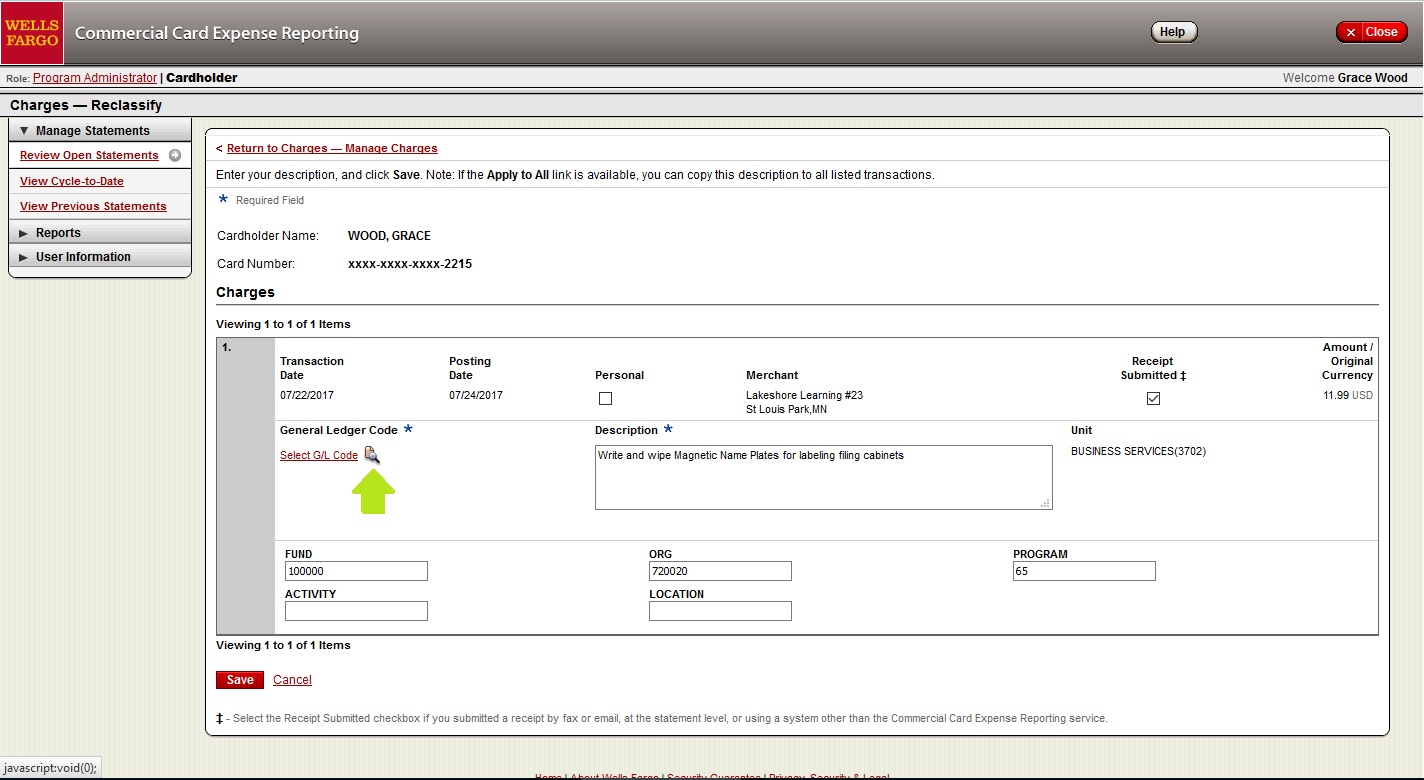 Select the most appropriate "Account Code" (General Ledger Code) from the pop-up menu.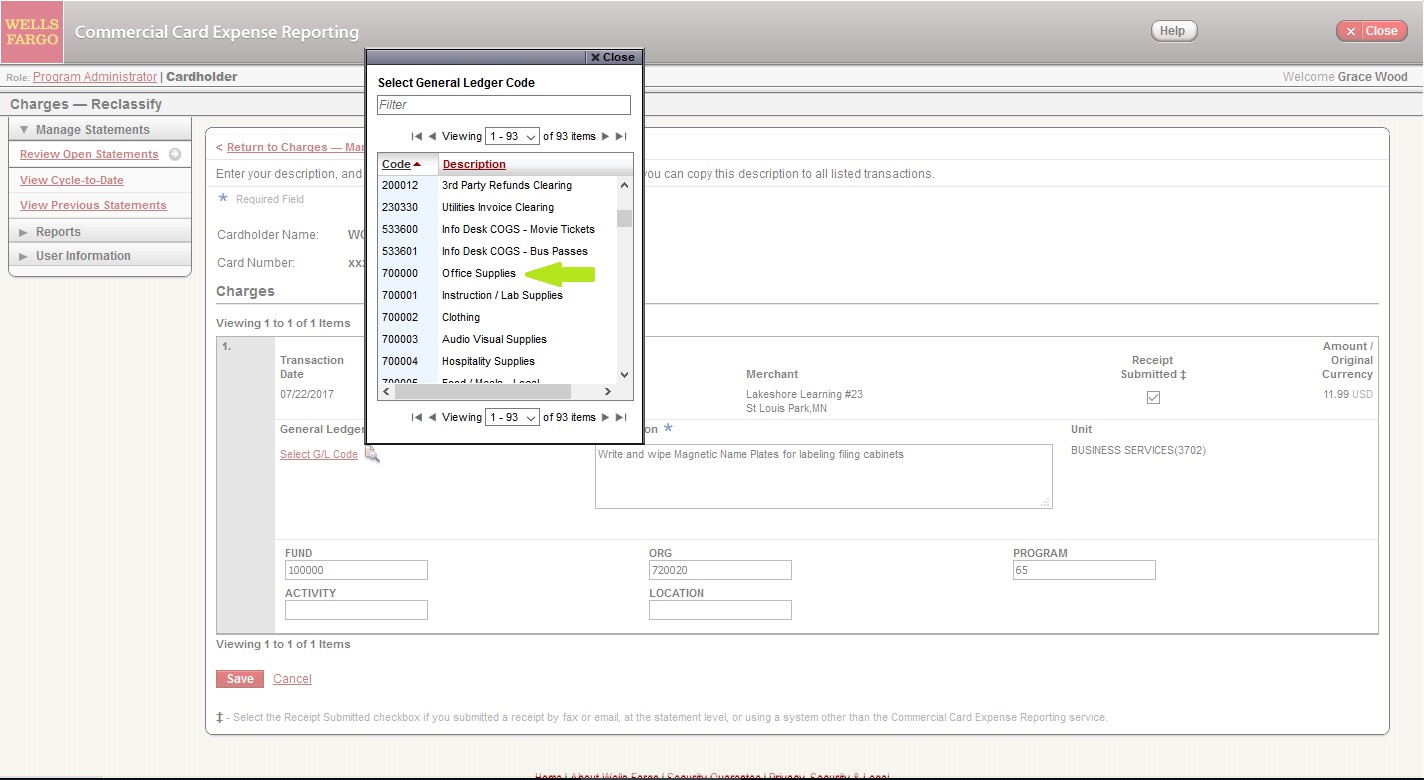 You can update the FUND, ORG (Organization), PROGRAM, ACTIVITY, and LOCATION codes by clicking in each box and retyping the appropriate code. ACTIVITY and LOCATION codes are not required but can be helpful. Please consult your Pcard approver if you have specific questions regarding these codes.
Enter "Description"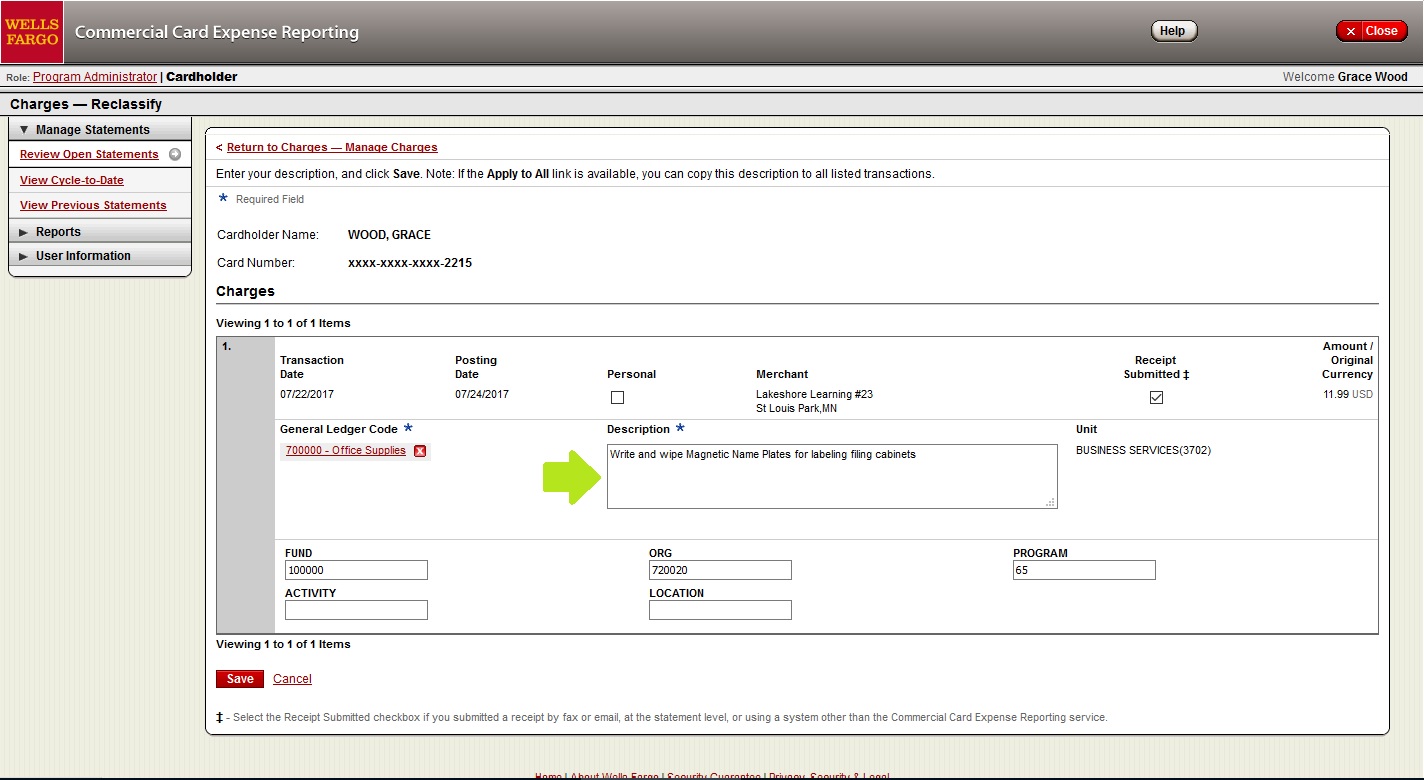 The description should provide a clear business purpose for the transaction. Descriptions do not have to be long or full sentences.
Good Examples:
Lunch with J. Smith about reunion 2018
Donor meeting with J. Smith class of '72
Breakfast bagels for staff meeting
J. Smith Flight on 8/24/17 to AAA conference
J. Smith AAA conference registration (8/15-8/18)
Standard office supplies – pens, post it notes, paper, ect.
Test tubes for J. Smith Research Grant
Gift Card for student worker, J. Smith – end of year thank you
Personal Charge – used wrong card
If necessary, you can mark a charge as "Personal." By checking the personal box, Wells Fargo will automatically withdraw the funds from your personal account and reimburse Macalester around the 14th of the month when the statement closes. You will receive an email from Wells Fargo alerting you. No further action is required.
It is helpful for the program administrator if your description for a personal charge starts with 'Personal Expense-…'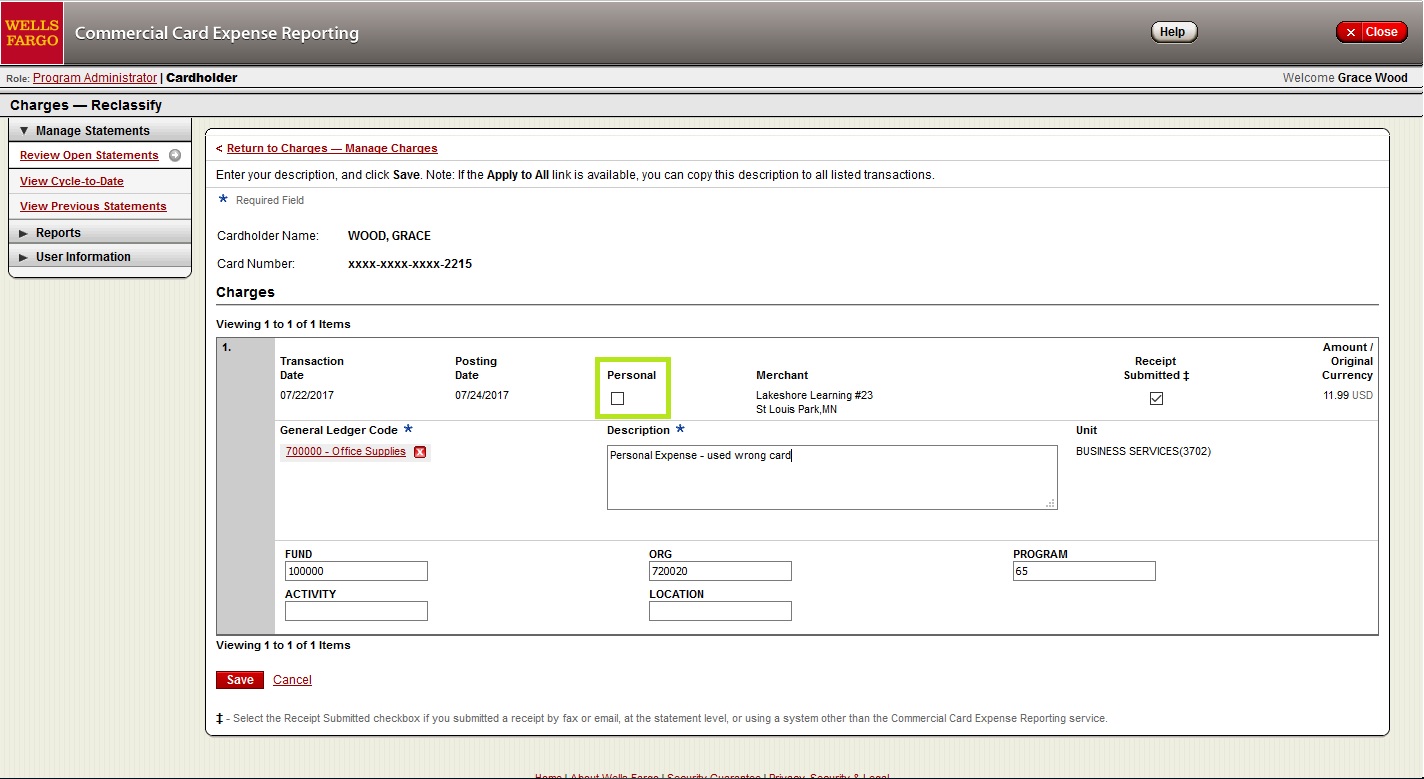 When all transactions are complete, select "Save."
You will receive confirmation of changes then select "Return to Charges."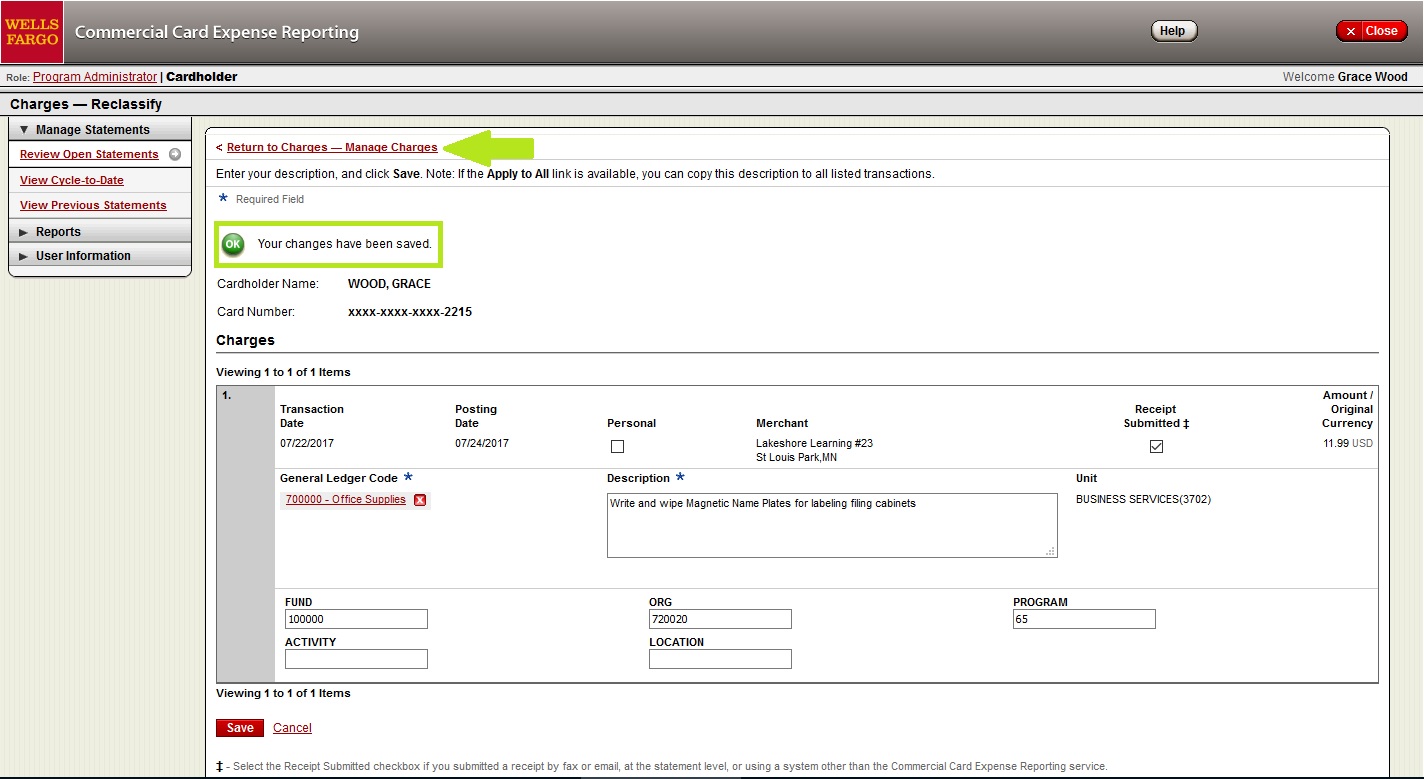 Before printing and submitting your statement consider if you have any Out of Pocket Expenses or transactions to split between FOAPAL's.
To Split a transaction, select the transaction and click "Split & Reclassify."

For each part of the split, select the "account code"(general ledger code) from the menu located in the magnifying glass, the "amount", and "description." You may have to overwrite the "Fund", "Organization", and "Program" codes. You can also add more splits. Split transactions can be used to split the cost between two or more FOAPAL codes. It is also helpful when only part of a charge is personal. In this case, only select the personal box on the amount that you are reimbursing Macalester. When finished click "Save" and "Return to Charges."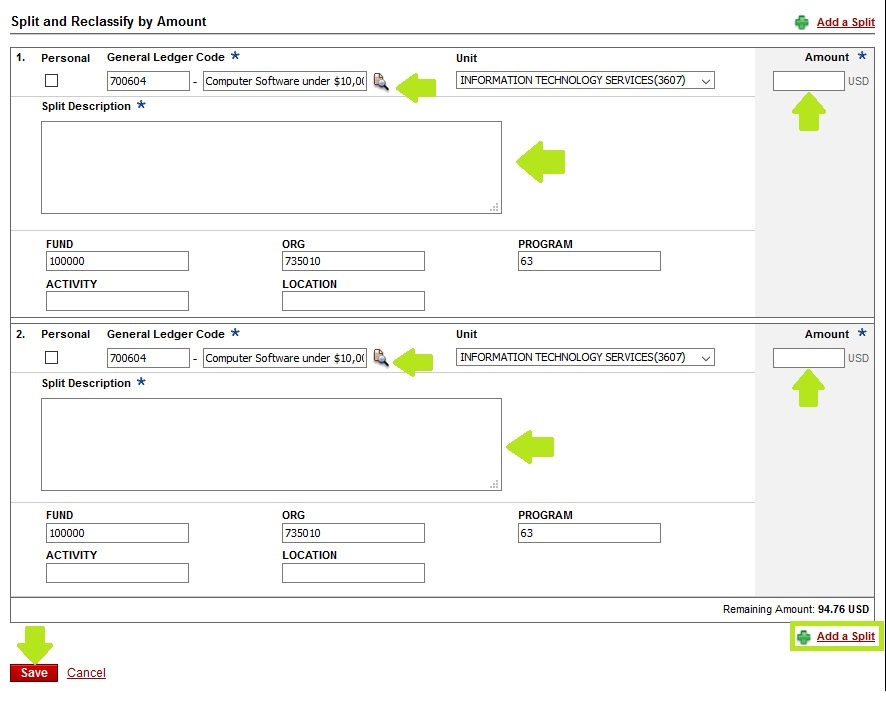 To Add or review any "Out of Pocket Expenses",  click on the tab and then "Add an Expense".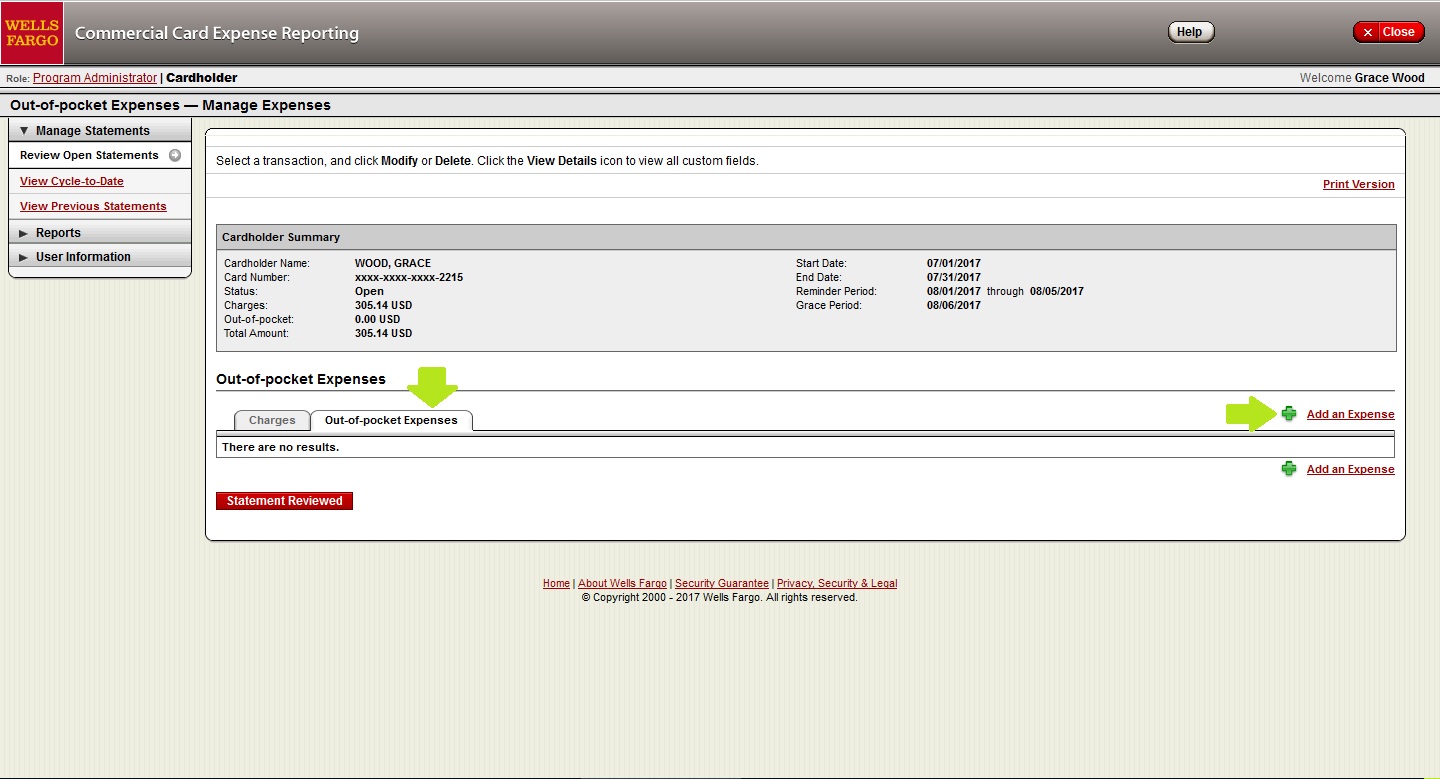 Using the receipt enter the "transaction date", "expense category", "amount" to be reimbursed, "account code" (General ledger code), and "description." Then "Save" and return to "Out-of-Pocket Expenses." *This option is only available if you have added your personal bank information.
You can also enter mileage by typing in the number of miles and selecting the appropriate year's mileage rate. This will automatically calculate the dollar amount. Your 'reciept' can be a map or driving directions for the distance calculated.

If needed add your personal bank account by selecting "Bank Information" under User Information from the left side menu.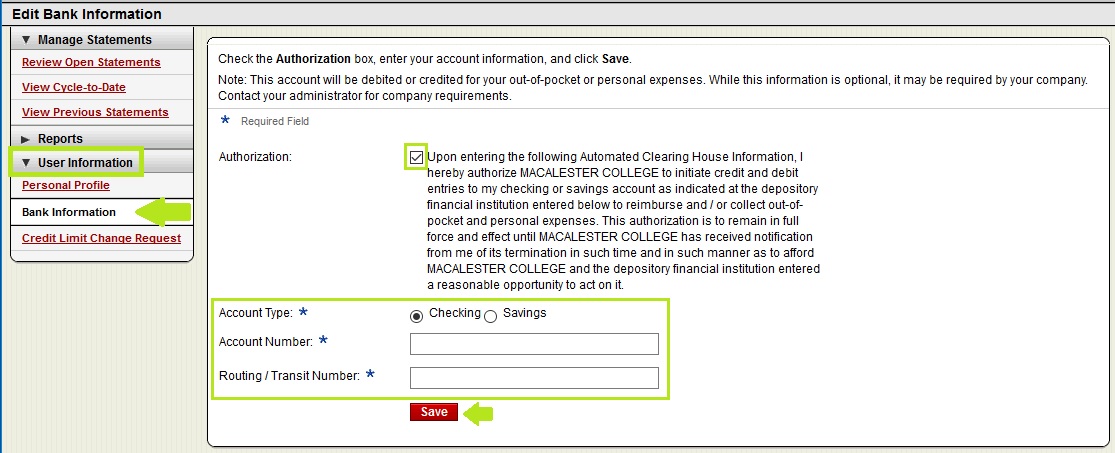 After all changes are made "Print" your statement.

A new window will open – select "Print" again.

When finished click "Statement Reviewed" at the very bottom of the page to submit your statement electronically to your Pcard approver. A confirmation box will appear, click "OK." You will receive confirmation, and no longer have options to edit your statement at the bottom of the page.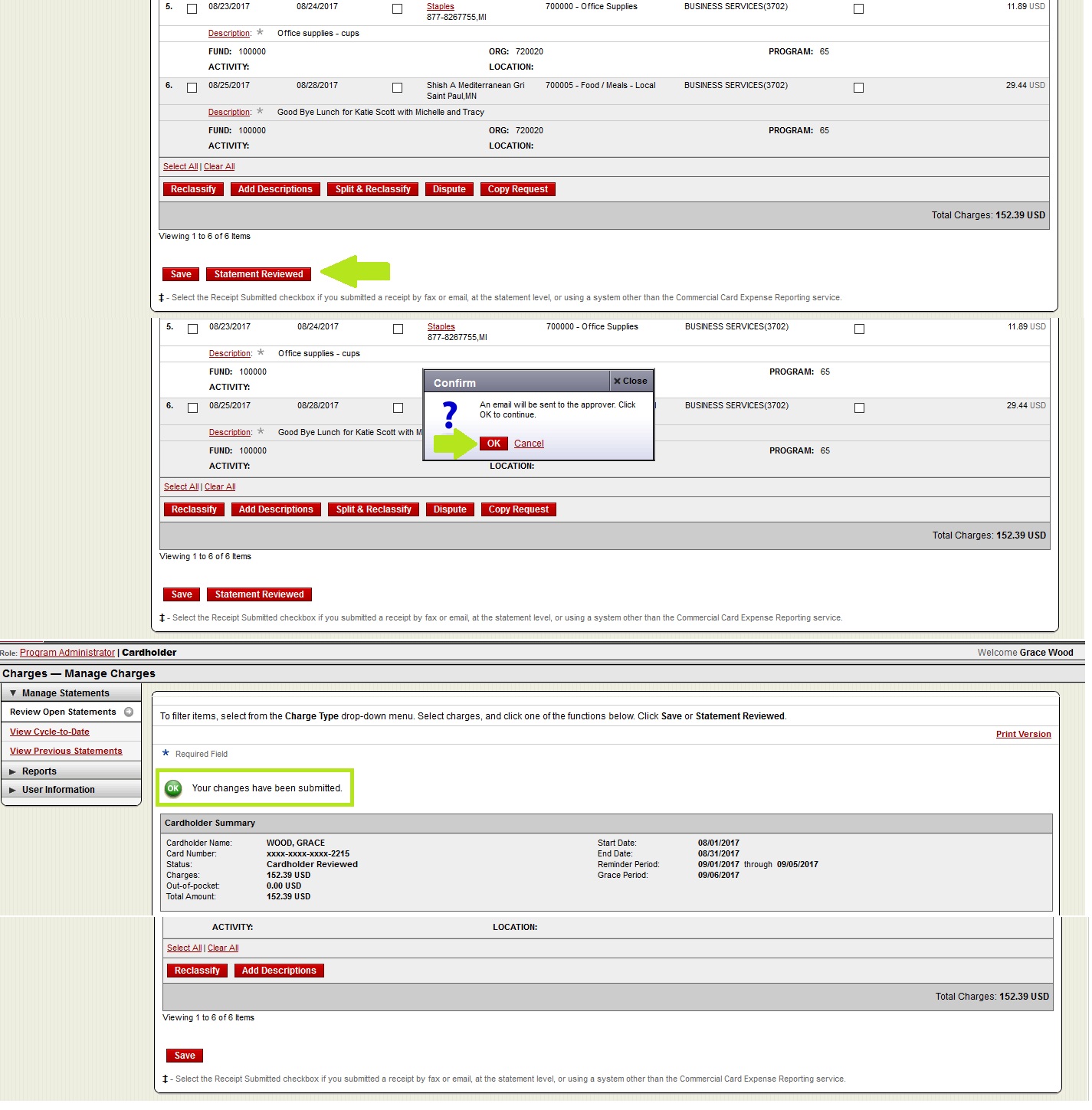 Attach all receipts in statement order behind the printed statement and put in the white monthly Pcard envelope.
Fill out the statement month, year, and your name.
Forward the Pcard envelope to your Pcard approver for signature and review.
Ideally, your Pcard approver should have the Pcard envelope at the same time they are electronically reviewing your statement.
The only documents in the Pcard envelope should be the statement and receipts (or Missing Receipt form).
Please contact the Pcard Administrator with any additional questions.
Grace Wood: gwood@macalester.edu or 651-696-6558