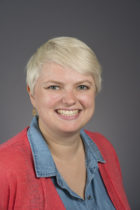 GIS Instructor and Lab Supervisor
GIS, cartography, geovisualization
Carnegie Hall, 110
651-696-6906
[email protected]

Ashley Nepp is a cartographer and the Macalester College GIS Lab Instructor. She teaches the  introductory GIS labs and variety of advanced GIS courses, including Advanced Cartography and Geovisualization and Cultural Atlas Production. In April 2018, Ashley received the 2017-2018 Educator of the Year Award, which is a student-nominated Community Recognition Award at Macalester College. In Spring 2019, her Cultural Atlas Production course created "Curious City: In, Out, Above, Beyond Saint Paul," a cultural atlas of Saint Paul, Minnesota. 
Ashley's academic and professional interests include creative cartography, design, geovisualization, data-driven and narrative visualizations, and community engagement projects. Ashley's cartographical career began as a production cartographer at Hedberg Maps, a Minneapolis-based cartography firm specializing in retail and custom cartography. She has contributed to a broad variety of map publications including a line of free pocket maps and a Twin Cities street atlas.
A lifelong Minnesotan, Ashley grew up in Duluth and Stillwater, and currently lives in the West Side neighborhood of Saint Paul. The daughter of two Macalester alumni, Ashley graduated from Macalester College herself with a degree in geography before earning her Masters Degree in GIS from the University of Minnesota.
Courses
GEOG 225 Introduction to GIS (Lecture)
GEOG 225L: Introduction to GIS (Lab)
GEOG 364L: GIS: Concepts and Applications (Lab)
GEOG 370: Advanced Cartography & GeoVisualization
GEOG 394: Cultural Atlas Production


Links for Geography course syllabi can be found on our Course Syllabi page.