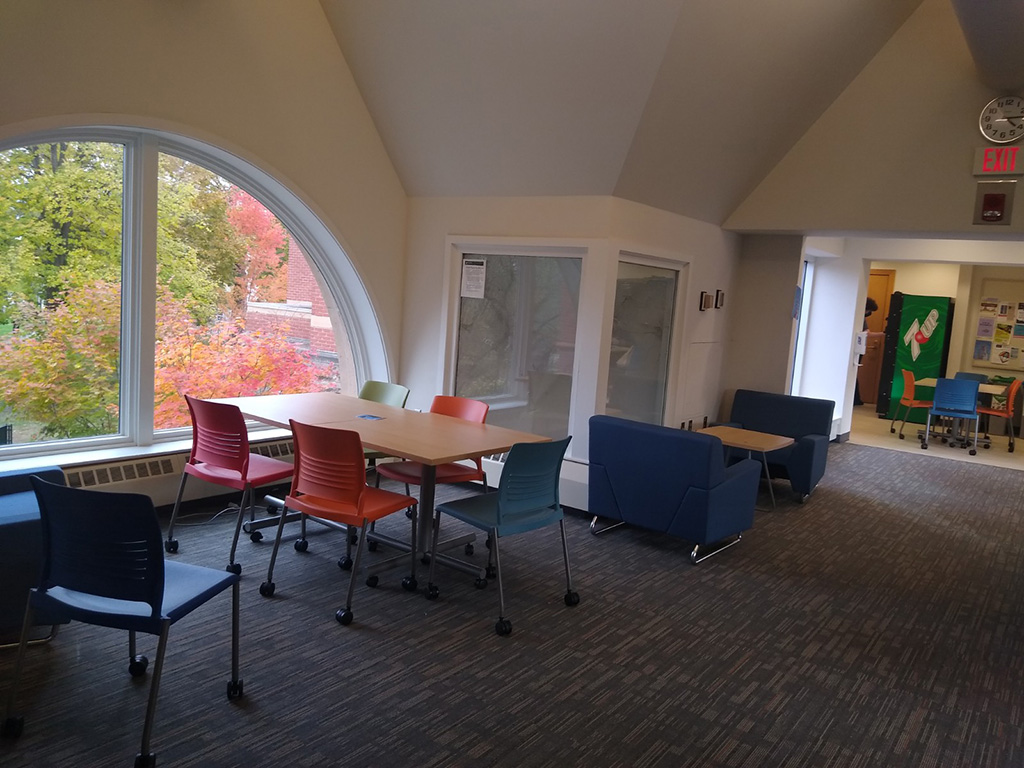 The Link, Macalester's window-filled study space that connects the library and Old Main, is available to Macalester students twenty-four hours a day, seven days a week. On weekdays between 8 a.m. and 4:30 p.m., the door that connects Old Main to the space is unlocked; during daytime, evening, and weekend hours, students can enter the library vestibule by swiping their ID cards and climb the steps to the space.
Visitors to the Link will find study tables and comfy lounge chairs, snack and beverage machines, bulletin boards featuring campus and neighborhood happenings, and a great view of the heart of campus. There are no bathrooms in the Link.
Lockers
The library and MCSG partner to make study lockers available in the Link. The fifty-two lockers are assigned to students via a lottery drawing. If you are interested in using a locker, please email library@macalester.edu for more information. 
Poster Policy for the Link
The following guidelines refer to the space between the Library and Old Main Hall, called "The Link." Due to the nature of the space, consisting mostly of windows, it requires a variation of the campus guidelines for posting on campus. For more information on the campus policy for posting, please navigate to https://bit.ly/2RSLQUq.
Members of the college community must include their name, organization name, or department, and a phone number and/or email address on any document, poster, or sign that they post in The Link for events. It is recommended to also include event time, date, location, and sponsor.
Postings in The Link can be no larger than 4 feet by 4 feet.
Posters will be removed from The Link on a weekly basis, usually on Mondays. All posters collected at this time will be recycled and/or disposed of. If parties would like their posters/banners back, they must be removed before Monday at 7 a.m..
All publications are subject to applicable Federal and Minnesota state laws.