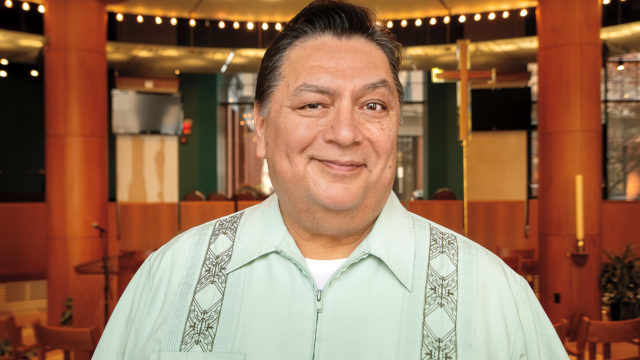 On June 26, 2015, the United Church of Christ (UCC) was gathered in Cleveland for its General Synod, a biannual meeting to elect leaders and establish goals and policies for the denomination. That morning, a murmur rippled through the convention hall: the U.S. Supreme Court had just issued its ruling in Obergefell v. Hodges, recognizing legal protection for same-sex marriages. The news, first passed around the room in giddy whispers, quickly took center stage as the attendees erupted in celebration.
"There was a lot of hugging and crying," Roberto Ochoa '76 says. "At a church assembly!"
At the time, Ochoa was serving as a pastor at a church in Worcester, Mass. Today he serves the UCC within its Congregational Assessment, Support, and Advancement program. He is the program associate for congregations of color—a growing part of a mainline Protestant denomination that has, historically, been predominantly white. Congregations of color and ethnic-identified congregations seek his support and he, in turn, ensures that these congregations know about, and take advantage of, grants and other forms of assistance from the denomination. While he's new to this position, Ochoa has been part of the United Church of Christ for 20 years.
"We strive to be a church that spreads the good news for a just world for all," Ochoa says. "I bring a lot of Mac curiosity to my work. When I visit congregations, I'm there to listen."
Ochoa didn't always plan to serve in the ministry, just as he never planned to leave his home in East Los Angeles for a college in Minnesota. A high school counselor, however, thought Mac would be a good fit.
"Doesn't it snow up there?" Ochoa remembers asking. Still, he grew up on Minnesota Street—which the 18-year-old took as a sign. He received a scholarship as part of a growing initiative to provide equal opportunities for students of color—a second good sign.
A third point in favor of Macalester: in 1971, Jack Baker, a law student at the University of Minnesota, had become the nation's first openly gay student body president—just as Ochoa was beginning to understand his own sexual orientation. Later, he would come to identify as gay. "I thought, 'Wow, if I got to Minnesota, I could be authentically me,'" he says.
But he hadn't counted on the cultural shift involved in trading a huge, nearly 100 percent Mexican American high school for a small liberal arts college with 1,900 students and fewer than 20 Latinx students. "It was a whole different world," he says. "I had to learn how to deal with being a minority."
Ochoa met his first boyfriend in his second year at Mac, and the two, along with other students, formed the Gay Student Union. Even as he wrestled with being both gay and Latinx, he says he'd found a community where he could be himself for the first time.
In the early 1970s, the GSU sponsored events about the gay and lesbian experience in the Twin Cities. Informal conversations about gay rights bled into classrooms—though, Ochoa notes, students in the GSU were wary of being too public because professors were not always supportive of gay students, even as they tolerated a spirit of activism and civic engagement.
This spirit stayed with Ochoa after he left Mac to join the U.S. Air Force. During his time in the military, he formed a relationship with the divine. "Once I accepted the fact that I had every right to a relationship with God, I started pursuing faith," he says. In 1979 Ochoa moved back to Los Angeles for a career in the new computer software industry and began attending Metropolitan Community Church, which had a large Latinx community.
Ochoa felt the call to ministry in the 1980s—right as the AIDS epidemic was sweeping through the gay community. Ochoa recalls that at the time there were few in the ministry who spoke Spanish—and there were fewer churches willing to ordain a gay man.
In 1991, he began attending First Presbyterian Church of Baldwin Park, a congregation that was part of the More Light network, the Presbyterian Church (USA)'s movement to fully welcome LGBTQ believers. The church ordained him as an elder, or church trustee, a practice that was not allowed by Presbyterian doctrine at the time.
It was at that church that he also met a Mac grad from the Class of 1919, who reconnected him with Mac's alumni community. Ochoa served for seven years as Mac's alumni coordinator for the San Gabriel/Pomona Valley area, organizing alumni events and speaking at high schools, before moving to Worcester in 1996.
There were no More Light churches in Worcester, so Ochoa joined a United Church of Christ congregation instead. There he served first as a lay pastor, working outside the church as a housing counselor with people experiencing homelessness and as a supervisor for a cable company's call center. Then, with the blessing of his Roman Catholic husband, Jim, he attended seminary at Andover Newton Seminary to finish a master's degree in divinity he'd put on hold a decade before.
Fast forward to the General Synod in 2015, to the joy of being among people of faith celebrating a historic win for LGBTQ communities.
"Belonging to a denomination that gives us hope, in the middle of things that cause hopelessness—that's important to me," Ochoa says.
Churches within the UCC started ordaining gay people in the 1970s, and in 2005 the General Synod in Atlanta upheld the rights of same gender couples to marry—a decade before the U.S. Supreme Court ruled on legal protections for gay marriage.
Ochoa points out that even in a progressive denomination he regularly confronts white supremacy. The United Church of Christ offers resources for majority-white congregations seeking to address racial justice; his role is to support congregations of color and ethnic identified congregations.
He still draws every day on the skills honed forming the GSU at Macalester: "I learned how to respond to people who are different from me, and to respond to people who see me differently. The UCC is on the front lines when it comes to immigration, women's reproductive rights, LGBTQ rights, the environment, the poor, and marginalized communities. It's the essence of global citizenship."
By Hillary Moses Mohaupt '08 / Photo by Elliott Cramer