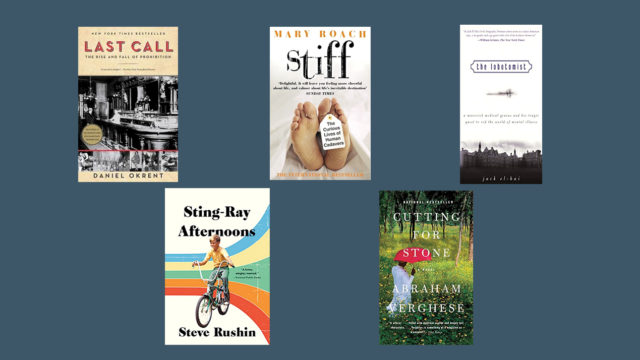 Liz Jansen is a longtime professor in the biology department, where she teaches courses on neuroscience and women's health and reproduction. She's also the director of the Olin-Rice Hub, which connects STEM students to research, internships, and career opportunities.
Any stand-out books you've read recently?
Last Call, by Daniel Okrent. It's a history of Prohibition in the 1920s, but it was especially interesting to read now, as we're having this national experiment with cannabis legalization. There were a lot of surprising parallels.
What's one of your all-time favorite reads?
I don't know if I'd say all-time, because it's kind of kooky, but I loved Mary Roach's Stiff. It's all about dead bodies—the science of decomposition, but also things like the history of people digging up graves to study anatomy, and how cadavers have contributed to science. It is actually a very funny book!
What book is crucial to understanding your academic niche?
For great books about my two fields, I might pick Jack El-Hai's The Lobotomist—a biography of Walter Freeman, a neuroscientist and psychologist who turned the lobotomy into an outpatient procedure, basically—and Jonathan Eig's The Birth of the Pill—about four people who helped to develop the first modern oral contraceptives. Both books really get at how much of our understanding of a subject is shaped by the individuals who do the work on those subjects, something that isn't often discussed in the sciences.
Any guilty-pleasure reads?
Steve Rushin's Sting-Ray Afternoons, a memoir about growing up in the '70s. It was just this amazing throwback with all the references to pop culture, and the TV shows, the cereals, the language used. It was hilarious.
What one book would you recommend to everyone at Macalester?
Oh, that seems presumptuous! I really liked Cutting for Stone, by Abraham Verghese. But I don't know that I have something I'd want to recommend to everybody.