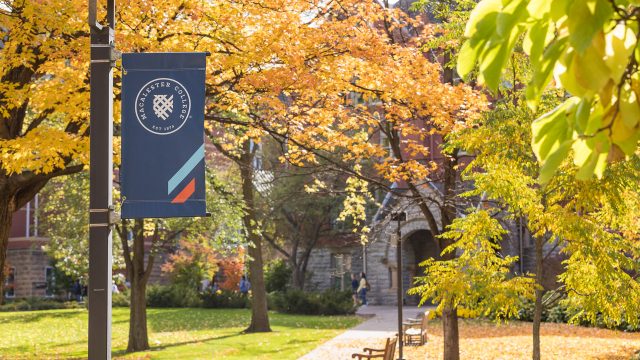 St. Paul, Minn. – Macalester College will no longer require prospective students to submit SAT or ACT scores to be considered for admission. The College's move to a test-optional admissions policy is permanent and will go into effect immediately for the Fall 2021 incoming class.
The use of standardized tests has been the subject of long-running debate in admissions offices across the country, including at Macalester. The decision to eliminate the standardized test requirement comes after several years of careful consideration that has included conversations with Macalester administrators, faculty, staff, students, and trustees, as well as internal research.
"A thorough examination of our admissions process has confirmed that we can make sound admissions decisions, and students can fully represent themselves to the Admissions Committee, without test scores," said Jeff Allen, Vice President for Admissions and Financial Aid. 
Macalester's experience and research have consistently shown that the most important factor for predicting student success at Macalester is academic performance in high school. The Admissions Committee evaluates high school performance by assessing students' access to, and performance in, rigorous courses (i.e. grades), as well as reviewing other numerous factors, including teacher recommendations, personal essays, and more. 
"Macalester's holistic and rigorous approach to assessing a prospective student's potential for success will continue unchanged," said Allen. 
With this decision, Macalester acknowledges that the standardized testing process is a source of considerable stress for high school sophomores and juniors and can be a barrier when it comes to deciding which schools to consider for the next chapter in their academic and personal growth. By eliminating the standardized test requirement, Macalester aims to reduce this anxiety and offer applicants more freedom and flexibility in presenting their best selves to the Admissions Committee. Given the uncertainty and added stress of the COVID-19 pandemic, including the cancellation of SAT and ACT testing this spring and summer, this decision takes on added importance. 
The move to a test optional admissions policy aligns closely with Macalester's values. Macalester strives to increase access for students of color, first-generation college students, and students who come from lower-income households. In making this change, the College is reaffirming its commitment to these values by recognizing that standardized testing may disproportionately affect some of the very students it seeks to attract. 
"If students believe they can be successful at Macalester, regardless of family financial background, we want to develop relationships with them," said Allen.  
In addition to adopting a test optional admissions policy, Macalester will also eliminate its $40 admissions application fee to further reduce barriers for prospective students and their families.
Learn more about Macalester College at macalester.edu.