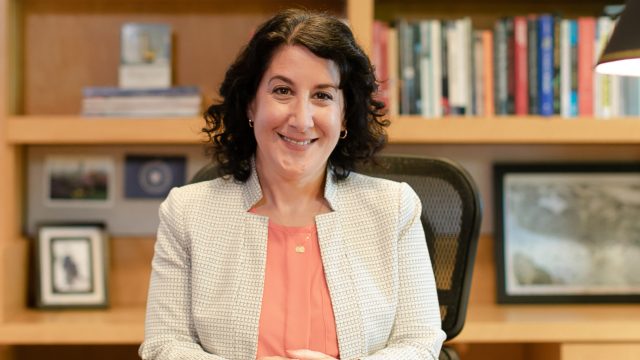 St. Paul, Minn — Governor Tim Walz and Lieutenant Governor Peggy Flanagan have named Macalester College President Suzanne Rivera to the Executive Council for the Young Women's Initiative of Minnesota (YWI). The Executive Council is made up of leaders from government, business, higher education, philanthropy, and the community and is co-chaired by Lt. Governor Flanagan, Gloria Perez '88,  president and CEO of the Women's Foundation of Minnesota, and Dr. Verna Cornelia Price, founder and president of Girls in Action. 
"The Young Women's Initiative promotes equal opportunity for young women in Minnesota with a specific focus on inclusion and equity," said Dr. Rivera. "These are core values for me and I'm honored and delighted to have the chance to work with other leaders in the state to advance them."
The first of its kind in Minnesota, the YWI is a public-private partnership between the Office of the Governor, the Women's Foundation, and the YWCA. The initiative targets young women between the ages of 12 and 24 from demographic communities across Minnesota that face opportunity gaps: young women of color, American Indian young women, young women from Greater Minnesota, LGBTQ+ youth, and young women with disabilities. In addition to the Executive Council, the YWI includes a Cabinet made up of young people who represent these communities. The goals are to build pathways for greater economic opportunity, improve safety and well being, promote leadership within the targeted communities, and work to change systems so that more young women can thrive in Minnesota. 
"I look forward to working with the Young Women's Cabinet and the Executive Council to activate the power of our state's young women and achieve gender and racial equity," said Perez. "When young Black, Indigenous, and women of color in Minnesota thrive, all young women, families, and communities thrive."
Launched in 2016, the YWI has a seven-year timeline and a $10 million budget. President Rivera and other members of the Executive Council will meet quarterly for the next two years. The results of nine listening sessions and the YWI MN Blueprint for Action will help guide their priorities and decision-making.