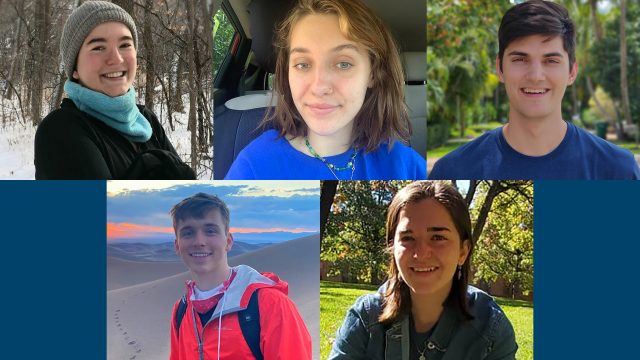 Saint Paul, Minn. — Macalester students Helen Radovic '22 (Turkish), Marley Prichard '24 (Turkish), Carter Rutherford '23 (Chinese), Alexander Hamann '22 (Chinese), and Sarah Acheson-Field '24 (Chinese) are among the nearly 700 American students at U.S. colleges and universities who have been awarded a U.S. Department of State Critical Language Scholarship (CLS) for the 2021 summer. 
According to a press release, the CLS Program provides opportunities to U.S. undergraduate and graduate students to spend 8-10 weeks studying one of 15 critical languages: Arabic, Azerbaijani, Bangla, Chinese, Hindi, Indonesian, Japanese, Korean, Persian, Portuguese, Punjabi, Russian, Swahili, Turkish, or Urdu. The program includes intensive language instruction and structured cultural enrichment experiences designed to promote rapid language gains. CLS scholars are expected to continue their language study beyond the scholarship and apply their critical language skills in their future careers.
"The Critical Language Scholarship is a great opportunity for students interested in either starting the study of a new language—potentially one that is not widely taught at US institutions such as Persian—or to gain an immersive study experience in a language they have already been studying," said Kevin Morrison, director of the Center for Study Away. He added that Macalester typically has 2-3 CLS recipients per year. 
"I think the fact that there are five this year reflects the increased interest in immersive learning opportunities," he said. 
Due to the global pandemic, the majority of CLS institutes in 2021 will be offered as a virtual program. 
About the Critical Language Scholarship
Since 2006, the Critical Language Scholarship Program has awarded scholarships to more than 8,000 American students to learn critical languages around the world. CLS scholars are among the more than 50,000 academic and professional exchange program participants supported annually by the U.S. Department of State's Bureau of Educational and Cultural Affairs. The CLS Program plays an important role in preparing U.S. students for the 21st century's globalized workforce, increasing American competitiveness, and contributing to national security. CLS scholars also serve as citizen ambassadors, representing American values and the diversity of the United States.
The CLS Program is a program of the U.S. Department of State and is supported in its administration by American Councils for International Education.
Learn more about Macalester at macalester.edu.