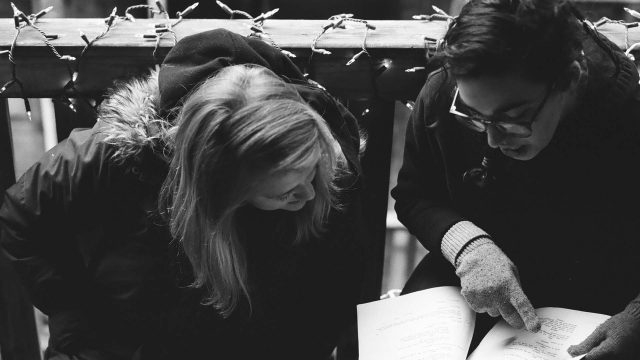 Just after Hannah Rehak '15 arrived at Mac in 2011, she auditioned on a whim for the campus improv troupe Fresh Concepts. "I went into the audition thinking, 'I don't even know what this is, but I guess I'll do it,' and left being like, 'I want to be these people's friend so much. And that Nina girl is so intimidating.'"
Rehak's time with Fresh Concepts became formative—and soon Nina Slesinger '14 became a close friend. Fast forward ten years: Rehak and Slesinger have teamed up on multiple creative projects, including the short film Downbeat, which premiered on the NoBudge streaming service last fall and appeared in the Spirit of Chicago film festival. Downbeat also features a musical score by another Mac friend, Bad Bad Hats lead singer Kerry Alexander '12.
The Downbeat collaboration started in late 2017, with Slesinger and Rehak both working and doing improv in Chicago. By that point, Slesinger had already dreamed up and drafted Downbeat, a story that follows two women in their early twenties who find themselves at a crossroads after a breakup between one main character and her boyfriend. "I love rom-coms but feel the genre hasn't aged well in my community. I challenged myself to take tenets of the rom-com and flip them to reflect the people I knew," Slesinger said in a 2020 NoBudge interview. "I wanted to keep qualities like charm and sweetness, but reframe the story to follow, for instance, the quirky best friend, or the dissolution of a relationship instead of the beginning of one, and how that becomes a beginning in and of itself."
She asked Rehak to help refine the script, then assembled the plan. "Nina put the production together," Rehak says. "It was this incredible feat of pulling on all the talent of Chicago that she had at her fingertips." With Slesinger working as the film's director, Rehak was on set for the five-day shoot as an assistant director, then joined the editing process. That took another year and a half while Slesinger and Rehak juggled the project with their full-time jobs. Last fall, the Downbeat team finally celebrated its premiere, with a toast via Zoom.
Today the friends continue their creative pursuits in Chicago, most recently collaborating on Nina, Hannah, and Emily in Paris, a podcast about the Netflix show Emily in Paris.
And it's not a stretch to see how Fresh Concepts shaped the collaborative spirit that drives their approach. "Improv changed my life course," Rehak says. "From that experience, Nina and I share the sense that if you get your friends in a room and agree on what you want to accomplish, anything is possible. Improv is about being present, supporting one another, and believing that each one of us being here makes it better. Anything I write or produce now, it still comes from that spirit of, 'Yes, we can do it.'"