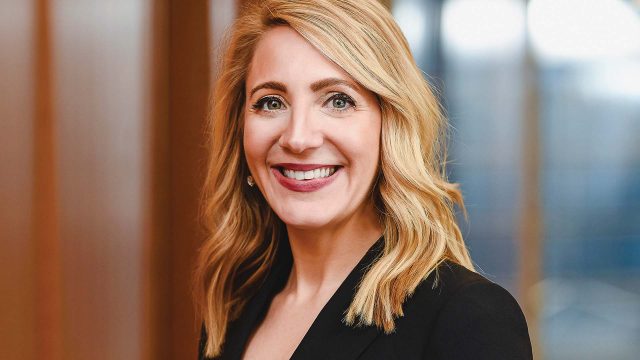 At the global law firm Jones Day, partner Erin Sindberg Porter '00 specializes in commercial litigation and investigations. But that's far from the sole focus of her workdays. She's part of several of the firm's practices: state attorney general enforcement and investigations; business and tort litigation; investigations and white collar; and health care and life sciences practices—in addition to serving as the Minneapolis office's pro bono partner. "I've always loved having different subject matter expertise that I come upon by virtue of the experience—from how the False Claims Act is implicated to how corn cross-pollinates," Sindberg Porter says. "I really thrive on collecting that specific knowledge through practical application." In addition to her varied practice, she also chairs the state's Commission on Judicial Selection, appointed by Governor Tim Walz to lead the 49-member group that solicits, evaluates, and recommends judicial candidates. We asked Sindberg Porter to reflect on what she's learned so far.
Impressions add up.
Not every impression is made in large, grand moments. Instead, your reputation gets built on a lot of small moments—in my field, that might be demonstrating that you have a deep knowledge of the content of important documents, or understanding how to diffuse a nuanced procedural argument. While the big moments like arguing to a court or presenting to a corporate board are exhilarating, nailing the opportunities presented by the small moments are what lead you there.
Know your audience.
In private practice, there's a significant priority on delivering information quickly and confidently, starting with the headline and then building in detail. Although I'm very comfortable presenting information orally, I have a tendency to get into the weeds, so I have to be intentional about giving the headline first. I try to think about my audience in preparing for a client call, court appearance, or internal discussion with colleagues. Seeking feedback afterward can be helpful, as can introspection without rumination.
Explore with an open mind.
At Macalester, I conducted many informational interviews with alumni when I was a student, talking to people who had jobs I thought sounded interesting or who worked in areas I thought might be a good fit for me. Not surprisingly based on my own experience, I encourage students to talk to people in different fields and roles to help them figure out what's going to be a good fit. If you don't understand a job or how an organization works, it's easier to dismiss: It can be really easy to write off a large corporation, for example, without recognizing the richness of opportunity that a large corporation can present. I want to see Macalester students be open-minded about that exploration: at big companies, small companies, public service, nonprofits, and for-profits. You are not defined by who you work for, but you can help define who you work for.
Acknowledge missteps.
Unfortunately, I have encountered people in my line of work who have tried to bluff their way through tough issues when they lack the substance. It may sound good and people may react well, but that sort of bravado and false confidence does not serve a client's best interest. Leaders in our profession must lead with knowledge, and must work to build trust with clients and collaboration with their teams. Self-awareness is key. When a leader can acknowledge to their team a failure, like a misstep in communication or an error in a presentation, the acknowledgement creates psychological safety. That's important for effective collaboration and for the quality of the work. I am always impressed with leaders who can pause briefly to acknowledge an error, but then carry on with the work that needs to be done. Similarly, I prize when colleagues own up to a mistake. The quicker we acknowledge it, the quicker we can fix it.
Continuing Education
What works at work? Three of Erin's recommendations:
Organizational psychologist Adam Grant's "WorkLife" podcast
Harvard Business Review's "Women at Work" podcast
How to Be Happy at Work: The Power of Purpose, Hope, and Friendship by Annie McKee