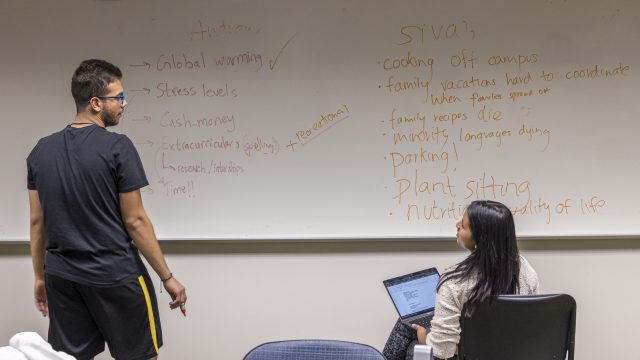 An all-first-year team nabs first prize at Mac's annual innovation and creativity competition.
The Macathon mission is simple. Working with a team of three to six students, invent a unique and original service or product (website, application, physical product) that solves a real-world problem. The twist? All of your work takes place in twenty-four hours.
Nearly 100 students on seventeen teams took part in the ninth-annual Macathon, November 5-6, 2021, fortified by pizza at a Midnight Mingle, snacks, a hot brunch, and a taco bar.
Twenty-four alumni entrepreneurs also participated, some serving as virtual mentors who provided advice and support to students throughout the night via Slack, and others joining in person to judge the presentations and select finalists.
After brainstorming and refining their ideas, each team prepared and delivered a seven-minute verbal/visual video presentation of their product or service. Students were judged on their identification and understanding of a real-world problem, their solution, and their presentation.
Judges chose six finalist teams and twenty-four hours later the finalists gave their presentations to a live audience. Following the presentations, judges selected the top three teams, and President Rivera gave out the 2021 awards.
Team Mac & Cheese (Rola Cao '25, Hanna Kong '25, Rachel Christensen '25, Huihui Jiang '25, Aahanaa Tibrewal '25, and Melissa Ballin-Cardona '25) took first place and a $1,000 prize with a product that uses TPU (thermoplastic elastomer) to create an eco-friendly sustainable packing material that could be used to ship heavy machinery and help reduce some of the 16,530,000 tons of single-use products that end up in landfills each year.
Second place and $750 was awarded to Team InterAJA (Jonas Costa '23, Alice Bruno '23, and Alessandra Rosa Policarpo '24) which designed a smartphone app disguised as a calculator that can be used by people who are experiencing domestic abuse. Domestic violence increased nine percent during the pandemic. The app has links to 911, shelters, crisis chats, and more, and, with the touch of a button, can be quickly viewed as a calculator if the user is in danger.
The Prince of Denmark team (Katherine McCarthy '22, Natalie Parsons '23, Justin White '22, and international exchange students Alex Rössel and Lucas van den Heuvel) took third place and $500 with Spēd, an all-natural, substance-free, oral spray sensory stimulant that helps students and others fight fatigue without relying on addictive or unsustainable products.
"These are ideas of hope," said Jody Emmings, interim director of Entrepreneurship and Innovation, at the event's conclusion. "We love and are inspired by what we see you think about."