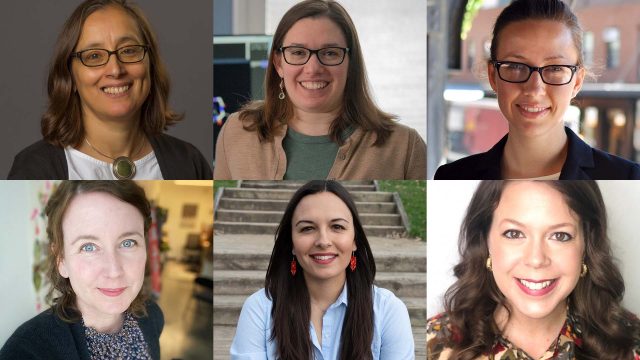 St. Paul, Minn. – Six Macalester professors representing a broad range of disciplines have been awarded tenure. They are: Erika Busse-Cárdenas, Sociology; Leah Witus, Chemistry; Jessica Pearson, History; Megan Vossler, Art and Art History; Katrina Phillips, History; and Amy Elkins, English. 
Professor Busse-Cárdenas is a sociologist who specializes in international migration, family, motherhood, gender, and race relations. Her multiple research projects focus on binational marriages between Peruvian women and White Minnesotans and Belgians, women's rights in Uruguay, and so-called "Dreamers' Moms," a group of mothers in Tijuana who have been deported and are working to reunite with their children in the United States. Among the courses Dr. Busse-Cárdenas teaches are Immigrant Voices, Race/Ethnicity, and Reproductive Justice. Her teaching philosophy is focused on developing an inclusive pedagogy that is anti-racist, anti-sexist, and anti-colonialist. Prior to her academic career, Professor Busse-Cárdenas worked for Conservation International, two government ministries in Peru, and the country's Ombudsman's Office in the area of women's rights. Born and raised in Lima, she earned  a B.A. from Pontificia Universidad Católica del Perú, M.A. from the University of Sussex, UK, and  Ph.D. from the University of Minnesota.
Professor Witus is an expert in chemical biology, organic chemistry, and biochemistry. Much of her latest research has been in collaboration with her students and focuses on very short proteins – called peptides – that catalyze chemical reactions. Fundamental studies on catalysis have broad importance for a wide range of fields – from aiding the industrial synthesis of new pharmaceutical compounds, to serving as therapeutics directly, to remediating environmental pollutants. Professor Witus also works on scientific communication and created a YouTube channel of animated science videos for children and the general public called "Preschool PhD." She produced a video to explain the COVID-19 mRNA vaccines and studied its effect on reducing vaccine hesitancy. She teaches biochemistry, general chemistry and plans to teach an advanced scientific communications course. Professor Witus hails from Ann Arbor, Mich., and  earned a B.S. in chemistry from Rice University and Ph.D. in chemistry from the University of California, Berkeley.  
Professor Pearson is a historian of modern and contemporary France with a broader focus on internationalism and global decolonization in the 20th century. Her current book project examines the history of global tourism in the French and British empires and former empires and is tentatively titled, Traveling to the End of Empire: Leisure Tourism in the Era of Decolonization. Professor Pearson's first book was about the history of the World Health Organization in French-controlled Africa. Prior to her arrival at Macalester in 2016, Dr. Pearson was an assistant professor of European Studies at the University of Oklahoma. She teaches a variety of courses on modern European history, decolonization, race and racism, and travel and tourism. Professor Pearson is from Lakeville, Minn. and earned a B.A. in history and French from Kalamazoo College and Ph.D. in history and French studies from New York University. 
Professor Vossler is a practicing artist with expertise in drawing and illustration. Her work focuses primarily on large-scale drawings and has been exhibited nationwide, including at the Minneapolis Institute of Art, the de Young Museum, and the Wooster Art Museum. Her recent 15-foot wide, multi-panel drawing, entitled "Storm Surge," is an exploration of the power of catastrophic climate events such as floods, and was featured in her 2021 solo exhibition, Intervals, at Soo Visual Arts Center in Minneapolis. Professor Vossler has received fellowships and residencies from Yaddo, the National Endowment for the Arts, the McKnight Foundation, and the Jerome Foundation, among many others. She has been teaching drawing and illustration at Macalester since 2009, and previously has taught at University of Wisconsin, River Falls, and Minneapolis College of Art and Design. Originally from southern California, Professor Vossler earned a B.A. from Brown University and M.F.A. in Visual Studies at Minneapolis College of Art and Design.
Professor Phillips works in Native history and the history of the American West. Her recent publications include a book about tourist attractions that exploit local tribal histories called Staging Indigeneity: Salvage Tourism and the Performance of Native American History. She's also recently published a children's book about Indigenous People's Day and a graphic novel about Ada Blackjack and the Wrangel Island Expedition of 1921. A citizen of the Red Cliff Band of Lake Superior Ojibwe, Professor Phillips is working on a book about her reservation called There are Rocks in Between: Activism, Environmentalism, and Tourism in Northern Wisconsin (the title comes from her grandmother's 1969 Congressional testimony). She teaches courses on Native history, the American West, popular culture, and public history. Professor Phillips began her career at Macalester in 2014 as a predoctoral fellow through the Consortium for Faculty Diversity. She earned a B.A. and Ph.D. in history from the University of Minnesota.
Professor Elkins is an expert in 20th and 21st century literature, with a focus on gender and sexuality and visual and material culture. Her first book, Crafting Feminism from Literary Modernism to the Multimedia Present, examines how women writers have used craft such as needlework, pigment-making, and collage as a form of resistance in their work, and is forthcoming from Oxford University Press. Since arriving at Macalester in 2016, Dr. Elkins has created more than 15 courses including Queer Muses in Film and Craft, Activism, and Subversive Stitchers. She also piloted the development of the English concentration for the Environmental Studies major. Among her goals as a teacher is to empower students to see their academic work as part of a conversation with the real world. Professor Elkins grew up in Hot Springs, Ark. and earned a B.A. in English and Studio Art from Hendrix College, M.A. from the University of Virginia, and  Ph.D. in English from Emory University.