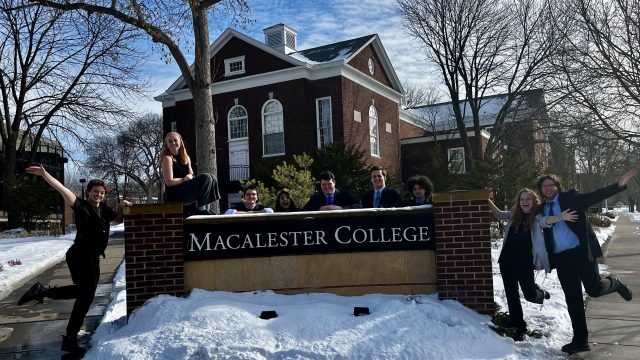 Students in Ethics Bowl take the national title
"My favorite thing about Ethics Bowl is that you're not assigned a side."
Casey Moerer '23

"In Ethics Bowl you can be comfortable being unsure about a topic, or even being wrong," says Casey Moerer '23 (Santa Cruz, Calif.), a Macalester Ethics Bowl team co-captain. "Countless times I've come into an issue with my own perspective and have been gently and constructively challenged by my teammates."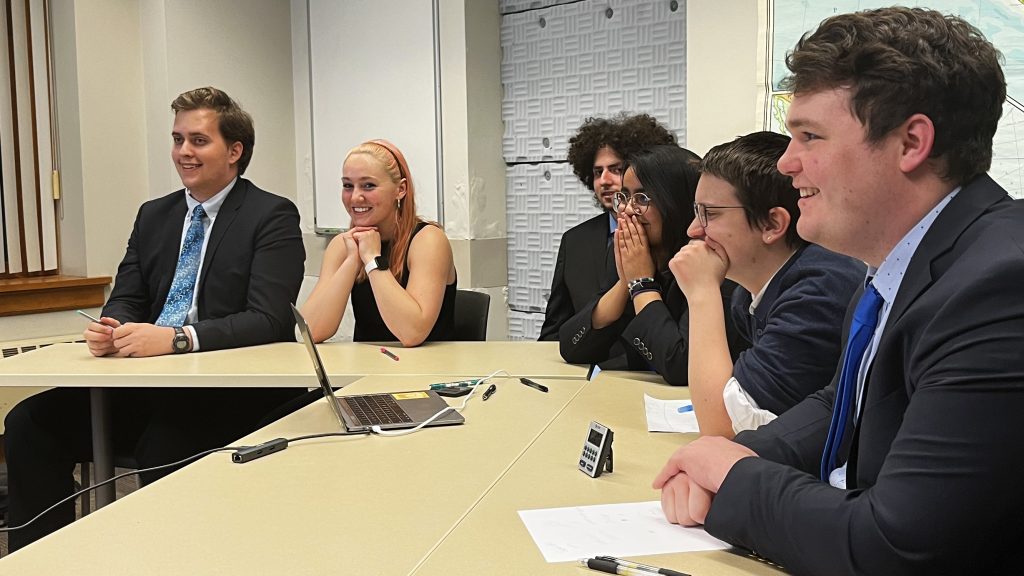 This winter, Moerer and teammates spent two months getting ready for the 26th Annual Intercollegiate Ethics Bowl national competition after qualifying at the regional level last fall. They prepared arguments for seventeen real-world ethical dilemmas, including facial recognition technology, hate speech regulation, drone warfare, and hybrid human-monkey embryos. And their hard work paid off: Competing virtually from campus in late February, the team was crowned the 2022 national champion.
The national competition followed the traditional Ethics Bowl format, in which teams prepare arguments without knowing the question beforehand and are given only a minute or two before each round to prepare their thoughts. Competitors are judged on the clarity, nuance, and logical soundness of their arguments and, unlike other debate competitions, teams can agree with one another.
"My favorite thing about Ethics Bowl is that you're not assigned a side," says Moerer, a political science major and Russian studies minor. "In a lot of other debate formats, you're told you're either pro or con on an issue. Ethics Bowl really values and encourages people to actually think about what they believe and what they think the right thing to do is. And not just that, but to consider, why do you value that? Why do you think that's the right thing to do?"
After winning all four preliminary rounds, the team defeated University of California-San Diego and Westminster College in quarterfinals and semifinals, respectively. In the final round, the team competed against the University of Chicago, debating the Birds Aren't Real movement in the age of misinformation. 
Macalester's approach of giving everyone a chance to speak and share their piece produces better arguments and better outcomes, says Moerer. Co-captain Sarah Falkovic '22 (Chapel Hill, North Carolina) agrees, adding that "Macalester's egalitarian approach to debate is uncommon in the field of competitive ethics."
Moerer, Paul O'Connell '22, Joe McMurtrey '22, Dipakshi Sarma '24, Sarah Beth Hobby '24, and Ethan Glass '25 represented Macalester against thirty-six opposing teams from across the nation, who all had qualified at the regional level in the fall. Falkovic, Sarah Gotbetter '22, and Eli Schue '24 assisted the team as student coaches and researchers, alongside program alum and volunteer coach Nathan Vinehout Kane '18 and director of forensics Beau Larsen. 
"Ethics Bowl contests the idea that contemporary ethical dilemmas are merely two-sided disagreements, instead believing that there is a wider array of questions to ask and considerations to examine," says Larsen. "Students are asked to contemplate the relevant values, frameworks, and stakeholders of an issue while forwarding ethical arguments. It's an interdisciplinary activity here at Macalester that welcomes students of all majors." 
The team, which also won the national Bioethics Bowl in 2021, will defend that title in April. The annual national competition focuses on a narrower range of ethical issues in science, medicine, and public health. But, for students, competition is only one meaningful aspect of the Ethics Bowl experience. 
"The Forensic Department as a whole really has created a community that fosters alumni connections," says Falkovic, a neuroscience major. "It's something that lasts much longer beyond our time in Ethics Bowl. We had a lot of conversations with alumni over the summer at social gatherings and on Zoom calls, and it was so fun to have this sense of timeless belonging and bonding. It's a wonderful place not only for what you do while you're here, but also for the community you gain once you graduate." 
Vinehout Kane is part of that extended Mac forensics community. "Throughout the eight years I've been with the team, the faces may have changed, but the conversations have stayed the same," he says. "Mac Ethics Bowl has always been about fun tangents, commitment to community over trophies, and making the right argument over winning with the simplest argument. From the way my phone was blowing up after we won, I know it was extremely validating for everyone who built the program to see our style excel on the biggest stage."