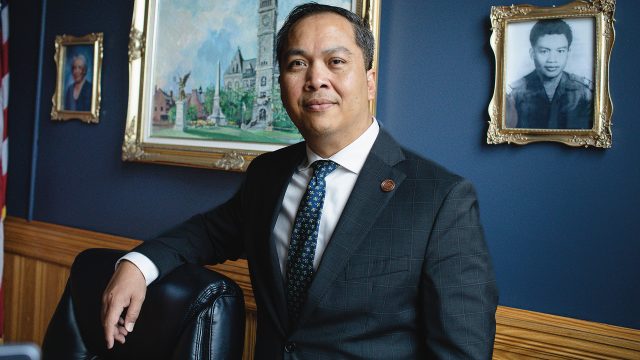 By Soreath Hok / Photo by Rich Pizzuti
When Sokhary Chau '96 first came to Lowell, Massachusetts, as a fourteen-year-old Cambodian refugee in 1986, politics were the furthest thing from his understanding. He never imagined that he would one day become the city's mayor, let alone the first Cambodian American mayor in the United States.
Now, thirty-six years after his arrival in Lowell, a city of 110,000 thirty miles north of Boston, he leads the most diverse city council in its history. Out of eleven city councilors, three are Cambodian refugees. Together, they represent the second-largest Cambodian refugee population in the United States.
Within his first two months in office, Chau invited friends and family to a cultural ceremony—typically held as a private gathering—at City Hall. The event marked the one hundredth day since the death of his mother, who lived long enough to cast her ballot for her son but died before Inauguration Day on January 3, when the city council voted unanimously to elect Chau as mayor.
In Cambodian culture, the one-hundred-day ceremony is a special occasion to end the first mourning period for a loved one. For his mother's, Chau invited her friends and their family, and held the ceremony in the mayor's office, where he hung pictures of his mother and father to honor their journey: Chau's father, a captain in the Cambodian Army, was executed by the Khmer Rouge regime, and his mother helped all seven of their children escape Cambodia in the late 1970s.
For Chau, holding his mother's ceremony in an unconventional location speaks to one of his goals as mayor: to make City Hall a more open and inviting place for its citizens, especially for members of the many diverse immigrant communities that reside in Lowell. Chau says he was motivated by his own experience as an immigrant before he held office. "I'm a pretty confident person, but walking into City Hall was intimidating," he says. "Imagine other immigrants, right?"
Chau's life in the United States started in Pittsburgh in 1981, where his family was first sponsored by a Catholic church. But better-paying factory jobs drew the family to Lowell, along with many other Cambodian refugees in the 1980s.
Chau was too young to work, so school became his focus, and that opened opportunities. In middle school, Chau's teachers encouraged him to apply to private school, and he earned a scholarship to attend Phillips Academy in Andover, Massachusetts. There, he found an interest in service, which led him to Macalester, where he received a scholarship for students committed to civic engagement. Chau, who majored in economics, was also heavily influenced by the college's emphasis on internationalism.
"When I heard the terminology 'the global village,' I felt for the first time like I might want to do something that could tie the US and Cambodia or southeast Asia," he says. "I always felt like I could do more because of the experience I had just surviving the Khmer Rouge. When we first came here, we were all on welfare. And then I went to two of the best schools, in my opinion. With all the amazing people around me, I always felt like I had to do more with the opportunities given to me."
After college, Chau came back home. He found steady work in Lowell and started his own mortgage company before the mortgage crash closed it in 2008. After that, he worked at law firms, but he always felt something was missing. "I think it quietly worked itself through my conscience somehow that I just wouldn't be happy with not giving back to the world, not doing something more for the community," he says.
His first foray into politics was helping two Cambodians in his community get elected to office, one to the Lowell City Council and another to the Massachusetts House of Representatives. When another council seat opened in 2017, Chau decided to make a run. Although his first attempt was unsuccessful, he decided to try again with the support of his community and won in 2019. And it was the same community support that launched him into the mayor's office this year. One of his key goals is to diversify the city's staff. "Lowell is very diverse," he says. "So we want the staff at City Hall, the police department, the fire department, public works, and the schools to reflect the people that we serve."
Chau says he wants Lowell's residents to feel comfortable engaging with their elected leaders and demanding more from them. And along the way, he said he hopes his actions will inspire the next generation to pursue their own dreams. "I want to do a good job and be a role model to the younger generation," he says. "I want to show them that there's a pathway."
Soreath Hok is a journalist at Valley Public Radio in central California.