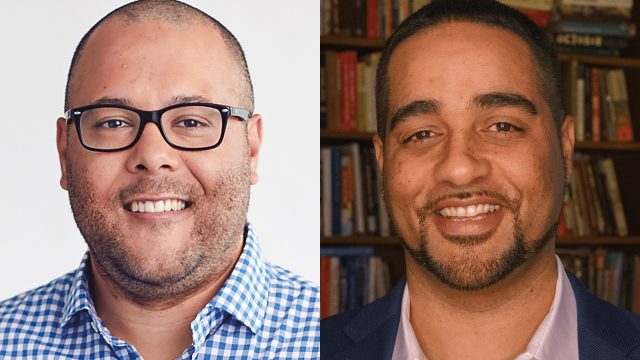 The Alumni Board strives to connect alumni with one another and with Macalester, and each board member supports those efforts by joining a working group focused on athletics, career connections, or diversity.
Over the past two years of building alumni programs in virtual spaces, the Alumni Board's diversity working group has explored a range of formats, from formal panels to bustling breakout room discussions guided by alumni experts. This year, Andrew Kaufteil '01 and diversity working group chair Karen Codjoe '74 decided to try something new: facilitate conversations between two alumni from diverse backgrounds, with a goal to embrace the college's tenet of multiculturalism and celebrate inspiring alumni stories and paths through dialogue.
Their creation: Between Two Maples, a thirty-minute interview series inspired by comedian Zach Galifianakis's show Between Two Ferns. The series launched in December with Wipro brand marketer Will Clarke '07 interviewing educator and activist Jesse Hagopian '01. Read on for an excerpt of their conversation adapted for print, or watch the full interview at macalester.edu/mactogether—and join the next Between Two Maples conversation in May.
Will Clarke: At Macalester, students do all kinds of things and follow different passions. You came to Mac thinking of yourself as an athlete. How did that change?
Jesse Hagopian: Before Macalester, my life revolved around baseball and soccer. But at Mac, I finally started to connect with and find a purpose in education. In my sophomore year, I took film studies with Clay Steinman, and he was instrumental in helping me learn to analyze society and write about it. "The Black Experience Since World War II" class with Mahmoud El-Kati blew my mind. And the mentorship I got from Leola Johnson and Duchess Harris changed my life. These educators redefined for me that education could be about solving problems in the world, understanding who you are, and working collectively with others to make a difference—and that intellect couldn't be measured by a number determined by a testing corporation.
WC: How does your experience with standardized testing influence your work now?
JH: It has been really important. My experience of feeling shame, and not worthy of school, because of my test scores is one of the things that brought me to lead a boycott of a standardized test at the school where I teach in Seattle—my alma mater, Garfield High School. We had a decisive victory and I needed to communicate those ideas to people all across the country who are building the opt-out movement, so I helped create the book More Than a Score: The Uprising Against High-Stakes Testing, to tell that story.
WC: When did you know you wanted to be a teacher?
JH: For most of my life, I knew that I would definitely never be a teacher. But I went through a transformation at Macalester and wanted to think about how I could communicate some of these ideas to kids: to make education relevant to their lives a lot sooner than it happened for me, to help them understand they're more than a score, to explore ideas of race and power in society. In my first job in Washington, DC, the first project I assigned got destroyed because of a hole in the ceiling. Students created these beautiful posters about someone from history they admired, and before they could present them, the posters were completely destroyed by the rain coming through the ceiling. I knew then that I not only had to be an antiracist teacher in the classroom, but also had to figure out how to organize collectively to transform the conditions of public education, if I was really going to meet the needs of my students.