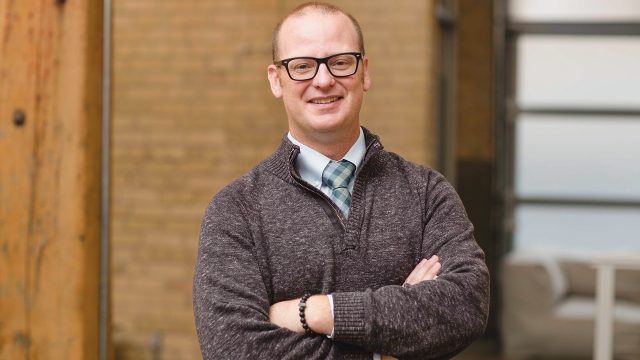 By Daniel P. Smith / Photo by Pete Eklund
By digitizing lending processes for nonprofit and community lenders, Nick Elders '01 is empowering the nation's small businesses in his role as co-founder and president of SPARK from Ignify Technologies, a Minneapolis financial technology company. We asked Nick about his work, and the role his platform has played in supporting Paycheck Protection Program loans during the pandemic.
Q: How did a kid from rural Washington land at Macalester?
A: I came with my mother from Lake Quinault to play football, though I didn't know how elusive football success had been for Mac.
Q: And how did you decide to major in economics?
A: It was a completely serendipitous choice inspired by teammates. Then it seemed a sensible path to a good job.
Q: How did you find your first professional job?
A: I contacted my Mac economics professor Karl Egge and asked him if he knew of anything. He mentioned a little Minneapolis nonprofit called the Community Reinvestment Fund (CRF) that needed help on a data project.
Q: What did you do for CRF?
A: I started in a fundraising role, but quickly became the IT manager. CRF had a progressive outlook regarding technology and its ability to solve problems. Back in the early 2000s, there wasn't software on the market to do the work we needed, so we built custom solutions ourselves.
Q: And what was CRF's work?
A: Originally, CRF purchased loans from other nonprofits, pooled them together, and then connected private capital to purchase the assembled pool. We were an intermediary connecting Wall Street to Main Street and the technology we built streamlined this process. When the recession hit, though, CRF's business model morphed from a behind-the-scenes intermediary into a direct lender making Small Business Administration loans. Erik Swenson '00 and I started a project to create technology to simplify the SBA process, which had been widely known as slow and cumbersome.
Q: Is that SPARK's origin?
A: Yes. During the recession, we saw financial technology companies like OnDeck, CAN Capital, and even PayPal getting into business lending, which made it easy yet expensive for small businesses to borrow. Their pitch was: "Apply online now and get your money in minutes, not months." It essentially became payday lending for small businesses.
Q: Isn't that a rough path for small businesses?
A: Absolutely, because the rates and terms are so high. We thought nonprofit and community lenders, with their products and services, could offer an even better experience— they were just missing a technology partner.
Q: And what was your solution?
A: We created the software to help them originate loans, then sold it to as many as we could find. We built a similar experience to fintech and offered it to community lenders so they could better compete. The initiative was so successful, we ended up spinning it out of CRF as a separate, standalone business. Today, our lenders create more sustainable, contemporary models with our technology as the backbone for their lending, while the businesses don't have to choose between speed and price. Our lenders grow with their small businesses, not from them.
Q: What motivates you to do this work?
A: I know the challenges small-business owners face. In the late 1980s, my father entered business for himself as an independent log truck driver. Getting into the car one day, his back went out. He spent six months on the living room floor and our family of six faced some tough times before he was forced to close down the business and start working for an established company. My father was willing to take the entrepreneurial risk, but he didn't have the right mix of capital and advisory services to grow his business.
Q: How did that influence your personal mission?
A: I want to help small businesses, the heart of our American economy, grow. When small businesses thrive, people in our communities rise.
Q: How did the pandemic impact SPARK?
A: We spent 2012 to 2020 dialing in our product and gaining incremental market share, making about two thousand business loans and crossing the $1 billion threshold in late 2019. We felt good about that. When COVID-19 hit and [Paycheck Protection Program] loans emerged, we made some minor modifications to our technology and pushed out a PPP product immediately. Over three months, our platform processed 45,000 PPP loans totaling $7 billion.
Q: That's an absurd jump.
A: No kidding. There were nine of us in the business and a lot of twenty-hour workdays. We helped our lending partners become much more agile and responsive as they became frontline financial responders to the crisis.
Q: How did that change your feelings about SPARK?
A: It brought me so much closer to the work. We saw how people were relieved and overjoyed, even brought to tears when their PPP loans would fund. In times of stress and anxiety, we, and our partners, helped people see a brighter future.
Q: Where does SPARK go from here?
A: We're built for something bigger. We structured the company as a public benefit corporation, which gives us the freedom and flexibility to make decisions that maximize social benefit, not solely shareholder value. We're contributing to a more inclusive economy by working with lenders who target underserved populations, and we hope eventually to systemically connect banks and nonprofit lenders so small businesses can access the variety of lending options both offer. That's the moonshot.
Q: And a noble aim.
A: We think so. If a small business is trying to access capital and they qualify for a bank loan, great. If not, we intend to connect them with their local nonprofit lender so they're not going outside this sphere and getting hurt by predatory lenders. We offer a systemic solution that uplifts both businesses and communities.
Daniel P. Smith is a Chicago-based freelance writer.