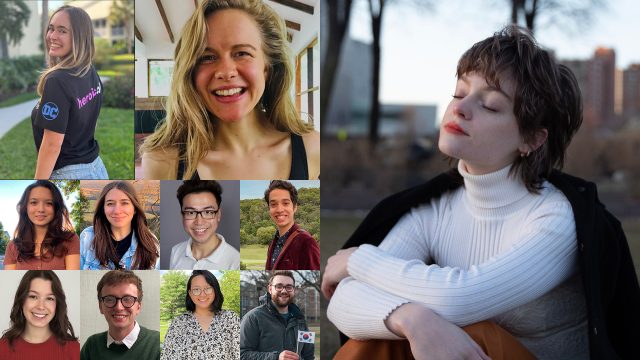 Maccolades is a monthly round-up of the most recent accolades and accomplishments earned by members of the Macalester community. Below are highlights from April 2022. 
Fulbrights galore!
Macalester seniors Katherine Chin, Liliana Brunner, Brian Zou, Marc Mutka, Mary Liebers, Dalton Greene, Angela Nguyen and Shea Husband have received Fulbright U.S. Student Program awards for the 2022-2023 academic year from the U.S. Department of State and the Fulbright Foreign Scholarship Board.
Three students received awards for research: 
Katherine Chin will conduct research in law in Trinidad and Tobago.

Liliana Brunner will conduct research in history in Brazil.

Brian Zou will conduct research in biochemistry in Sweden.
Five students received awards for English Teaching Assistantships: 
Marc Mutka will teach English in Panama. 

Mary Liebers will teach English in Germany.

Dalton Greene will teach English in Greece. 

Angela Nguyen will teach English in Indonesia.  

Shea Husband will teach English in South Korea. 
"These eight seniors are carrying on a wonderful tradition at Macalester of students putting their talent, experience and passion to great use around the world through the Fulbright program," said President Rivera. "We couldn't be prouder." 
A presidential achievement
DeWitt Wallace Professor of Geography Bill Moseley received the 2022 Thomas Jefferson Award. The award honors members of the Macalester community who exemplify the principles and ideals of the third President of the United States. Dr. Moseley is a highly published scholar working in the areas of environment and development policy, livelihood security, and political ecology. Most of Professor Moseley's research has taken place in Africa with extended work in Mali, Burkina Faso, Niger, Botswana, Zimbabwe, South Africa, Malawi, and Lesotho. "I'm most proud of trying to connect my academic work and scholarship to civil society and the policymaking community, because I think good policy and good programs are based on thoughtful research," he said. Dr. Moseley has also been a strong advocate of student research at Macalester. 
Camera ready
Jenny Lion, visiting assistant professor of media and cultural studies, won a 2022 John Simon Guggenheim Memorial Fellowship. The grant will support Professor Lion in completing a body of video work exploring security training, military history, and resonant landscapes in Nevada and Utah. Intended for mid-career individuals who have demonstrated exceptional capacity for productive scholarship or exceptional creative ability in the arts, the fellowships are awarded through an annual competition in the U.S. and Canada. Out of approximately 3,000 applications each year, about 175 fellowships are awarded. 
Statistically significant
Ellen Graham '21, a biostatistics doctoral student at the University of Washington School of Public Health, was awarded the Gertrude M. Cox Scholarship by the American Statistical Association. This $1,000 award recognizes two women each year: one in an early stage of graduate training (MS or PhD) and one in a more advanced stage of training. Dedicated to inclusiveness in medical research, Graham advocates for medical research to include and acknowledge participants who are sex or gender minorities. "We all deserve to be represented in every level of the medical research process, from the participant to the investigator, and I'm excited to continue working towards a more equitable health system," Graham told the University of Washington. 
A crash course in comics
Ashley Allen '21 was selected to participate in the inaugural Milestone Initiative Talent Development Program from DC Comics, Milestone Media, and WarnerMedia. The program creates access and opportunity for Black and diverse storytellers in the field of comics. During an immersive 10 weeks, participants can learn from industry experts and sharpen their storytelling skills. "I'm excited to have the chance to learn from and with like-minded writers and artists who are passionate about telling stories, especially those that can make a positive impact in the world," said Allen. The program will consist of a virtual technical course through the prestigious Kubert School and an in-person seminar at DC's offices in Burbank, Calif. "I took a comic book writing class from Matt Burgess my senior year that prepared me to apply for opportunities such as this one," Allen said. 
Improving sex education in South America
Vanessa Voller, a visiting assistant professor of International Studies, received a Fulbright Research Award. "I am thrilled to return to Pérez Zeledón, Costa Rica and Buena Vista, Bolivia to better understand the impacts of the COVID-19 pandemic on the provision of comprehensive sexuality education and adolescent health services," she said. "I am eager to continue working with young people in both regions to document and analyze where and how global health interventions often fall short." The project will utilize qualitative research methods, including a participatory photovoice element, to provide critical information to local and regional policy-makers, public health officials and educators about how to improve access and achieve health equity. 
More than a golden apple
Dr. Katie Nelson '02 was named a 2022 Educator of the Year by the Minnesota State Board of Trustees. An anthropology instructor at Inver Hills Community College, Nelson has dedicated her career to exploring and honoring cultural diversity and promoting inclusion and equity. The award recognizes consistently superior professional achievement of college and university teaching and service faculty. Nelson eased the financial burden for students by helping to create the first comprehensive, peer-reviewed open access textbook for biological anthropology courses. Available free of charge, it's now used by more than 750 faculty around the world. Nelson told the Minnesota State Board of Trustees: "I am profoundly honored to receive this recognition and newly energized to continue my work. It means the world to me." 
Infinite connections
Nicole Higgins '23 (St. Paul) received the Jakob Laub Prize, a cash prize awarded to an advanced Macalester student for an exemplary paper or honors thesis in the philosophy of science, including mathematics. "I always like to tie mathematics into my philosophy papers, since that's how my brain defaults to understanding the world," said Higgins, a double major in philosophy and applied math. "I was ecstatic to be recognized — especially for my overlapping interests."
Kudos from the Koch Foundation
Much of the conventional wisdom surrounding the future of U.S.-China relations tilts heavily in the direction that the two superpowers are on an almost inevitable collision course toward direct military confrontation. If that prediction were to come true, it would be catastrophic for the entire world. But Dr. Andrew Latham, professor of political science and international relations, thinks this view is shortsighted and even dangerous, and he intends to lay out exactly why in his next book "China's Grand Strategy: A History, 1950-2050." The Charles Koch Foundation recently awarded Dr. Latham $12,800 in support of his book project, which will be published by McGill-Queen's University Press in 2023. Professor Latham plans to use some of the grant to fund a student-researcher to assist with the project this summer.
Setting a precedent
Julian Applebaum '23 (Wellesley, Mass.) was named one of 58 Truman Scholars for 2022. This year saw 705 applicants nationwide. Each winner receives a grant of up to $30,000 to pursue a graduate degree in a public service field. Applebaum plans to pursue a career in appellate litigation focused on civil and transgender rights. "I am trying to work at the intersection between my transgender identity and my love for constitutional law and advocacy," Applebaum said. He plans to apply the funding toward either law school or a year-long graduate program at the Centre for Socio-Legal Studies at Oxford University.
Knowledge is power
Macalester students Yosan Worota '23 and Alice Bruno '23 were awarded $10,000 grants from the Davis Projects for Peace program. The program supports a cohort of students who design and implement their own community-centered, peacebuilding projects during the summer break. Worota's project was inspired by her experience as an Eritrean refugee in Sudan. This summer she will explore ways to increase access to education for refugee students in Khartoum, Sudan's capital city, which has been rocked by ongoing civil demonstrations since 2019. Bruno aims to increase access to sex education in Sicily by providing sex education training sessions for educators. 
Up, up, and study away!
Macalester students Ikran Noor '24, Juan Carlos Pineda '24, and Linda Lor '24 are among the 123 undergraduate scholars across the country to receive a Fund for Education Abroad award. The nonprofit provides scholarships and ongoing support to students who are underrepresented among the U.S. study away population. Noor plans to study human rights law in Copenhagen this fall and will use the $5,000 award for art supplies, transportation, and living costs. Pineda also chose Copenhagen, but for its neuroscience research opportunities. A first-generation college student, Pineda said the award allows for a meaningful study away experience without the additional financial stress. Lor plans to study in Hungary. 
A year of transformative travel
Maya Sobchuk '22 and Maija Hecht '22 were awarded a Thomas J. Watson Fellowship. Each of the 42 recipients from this year's class of Watson Fellows receives a one-year stipend of $36,000, plus health insurance and student loan assistance, to pursue original projects outside the United States. Sobchuk, a double major in international studies and political science, is originally from Ukraine and grew up in Los Angeles. Her project, titled "Remnants of Imperialism in Modern Media," will take her to Mongolia, Namibia, Jamaica, and Hong Kong, among others. Hecht is a creative writing major from Clearwater County, Minn. She plans to travel to Tanzania, New Zealand, Peru, Iceland, and Canada for her project "Bodies of Water: Reimaging Water Stewardship through Storytelling." 
How to be considered for future Maccolades
If you or someone you know recently earned an award, fellowship, or honor and would like it to be considered for inclusion in next month's Maccolades, please let Communications & Marketing know by filling out this Maccolades form. For recent book publications, please use this book publication form.