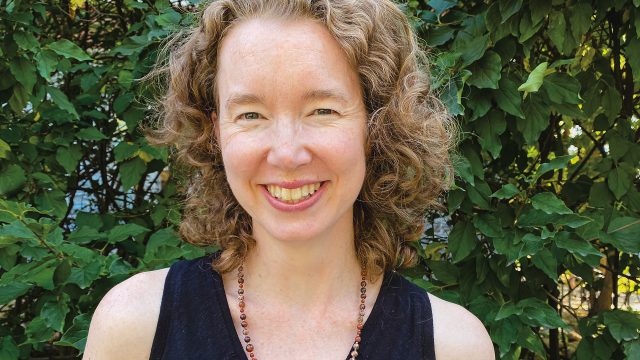 By Talia Bank '23
Religious studies professor Susanna Drake teaches courses in the history of Christianity, biblical studies, and women's, gender, and sexuality studies.
Any standout books you've read recently?
All the Light We Cannot See, by Anthony Doerr. It's set during World War II on a tiny walled island, and one of the main characters is blind. The descriptions of her making her way around through touch and sound—that's fascinating to me. I remember being at the beach and trying to hide from my family so that I could have more time to read.
What's one of your all-time favorite reads?
I could read Michael Ondaatje's In The Skin of a Lion and The English Patient over and over again. Another favorite is Henry James's The Wings of the Dove. I'm one of those people who likes a hundred pages of describing a setting or feeling with little dialogue; that's totally relaxing to me to read. I love when authors evoke a certain emotion that you haven't thought much about because it's so hard to describe. I love being put in that place.
What book is crucial to understanding your academic niche?
My field is early Christian history, but a really important book to me is Saba Mahmood's Politics of Piety: The Islamic Revival and the Feminist Subject. She conducted an ethnography among Muslim women in women's piety groups in Cairo, Egypt—women who are living into the norms. She encourages us to think more broadly about what agency means, and that it's not always resistance to an oppressive norm. That's been important to me in the study of religion and for my current research project on women's veiling practices, where I'm thinking about the ways that women relate to their practices of piety.
What's something you love to read that we might not expect?
I can't read anything serious before I go to bed, so I love to read cookbooks. I've read many more recipes than I've ever cooked, but I'm starting to cook them. And I love looking at pictures in interior design magazines—it's like a visual feast.
What one book would you recommend to everyone at Macalester?
Augustine's Confessions is so much more than an autobiography or memoir; it's a meditation. It's one of those books that I read at age twenty and got one thing out of it, and then read again as I'm getting older and get something else. What he says about memory, time, love—it's just a good book to wrestle with and learn from.