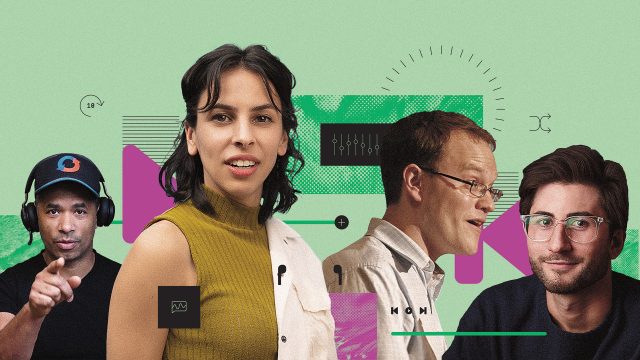 By Marla Holt / Illustrations by Israel Vargas
When theater companies went dark and auditions for voice work dried up in the early days of the pandemic, Katharine Heller '98 was glad her living room was already equipped for podcasting. The New York-based actor, writer, producer, and voiceover artist had been hosting the slice-of-life podcast Tell The Bartender since 2013. During lockdown, the interviews she conducted via platforms like Zoom and Skype in her de facto home office—which includes a large computer monitor, several microphones, a mixing board, and two ergonomic chairs that protect her back during hours of editing—became her lifeline to others.
"I love listening to people talk, and inviting those voices into my home really helped with isolation during lockdown," Heller says.
Heller's idea for Tell The Bartender came from the eight years she spent tending bar in Brooklyn and listening to patrons share their stories. Now, as a podcast host, she invites ordinary people to talk about their lives in a setting that is as confessional and intimate as the bar, treating her guests and their stories with humor and care. In the past nine years, she has recorded 115 episodes, including some personal favorites, such as the episode, "I Didn't Know I Was Nugent," about a restaurateur who discovers his birth father is rocker Ted Nugent, and "Cabbage Patch Dreams," during which Heller and her sister dissect their 1980s obsession with Cabbage Patch dolls.
From 2014 to 2020, Heller also cohosted The Struggle Bus, an advice podcast about self-care and mental health, which at one time made it to No. 7 on Apple Podcasts' Top 10 chart. In 2016, she founded The Podcast Shop, a boutique company offering pre- and post-production and consulting services for podcasters.
"Podcasting is personal," Heller says. "It's a balance of journalism, improv, and performance, and I genuinely want people to feel comfortable doing it."
Although they've only been around since 2004, when media personality Adam Curry launched an audio recording of his everyday life called Daily Source Code, podcasts—downloadable episodic audio programs—are here to stay. (According to Edison Research, 51 percent of Americans aged twelve and older listened to a podcast in 2021, with 32 percent listening at least once a month.) The medium is effective and portable, and a podcast's often vivid and moving content can create a sense of intimacy between creators and listeners.
Heller and fellow Scots Isabella Kulkarni '13, Davy Gardner '14, Rolando Rosas '96, and Curtis Gilbert '02 are just five alumni who are skilled at podcasting. Read on to learn about their work in the medium, as well as how podcasting assignments are expanding the ways that students can present their scholarly work in Macalester classrooms.
Giving voice to stories
Isabella Kulkarni '13 first discovered a knack for audio storytelling during her first job after Macalester. She was conducting intake interviews with refugees and new immigrants to the Bay Area for the International Rescue Committee, an organization that helps people who are affected by humanitarian crises to survive, recover, and rebuild their lives. At the time, she was also listening to a lot of long-form audio journalism, such as Radiolab and This American Life.
"I realized I was already doing the work of looking for stories and voices to amplify," she says, but didn't yet have enough training in radio production. "I didn't know how to make the leap into creating actual podcast stories."
Kulkarni later earned a master's of science degree in journalism from Columbia University. One of her first radio pieces—about the Mister Softee ice-cream truck jingle that is an earworm for many New Yorkers—aired on NPR's Marketplace while she was in graduate school. She has since created and produced podcasts for Gimlet, the New York Times, The Ringer, Radiotopia, WNYC, and Futuro Media Group's Latino USA program. She has also taught the fundamentals of audio reporting and writing at Columbia.
Now a Los Angeles–based producer, story editor, and showrunner for Audible Originals, a division of the audio entertainment company Audible that creates original audio storytelling, Kulkarni develops scripted content for both fiction and nonfiction podcasts. Her work includes The Sea in the Sky, a speculative fiction piece about two astronauts set in a futuristic world when climate change has devastated the planet. Her soon-to-be-released project is an audio documentary about businessman Ed Buck and the intersection of class, race, and drugs.
Kulkarni is particularly drawn to narrative nonfiction, an interest sparked by her work on two podcasts at Gimlet. She produced for Undone, which examined tiny moments in history that had greater ripple effects on society, and also enjoyed reporting and researching for Mogul, a miniseries about hip-hop producer Chris Lighty.
"I love that podcasting is both creative and impactful," Kulkarni says. "There's a performance aspect to it that allows for emotion and intimacy and lets the listener imagine the world that's being created, maybe even better internalize the subject matter because there are no visuals."
Kulkarni is also collaborating with New York-based audio creator and writer Davy Gardner '14 on an Audible Original fictional podcast series.
Gardner is the curator of audio storytelling at Tribeca Enterprises, the multiplatform storytelling company behind actor Robert De Niro's Tribeca Film Festival. He balances writing with leading Tribeca's audio storytelling department and podcasting studios. Podcasting has the power, Gardner says, to deliver exceptionally good stories.
"Audio can be a very visual medium, which sounds counterintuitive," Gardner says. "When I'm writing an audio fiction script, I'll include a stage direction—like the color of clothes or the style of a room—to help the performer visualize the scene. Then the listener can really see it in their mind, as well."
Gardner got his start writing comedy for the Upright Citizens Brigade Theatre in New York City. He moved into podcasting by writing stories performed by actors on Radiotopia's The Truth podcast, which has the tagline of "movies for your ears." For example, his audio story "Married Alive" explores the state of a couple's relationship while they're buried by an avalanche, while "Museum of You" poses the question of creating a museum about your life to use as your dating profile. Gardner also launched and produced four seasons of Wondery's podcast series Against the Odds, an anthology of scripted documentary series paired with personal interviews, such as "The Thai Cave Rescue," featuring the 2018 effort to save twelve boys and their soccer coach trapped inside a six-mile caving system after heavy rains.
"Podcasting, especially audio drama, gives storytelling a different dimension than TV or books," Gardner says. "It's an engaging, immersive experience that's intimate, close, and allows you to be an active listener. If it's done well, you don't want to miss a minute."
Podcasts as digital marketing
Podcasts can tell stories, contextualize the day's news, or provide how-to lessons for practically any skill. The medium is also a useful business marketing tool, says Rolando Rosas '96, the founder of Global Teck Worldwide, which sells office technology products such as headsets, speakerphones, and webcams. "We help people sound and look their best while using these devices," he says.
The company has always offered real-time tech support. But the work-from-home boom introduced an unprecedented demand for home-office technology and, with it, a dramatic increase in customers' need for support. Rosas saw an opportunity to use podcasting as a way to address clients' needs quickly and interactively.
Global Teck Worldwide launched What the Teck? on YouTube, during which he and his guests review products, identify trends, and troubleshoot office-technology problems.
"Podcasting helps us share our relevant knowledge directly with clients," Rosas says. He's found that the conversational tone of What the Teck? has resonated with listeners and been copied by competitors. "Each time we change up our style, from livestreaming to interviewing guests to doing skits and adding animation, our competitors do the same," Rosas says.
"Podcasting is a step toward helping Global Teck Worldwide up our branding," he says. "My advice? If you own a business and you're not podcasting, you should be."
Podcasts in the classroom
At Macalester, professors are embracing podcasts—in addition to research papers or essays—as an assignment that teaches traditional skills as well as clear communication. Students in linguistics, geography, and political science courses, among others, now create podcasts in which they explain their research.
"Students find podcasting fun, flexible, and interactive. Plus, it's relatively easy to do," says Tamatha Perlman, associate director of academic technology services. Her office provides technical support and guidance for faculty members who want to build podcasting into the curriculum. She's also one of the organizers of Macalester's first-ever Podcast Week.
"Podcasting helps students build digital literacy skills while learning to communicate information to a broader, more general audience, rather than a strictly academic one," Perlman says.
It's a valuable experience for the students in "Neotropical Landscapes," taught by assistant professor of geography Xavier Haro-Carrión. The course examines human-environment interactions, including conservation efforts, in biomes and ecosystems from southern Mexico to Chile, and students create case-study podcasts focused on a geographically small area. Their podcast topics based mainly on a review of scholarly literature of the area they're presenting—have included endangered hummingbirds in an Ecuadorian national park, conservation in the Brazilian savannas presented through music, and Indigenous peoples' use of plants from the Amazon.
"The students learn to present their findings and tell a story of a particular geographic area in a new way, which they find entertaining and interactive," Haro-Carrión says. "I was very pleased with the high quality of their work." Students play with aesthetics, adding appropriate texture from the location they are studying, such as the sound of waves, birds, or musical instruments.
Because students were so enthusiastic about the project, Haro-Carrión plans to continue assigning podcasting in future courses. He found the students enjoyed listening to each other's work and participating in an end-of-term podcast showcase to learn more about their peers' process—sort of like an "ask the director" session.
"Students aren't going to read twenty research papers written by their peers, but they'll listen to a classmate's ten- to fifteen-minute podcast," he says. "It's a compelling way to engage an audience, and it forces students to pick an interesting topic, to be clear with terminology, and to share information in a logical way."
American Public Media correspondent Curtis Gilbert '02 and Annie Baxter, an editor at the Wall Street Journal's daily podcast The Journal, co-taught narrative journalism at Macalester in 2020 and 2021. Gilbert also hosts Sent Away, a podcast about Utah's teen treatment industry, and previously reported for the Peabody Award–winning investigative podcast In the Dark.
Students in the narrative journalism course write for both print and audio, which strengthens their overall communication skills, Gilbert says. "They learn something about writing in any given style by writing in a different style," he says. "With podcasting, they learn to write for the ear by hooking their audience with a story that has characters, surprises, and action, with scenes that move the story forward. Structuring a podcast is extremely linear, because listeners rarely 'go back a page' or rewind."
Gilbert notes that many students used the pandemic as a hook or inflection point for their podcasts. One student created a series about her mother, who was a health care worker in the Bronx during the height of the lockdown. Another focused on a portrait photographer who was capturing his subjects through windows and doorways.
The human voice is a powerful and emotive instrument, and it can really pull people into a story they want to keep listening to, Gilbert says. "Audio communication fills a unique niche for people, with podcasting in particular lending itself to engaging and deeply investigative storytelling."
---
Podcasting 101
The generally accepted view of what qualifies as a podcast—a blend of iPod and broadcast—is an episodic series of digital audio files available for downloading and listening to at any time on a personal device. (Remember Serial and its slowly unfolding reinvestigation of Maryland teenager Hae Min Lee's murder and the subsequent arrest and conviction of Adnan Syed? That podcast's compelling 2014 first season, often cited as an audio game-changer, was many people's introduction to podcasting.)
Podcast consumers can subscribe and listen for free on any number of platforms, from Spotify and Google Podcasts to Stitcher and PodBean. The medium is particularly disruptive, given its potential for retailers to reach customers through smaller and more targeted ad buys.
Media personality Adam Curry is considered podcasting's pioneer. In 2004, he launched Daily Source Code, in which he talked about his everyday life, news, and the idea of podcasting. A mere eighteen years later, there are nearly a million podcasts about everything for everyone.
Some podcasts are carefully scripted; others are improvised. Producers can record one at home or in a professional studio. Some are supported by corporations, sponsors, and individual donors, with advertisements or not.
Podcasts, which currently aren't regulated by the FCC the way TV and radio are, are considered social media.
Listen Up
Alumni Isabella Kulkarni, Rolando Rosas, Davy Gardner, Katharine Heller, and Curtis Gilbert enjoy listening to podcasts as well as creating them. Here are a few of their favorites; find them on your chosen platform.
Home Cooking
Hosted by Hrishikesh Hirway, the creator of the popular podcast Song Exploder, during which musicians dissect their songs to tell the story of how they were made, and Samin Nosrat, chef and author of Salt Fat Acid Heat, a James Beard Award–winning cookbook. The pair provides creative inspiration in the kitchen.
"It's a show that anyone can enjoy regardless of the level of their cooking skill. You learn Samin's trade secrets, but more importantly get to hang out with two people who clearly find joy in each other." —Isabella Kulkarni
Slow Burn
This narrative podcast examines watershed moments in history, such as Watergate, the Clinton impeachment, and the police beating of Rodney King and the L.A. riots that followed.
"It's the best kind of immersive storytelling because you get the sense that you're there." —Davy Gardner
The Work Week—After Hours
The hosts delve into issues that affect the workplace, from leadership to career innovation to bad bosses.
"These guys are very good at covering topics that all workers can relate to."—Rolando Rosas
Keith and The Girl
Comedians talk about current events, pop culture, politics, and their everyday lives.
"They get into serious stuff and it's fascinating and hilarious at the same time." —Katharine Heller
Political Gabfest
Sharp political analysis meets informal and irreverent discussion.
"If you're a political junkie, you'll love this. It's three really smart people dissecting politics and policy." —Curtis Gilbert
Homecoming
A scripted fictional mystery about a soldier who returns from war to a facility called the "Homecoming Initiative."
"You listen in to the soldier's therapy sessions. It gets very nefarious, but in an interesting way." —Davy Gardner
Hit Play
Short audio plays written and performed by members of the New York Neo-Futurists.
"This is a shameless plug for the theater company I belong to: A podcast that's the perfect balance of beautiful, funny, and touching." —Katharine Heller
The Lazarus Heist
A true crime news podcast that investigates the 2014 hack into Sony Pictures.
"It involves cybercrime, North Korea, and Hollywood and is really well done." —Curtis Gilbert
Heavyweight
The host tries to fix problems between people, though he's unqualified to do so, in an attempt to change a moment from their pasts.
"This show delivers a satisfying narrative every time—it's both funny and tender. Who doesn't love a well-thought-out show that makes you laugh, cry, and feel all the feelings?" —Isabella Kulkarni
Celebrating All Things Podcasting
Macalester held a campus-wide celebration of audio storytelling with its first-ever Podcast Week in early April. Events included:
How-to-podcast workshops at the Digital Resource Center
A competition for the best student-created podcasts, with finalists broadcast on WMCN Radio
A panel discussion with professional podcasters; presenters included Emanuele Berry, executive editor at This American Life, and Andrew Beck Grace, co-creator and co-host of NPR's White Lies.
Discussions with scholars and experts on the pedagogy of podcasting.
Learn more: macalester.edu/podcastweek.
Marla Holt is a freelance writer based in Owatonna, Minn.