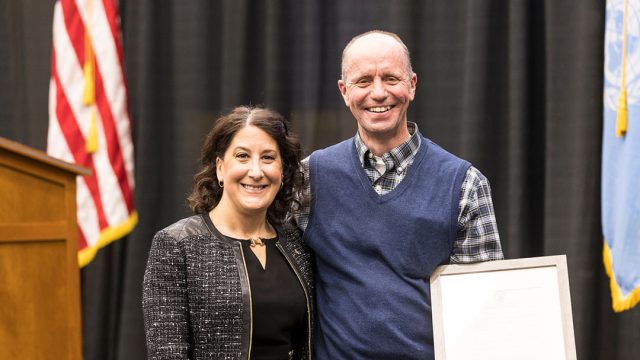 Saint Paul, Minn. – Dr. Paul Overvoorde, vice provost, special advisor to the president, and director of COVID operations, received the 2022 President's Award for Meritorious Service.

The new award was created for the express purpose of celebrating the unique and exemplary work of a member of the Macalester community.

Macalester President Suzanne Rivera announced the award and read from this citation: 
Dr. Paul Overvoorde, as vice provost and as special advisor to the president and director of COVID operations, during two extraordinary years, your work has been central to the success of the college. By supporting students, faculty, and staff as we navigated the many challenges presented by the global COVID-19 pandemic, you made us both stronger and safer.
Your ability to juggle both immediate and pressing needs with longer-term decisions required to manage the health and the operations of the college helped ensure the Senior Leadership Team and campus partners had what they needed to keep us working and learning together as a community.
Your can-do approach in the face of constant uncertainty is the stuff of legends. You seek consensus and strive for clarity, but don't shy away from uncomfortable conversations and tough decisions.
You personified our Mac Stays Safer Community Commitment.
From organizing time-sensitive testing and vaccination clinics, to late-night and weekend "house-calls" in support of students in quarantine, you led by example and modeled servant leadership.
In partnership with Dr. Stephanie Walters, you co-led the Infectious Disease Task Force, where, together with campus colleagues, you wrestled with difficult policy decisions in circumstances that had no precedent. The group made recommendations to the Senior Leadership Team, and you served as a liaison between the two groups, ensuring important insights from each group informed the perspectives of the other.
While we all saw the regular COVID-19 communication that you helped shape, what many didn't see was the deep care and attention you paid to responding to many students, parents, faculty, and staff individually to ensure they had the information they needed in very specific and sometimes frightening circumstances.
Throughout all of this work, you took great care to understand the many and varied needs we all carried, and to support emotionally all members of the community.  
While your leadership during the pandemic has been extraordinary, it is certainly not the only way you contribute to the Macalester community. Faculty and staff colleagues seek you out for advice and counsel based on your more than twenty years of service to the college in your many roles: as a faculty member in the Biology Department, as both associate and interim director of the Jan Serie Center for Scholarship and Teaching, and as associate and then vice provost. As you were managing our COVID response, you also, for a second time in your tenure, assumed responsibility for interim leadership of the Kofi Annan Institute for Global Citizenship. 
Given all you know, and all you do for Macalester, we simply cannot imagine this campus without you.
On a personal note, I also want to share how helpful it has been to me personally to work closely with you over these last two years on our COVID response. It was a very challenging time for me to join this community and the demands of managing our pandemic response felt overwhelming. But, with your steady leadership, it has been possible for us to persevere as a community and, for that, I will be eternally indebted to you.
And so, it is my honor, Professor Overvoorde, to share with you our community's deep gratitude for your incredible support and service. We feel lucky to benefit from your leadership, and proud to call you our colleague.