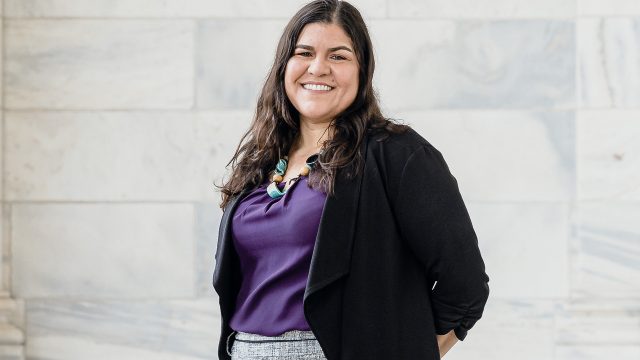 By Laura Billings Coleman / Photo by David J. Turner
Just before Minnesota lawmakers returned to the Capitol this spring, Migdalia Loyola Meléndez '96, Governor Tim Walz's deputy chief of staff for public engagement, convened a few dozen leaders from across the state in an online meeting. The representatives of rural and urban communities, Native communities, communities of color, and disability and LGBTQ+ communities gathered to talk about what to expect as legislators resumed their debate on the fate of an historic $9.25 billion state surplus.
Sitting in her office at the Capitol, gazing into a computer screen, she warmly greeted the online assemblage without a hint of Zoom fatigue. Quite the opposite, in fact.
"I actually find it fascinating to think how much we are able to do now because of video conferencing," says Loyola, who started this position in February 2019, meeting people in coffee shops and hiring staff to handle the various types of constituent contacts the governor's office typically receives each year. When the pandemic hit a year later, limiting travel and forcing office workers like her to log in from home, "there was a lot of grief about what we lost and what we had to adapt to," she says. "But at the same time, all of these barriers we used to think about—How do you bring many people together from different areas? What will it cost? How do you make it accessible?—just got lifted. Now I look back and wonder, why didn't we think of this before?"
Finding ways to make the democratic process more accessible to the people it serves is Loyola's mission as head of the office of public engagement for Governor Walz and Lieutenant Governor Peggy Flanagan. Her position is a first-of-its-kind effort to ensure that the views and voices of those who are far too often underrepresented in state government— including veterans, people of color, Native people, immigrants and refugees, people with disabilities, and members of the LGBTQ+ community—are reflected in the administration's work. Critics on the other side of the aisle originally grumbled about the cost of staffing the new office, which handles everything from requests for proclamations to input about pending legislation, but the unprecedented events of the last two years may have proven the department's value.
"If we had not had this office through COVID and in the aftermath of the killing of George Floyd, it would have been really difficult to be able to maintain that dialogue with community members," Loyola says. While Minnesotans are known for their chart-topping levels of civic engagement, they were even more eager to offer feedback in 2020. During that year, her office handled nearly thirty times the number of constituent contacts than the previous year. "People are living through some hard things right now," she says. "The weight that we have carried as a society, and hearing those stories all of the time, it can be very daunting. But I want to approach every conversation from a place of empathy and understanding, so that people leave that interaction feeling heard,  and feeling like their opinion was valued. At the end of the day, I try to ask myself, 'How many bridges did I build today?'"
A native of Puerto Rico, Loyola came to Minnesota to study international studies and environmental studies at Macalester. After college, she spent two decades working for nonprofits such as Casa de Esperanza (now Esperanza United), Planned Parenthood, and Blue Cross Blue Shield's Center for Prevention. Working with communities on social justice and equity initiatives has been the common denominator in all of her career moves, she says, "though I never imagined myself in government, because when I was at Macalester, jobs like mine did not exist."
But Loyola says she believes more states and local institutions will need to expand their public engagement efforts if they hope to turn the tide on Americans' declining levels of trust in government, especially within communities of color. "Making change—especially legislative change—is not easy," she says. "That is not an accident, because many of our systems were constructed to be exclusionary. There's been a long history of people not being able to be part of the process."
That's why her office also reaches out to communities, making individuals aware of policy proposals and legislative opportunities that may affect them, while actively soliciting ideas for making laws and systems simpler for people in Minnesota to access and understand. Signs of progress include new proposals for making state grantmaking opportunities more equitable for organizations led by Indigenous, Black, and other communities of color, and encouraging a more diverse group of Minnesotans to take part in the open appointment process for the state's 130 boards, commissions, task forces, and advisory councils. Loyola is also proud of how quickly the state translated all of its COVID-19 communications into Spanish, Hmong, and Somali, and how it ensured public health press conferences included ASL interpretation and closed captioning.
"Embedding equity into all of these decisions is not an easy undertaking," she says, "and it came from the community really pressuring and asking for these changes." Now the question facing her office is how to maintain the innovations beyond the pandemic. While swift, sweeping changes are rare in state government, Loyola says that these smaller successes give her hope that more transparent, more representative, and more responsive government systems are possible, regardless of the outcome of November's gubernatorial election. "You're not going to change everything in just three years, but I do hope that we've opened doors in new ways, and that people have seen what's possible for their communities through the legislative process, even when I'm not here," she says. "The more people know how to access government, the more it's going to change their lives."
St. Paul writer Laura Billings Coleman is a frequent contributor to Macalester Today.