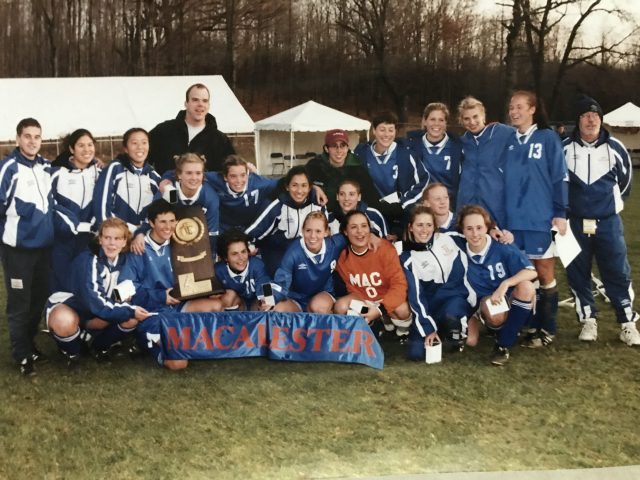 Macalester will name its athletic field after former soccer coach John Leaney.
Coach Leaney came to Macalester as head men's soccer coach in 1986 and two years later also took control of the women's program, which went on to win the NCAA Division III national championship in 1998 and finished second the following year. He retired from coaching as one of the most accomplished winners in Division III history with
489 combined victories,

seventeen MIAC championships, and

twenty-two national playoff berths.
He was also named MIAC Coach of the Year thirteen times, coached nineteen All-Americans, and fourteen MIAC Players of the Year. Beyond that, Leaney was a mentor and leader who made a significant impact on the development of students.
The college hopes to raise $2 million to fully fund an endowment for the field, which would ensure Macalester has a state-of-the-art playing surface for soccer, football, club sport teams, and for the Macalester campus and local community. 
The endowment was established by Becca Van Dyck '91 and Erik Thomsen '91 to honor Leaney. This gift ensures that his legacy lives on at Macalester and his name will forever be a part of Macalester athletics. 
"Coach Leaney's legacy has made a long-lasting impact on hundreds of students," says Donnie Brooks, Macalester's athletic director. "I'm so excited that through the generosity of Becca, Erik, and many others that we can recognize him."
Help honor one of Macalester's most celebrated coaches during our mini campaign August 2-16, 2022. 
The field will be dedicated and renamed the John Leaney Field in fall of 2023 as part of the 25th anniversary celebrating the 1998 National Championship for women's soccer. For more information about this project please contact Tony Jennison, associate director of philanthropic giving, Athletics, at 651-696-6269 or jennison@macalester.edu.