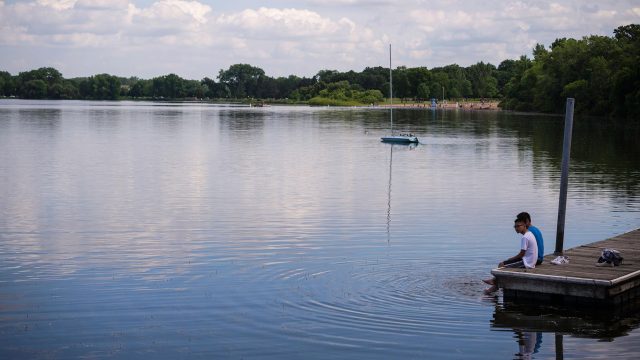 For an intrepid researcher, there are no limits to the lengths they will go to in order to ensure the data they collect represents the diversity of the community they're trying to study and serve. Take, for example, geography professor Dan Trudeau. On May 14, which the city of St. Paul recognizes as Hmoob (Hmong) Day, Dr. Trudeau found himself co-sponsoring a fishing contest at the city's Lake Phalen Park. The goal was not to discover the next great Minnesota angler, but rather to build trust among the diverse people who frequent the park in order for them to feel comfortable sharing their thoughts about the public space – thoughts that are crucial for his research. His project, Lake Phalen Park through the Eyes of Others, asks visitors to participate in a mobile interview, showing where and how they interact with the park and sharing stories about what belonging in public parks means to them. 
Professor Trudeau explains why these diverse perspectives are important to understand and what he hopes will come of his work.  
There's been a recent shift in thinking about the role of public parks in our communities. What has been the dominant view of parks from an urban planning perspective? 
The history is complex. Many American cities were built during the industrialization era, and you start seeing many cities' park systems being built in the 1870s and 1880s as a way to provide an antidote to the grimy, polluting, sprawling land uses of industrial capitalism. There's been this attempt to create these spaces of escape, and cities have inherited these systems and been very focused on maintaining them as an amenity. 
Parks anchor property values because they're desirable places and people want to be there. Since around the post-World War Two era, many cities have been thinking about parks as an investment with an economic return. 
How has that view of parks changed in the last decade or so? 
There's been a shift to think about parks as public spaces, and now we're asking more questions about who gets the benefit of being in the park and who feels welcome. One organization that does a lot of work around this is the Trust for Public Land. They have a systemic comparison of city park systems in the entire United States and every year release a Top Parks list, and since 2010 they've had an equity measurement as part of their index.  
As cities have become more diverse, there's also been a recognition that many underrepresented groups don't show up in parks at the same rate you'd expect their population would. 
Which brings us to your project at Lake Phalen Park in St. Paul. How did this all start? 
This project is one that emerged out of collaboration with Amanda Lovelee, who is currently a visiting professor of environmental studies. I met her through her work at the Metropolitan Council at the Division of Parks and Trails where she is a Parks Ambassador. 
In my scholarship, I study urban planning, planning systems, cultures of planning, and the people who have a lot of influence over how our cities are designed and built and how their decisions affect how others think and act. Amanda is a public engagement artist who works in government. She's really interested in having these interventions to help people feel like they belong and as though parks are an extension of what they consider home. 
One of our shared gripes about the planning process is that oftentimes there are these efforts to access diverse communities and get their feedback, but then it kind of goes into a black box and no one knows what planners take from it. There isn't this ongoing dialogue and community engagement. We both realized that we can complain about this or we could try to do something that would demonstrate another way to operate.
What is it about parks that intrigues you as a geographer?  
We wanted to study a park that was well-used by a diverse community in order to understand people's different perspectives around what the space is for. Part of the recognition that we had is that because parks are complex, not everyone experiences them in the same way. This was made apparent to me in some of the really intense reporting around park-use during the pandemic. More and more people were going to public spaces, parks in particular, but there were these use-conflicts. Specifically, there ended up being a lot of hate speech around Asian people with the bigoted narrative around the "China virus." Local stories surfaced from people in the Hmong community about how they're experiencing a lot of really complicated interactions and even violence in our parks. 
With these stories, it became apparent to me that people have very different experiences in the same park. I didn't know that, and it occurred to me there's so much I don't know. So we wanted to create a way for people to have opportunities to share how they experience a park. 
How did you end up sponsoring a fishing tournament at Lake Phalen Park on Hmoob Day? 
We were initially looking at Como Park as the focus of our study. But in conversations with the City of Saint Paul's Department of Parks and Recreation, they suggested Lake Phalen because it's far more robust in terms of number of visits and diversity of visits. And when you look at the cell phone data for the park, it is remarkably diverse. In fact, it might be the most diversely visited park in the entire Twin Cities area in terms of representation from a variety of groups. 
I started engaging folks in the park in the summer of 2021, and so far I've been really good at communicating with people in English and at getting people who identify as White and middle class to participate.
I've been trying to make sure that I have much broader representation, however, and it has been challenging. So I ended up contacting a state senator who identifies as Hmong and represents the area around Lake Phalen to ask what I can do to connect with Hmong people, and he put me in touch with a community organizer. After a couple months, this organizer told me they talked to people about my project but that no one knew who I was. 
"They don't have a relationship with you and they don't know why this is important for them to do," they said. "But we can change that. And we can change that by having you sponsor a fishing tournament on the next Hmong Day." Everyone loves to fish, they said, and the kids come so the parents come, which makes it a great place to meet people. 
It worked! I now have about a dozen follow-ups with people to do interviews. I left feeling both connected and optimistic about this project in ways that I haven't before. 
You're doing this through "mobile interviews." What's a mobile interview? 
It's an interview where the interviewer and interviewee move around in a setting, and the questions are about experiences in the setting or the setting itself. In this case, we have each participant wear a GoPro camera and tell them to give us a tour of the park as they see it.  The hope is that by being in the setting, people are more descriptive about what information they share and are ideally triggered to remember additional details they otherwise wouldn't have. 
What do you plan to do with the interviews, photographs and videos you're collecting? 
We hope to create a website that allows people to see the curated selections of the videos that were recorded during these mobile interviews. There's a software platform called Story Maps that allows you to present an interactive map so that you can find everyone who went to a particular point in the park and had something to say. The goal of this tool is to try to provide a way to follow through on the adage: "You'd understand someone better if you walked a mile in their shoes." Well, you'd understand the different experiences that people have in parks if you can actually see them through their perspective. 
So we plan to create a publicly accessible website that would provide ways for people to interact with this content, but also some guidance to get at different themes of understanding difference and having solidarity across difference. The hope is that the project helps bring more of an understanding that parks are many things, that people experience them in different ways, and that we are richer for that understanding.
Why does it matter that people view parks in this way? 
This might be high-minded idealism, but I think if we understand that public spaces and parks are these training grounds for how we interact with each other in nonhierarchical ways, that knowledge can transfer to other kinds of interactions and can be a way for us to have respectful interactions that recognize people's humanity and difference.
This tool can be one way of giving people some practical experience in seeing how they are connected to other people that they may not have ever met or maybe never will except through this portal on the internet. 
Parks are built for certain populations without us really knowing about it or acknowledging it. What can we change so that parks are built for everybody? How can we shift the conversation from how people are not being properly supported to being more responsive and welcoming to everyone?