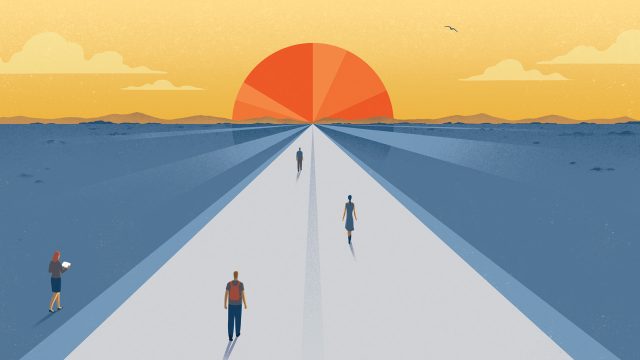 By Erin Peterson / Illustrations by Davide Bonazzi
Macalester is known for its commitment to the liberal arts, its international and multicultural perspective, and its deeply engaged students who want to make a positive impact on the world which is exactly what makes it an ideal school for anyone who wants to succeed in business and entrepreneurship.
If that sentence made you do a double-take, you're not alone. Mac is recognized in many areas, but its success in preparing students for business careers and entrepreneurial ventures can sometimes fly under the radar.
But the numbers don't lie. Economics is routinely among the most popular majors on campus, and in 2019, the last pre-pandemic graduation year, 70 students—a full 13 percent of the graduating class—earned a degree in the field. Mac alumni can be found in top roles at Fortune 500 companies such as 3M and Ecolab as well as at investment banking firms including Goldman Sachs. They've launched and grown successful businesses. And employers say that even when they have hundreds of applicants for roles, the resumes of Mac grads routinely rise to the top of the pile. "In many ways," says Joyce Minor '88, the Karl Egge Professor of Economics, "a liberal arts education can be much broader and more beneficial than a technically oriented degree."
Although Macalester doesn't have a dedicated business major, alumni say that they build the skills they need to excel in business careers and entrepreneurial ventures. Want to know what makes Mac alumni stand out from the crowd? Here's the road map they followed.
Meet your guides
Ali Alizadeh '85
Visiting economics professor at Macalester. He co-founded the private investment firm Hemisphere with Peter Ahn '87.
Caroline Chinhuru '17
Investment officer at Calvert Impact Capital, a global nonprofit investment firm
Liang Ding
Professor of economics at Macalester
Karl Egge
Professor emeritus of economics at Macalester
Kevin England '06
Vice president of corporate development at 3M in St. Paul
Peter Ferderer
The Edward J. Noble Professor of Economics at Macalester
Aaron Gallegos '13
Corporate development manager at 3M in St. Paul
Najada Kumbuli '09
Head of investments for the Visa Foundation in Washington D.C. Previously, she was an investment director at Calvert Impact Capital.
Joyce Minor
The Karl Egge Professor of Economics at Macalester
Theo Nsereko '21
Private equity analyst at Goldman Sachs in New York City
Chloe Vasquez '24
Double major in political science and economics from Denton, Texas
Students start with these foundational courses…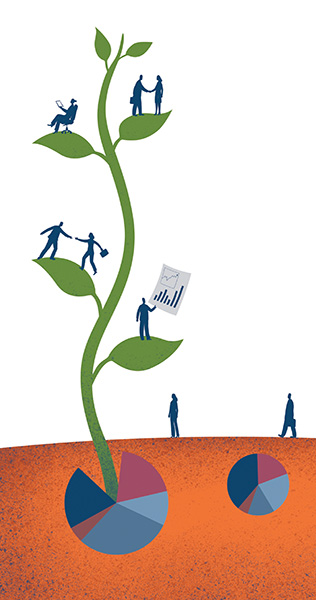 Future investment bankers…
learn the ropes in upper-level economics courses from Liang Ding: Finance, Empirical Finance, and Capital Markets. Students learn to do market analysis, study portfolio management models, and use computer coding techniques to back-test quantitative trading strategies in the market (in other words, they use historical data to analyze the potential value of specific trading strategies). "These are practical, market-based courses," Ding notes. "Students taking these classes are typically interested in investment banking, wealth management, and corporate finance jobs after college."
While budding entrepreneurs…
nab spots in "Exploring the DNA of Successful Startups," taught by Ali Alizadeh. Alizadeh, an entrepreneur himself, gives students an insider's perspective on the logistics of starting a business from scratch, as well as the mindsets that can fuel success. He explains: "I want students to connect to the notion that for whatever they see around them—a cup of coffee, a pair of glasses, a computer—there was someone who looked at it and said, 'Why is it this way?' and 'I can do this better.'"
And all business-minded students…
benefit from "Deals," the quintessential course for students who want to pursue a business career. Dreamed up by Karl Egge and currently taught by Joyce Minor, the course is nominally about specific transactions within the business world or nonprofit sector. But its structure encourages career exploration. A different economics alum shares their trajectory in each class, and students join the speakers at class lunches and dinners. Guest experts come from fields including finance, investment banking, private equity, venture capital, corporate finance, and entrepreneurship. "It's a course that helps students broaden their idea of what's possible, and imagine what their lives can look like after Macalester," says Minor.
Then continue their education outside of class.
The classroom is the first place most students build their business and entrepreneurial chops, but Mac offers plenty of opportunities to apply those skills outside of formal courses.
For example, the Economics Department each year brings sixteen students to New York City to socialize with alumni on Wall Street. "When you have the chance to ask someone questions at a casual reception, you realize that they're more than just their impressive LinkedIn bio," says Minor.
Another popular option is the Mayo Innovation Scholars Program, helmed by economics professor Pete Ferderer and biology professor Liz Jansen.
Teams of five students with backgrounds in either the sciences or economics work together for six months to assess the market potential of new technologies developed by researchers at the Mayo Clinic. "We get them to think about the potential size of the market, competitors in the market, potential licensing partners, development costs, and changes in technology that might offer an advantage or disadvantage," says Ferderer. At the end of the program, this interdisciplinary team presents their findings to the product inventors, project managers, and others at the Mayo Clinic in Rochester.
The experience can often open doors. "Having the Mayo name on your resume is really valuable," Ferderer says. "Students build important skills, and there are a lot of career opportunities within health care."
Others may opt for the eight-week MacStartups program, which runs over the summer and offers students a $4,400 stipend and $500 in seed funding to build and launch their creative ideas. Recent projects have included personal finance apps, home hydroponics systems, and digital mental health tools.
They join these student-run clubs:
Women in Economics supports networking among students, faculty, and alumni.
Students in the Macalester Investment Group manage its real-life portfolio.
The Macalester Entrepreneurship Club hosts events and discussions with entrepreneurs.
(And recognize that you can develop business skills through virtually any activity.)
Theo Nsereko attributes much of his success as a private equity analyst at Goldman Sachs to a surprising source: soccer. "It was huge," he says. "The competitive mindset, learning to work on a team, managing your schedule—it helped shape who I am today."
Caroline Chinhuru, now an investment officer at Calvert Impact Capital, says that her conversations with members of the student organization Afrika! fueled her desire to use her economics degree in ways that could effect positive change around the world. "I had so many conversations with people in which we looked at the world around us and thought, 'This could be better,'" she says. "'It doesn't have to be this way.'"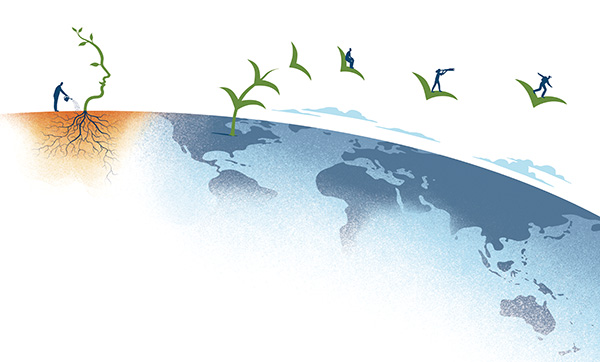 They draw on the distinctive "Macalester mindset."
These five traits have helped alumni thrive in business environments.
Critical thinking: Joyce Minor will be the first person to tout the value of practical, applied courses for students who want to pursue business careers—and she adds that the core economics courses provide students with a powerful foundation of knowledge. But she's also quick to add that these classes are not enough. "It doesn't matter if you've taken fourteen finance courses if you can't figure out how to solve a problem," she says. "Critical thinking is a key skill developed in a liberal arts education, and that's beneficial for any business career."
Flexibility: Aaron Gallegos of 3M is grateful for the kind of curiosity and mental agility that he honed at Mac. "You can learn all about different concepts, but the reality is that nothing in business is ever how it's 'supposed' to be," he jokes. "You're dealing with many different problems or challenges that you've never thought about before. And when that happens, you've got to find a creative way to solve a problem."
Global Mindset: Caroline Chinhuru says the international perspective she internalized at Macalester has been particularly useful in her work at Calvert Impact Capital, a global nonprofit investment firm. "I work with people from so many different countries," she says. "Everyone comes at an issue in a different way. Although I don't always agree with them, being able to appreciate those differences and communicate effectively with people who are different from you is a really valuable skill set."
Ethics and Integrity: "Macalester students want to change the world," says Ali Alizadeh. "And they want to do that in an ethical, principled way. They're driven to do well, and they're driven to do good."
Commitment to Inclusion: Theo Nsereko of Goldman Sachs says that Macalester's attention to diversity and inclusion was something he'd mostly taken for granted—until George Floyd's murder pushed those discussions to the forefront, both nationally and within the smaller world of Wall Street. "It didn't occur to me that in the rest of the world, it wasn't the norm to have these kinds of conversations," he says. In discussions of systemic racism and how to achieve equity, "people on Wall Street were often pushed out of their comfort zones," he says. "But I was comfortable discussing those topics. That was a real benefit."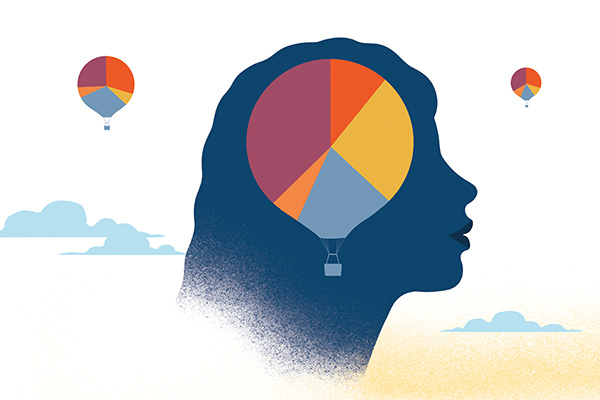 They pursue the work they find meaningful…
Why do Mac alumni and students decide to work in business or pursue entrepreneurship? We asked a few to share what drives them.
They seek a challenge: "My favorite part of my job is tackling really hard problems with great teams. I am very lucky to be able to work for people that I really look up to in my current role and in prior roles." —Aaron Gallegos
They get to work across many different fields: "I really appreciate the opportunity to work on deals in a multitude of sectors including technology, health care, consumer goods, industrials, and more alongside interesting people who are passionate about investing." —Theo Nsereko
They make a broader impact: "In my roles within the impact investment ecosystem, I get to use capital to drive not just financial returns, but social and environmental returns." —Najada Kumbuli
They create something new: "I have a project plan to start anti-venom companies in places that don't have anti-venom made for their region." —Chloe Vasquez '24, who used the principles from the "DNA of Successful Startups" course to develop a product idea after her mother was bitten by a venomous snake.
Then return to help the next generation.
Aaron Gallegos can trace many of his roles back to Macalester connections—including his current role at 3M, which he learned about, in part, from Kevin England '06. It's one of the reasons he's always happy to help a Mac student, and when students reach out for a call, he's an open book. "I'll always talk to a Mac person for twenty minutes," he says.
Building on a longstanding collaboration between Alumni Engagement and Career Exploration, Macalester recently has increased its investment in supporting the alumni network for all majors and career paths by dedicating a staff position as a liaison between the two offices, to help facilitate more of these connections through networking programs on and off campus. After seeing alumni in his classes while he was a student, for example, Gallegos has been thrilled to return to campus to speak in Joyce Minor's investment banking class multiple times. Says Gallegos of the full-circle moment: "The first time was pretty surreal."
Joyce Minor likes to joke that the alumni network resembles the kids' game Barrel of Monkeys—one alum will lend a helping hand to a graduating student or young alum, who will go on to help future grads years down the road. "Any alum can start a chain, and other alums will help keep it going," she says. "I'm so thankful to the many alumni who pay it forward by helping current students."
The six degrees of Karl Egge
Spend enough time with most Macalester economics alumni working in business today, and you'll probably discover a connection back to Karl Egge. Egge, who developed the alumni-focused Deals course in 2006, has nurtured relationships with Macalester students and alumni in business since 1970.
"Whenever my group was looking for junior people, I knew I could email Karl," says Kevin England of 3M. "He'd have his Rolodex and could reach out to five or ten people."
Egge takes his role as a career matchmaker seriously. "If you didn't grow up with parents who could tell you how to get business internships, you might not know that you were supposed to do that," he says. "Someone has to lead you to the water—and then you can drink it."
Joyce Minor, who now teaches the Deals class and who also connects alumni and students, describes Egge's work as building a "family tree" of economics students and alumni. She's committed to maintaining what he started. "At the root of all of it is Karl," she says. "I see myself as the watering can who helps keep those amazing roots alive."
Here's how the Mac alumni community works:
In 2009, Margot Kane '02, who at the time worked at Calvert Impact Capital, learned that Najada Kumbuli '09 was looking for her first job. The two met for coffee before Kumbuli interviewed—successfully—for a position as an analyst at the organization.
Years later, Kumbuli was looking for someone to fill an analyst role and reached out to her Macalester professors to get a handful of recommendations for candidates—and at the end of the interview process, Caroline Chinhuru '17 had risen to the top of the pack.
Chinhuru has since had the opportunity to introduce other Macalester students to Calvert Impact Capital, and after an informational interview with Preeta Raghunathan '19, Raghunathan was hired as an investment analyst and spent two years in the role.

Erin Peterson is a Minneapolis-based writer.