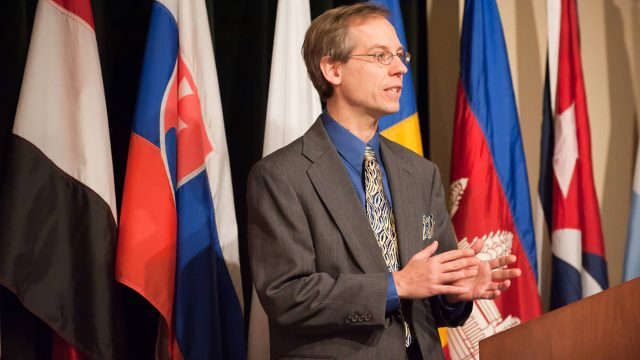 By Talia Bank '23
Sociology professor and legal studies codirector Erik Larson teaches courses on the sociology of law, economic sociology, and comparative-historical sociology.
Any standout books you've read recently?
Halfway Home: Race, Punishment, and the Afterlife of Mass Incarceration, by Reuben Jonathan Miller, is based on participant-observation research Miller conducted with people who had been released from incarceration and draws on his observations of his own and his family's experiences. It gets to the wider cultural understandings that we place on people trying to become part of society again after they've been stripped of societal membership.
What's one of your all-time favorite reads?
Independent People, by Halldór Laxness, is a novel set in the early twentieth century about a poor farmer in rural Iceland whose main goal is to not have to depend on other people. The book has sharp, witty criticism of the widely held belief that being independent makes life good. Yet, Laxness portrays the main character as a whole person, helping a reader get a sense of how people come to believe in that fantasy.
What book is crucial to understanding your academic niche?
I'm going to cheat and list two. The Common Place of Law, by Patricia Ewick and Susan Silbey, shows how law endures as a powerful structural and cultural force by giving us flexible ways to enact ideas from law in everyday life. The Sense of Dissonance, by David Stark, gives insight about innovation, ideas, and thinking. Stark persuasively shows how innovation emerges from the interplay of values in tension, by combining things in new ways.
What's something you love to read that we might not expect?
One not immediately related to questions that I teach about is Sevens Heaven, by Ben Ryan. He was the coach of Fiji's men's rugby team that won the gold medal at the 2016 Olympics in Rio—the first Olympic medal in the country's history.
What one book would you recommend to everyone at Macalester?
An odd recommendation: The Oxford English Dictionary is twenty volumes; it takes up a lot of shelf space. But it is such a great dinnertime thing—a word comes up and it's like, "Wait, have you ever thought about that?" We look it up together, and flip through the volume to see what else is around it. There's something about that experience of serendipity.