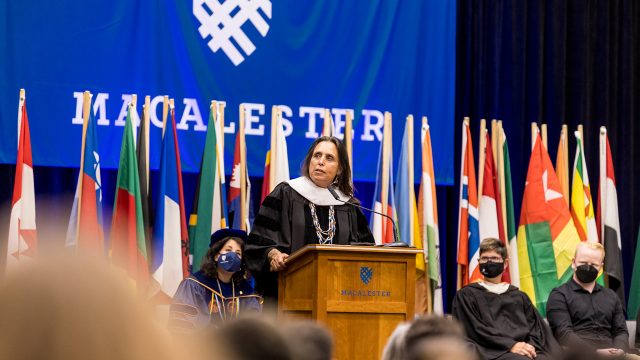 On September 1, 2022, Macalester College President Suzanne M. Rivera presented Winona LaDuke P'13 with the honorary degree of Doctor of Humane Letters. The renowned activist, author, environmentalist and parent of a Mac alum was on campus to receive the honor and deliver the keynote address for the college's annual First Thursday celebration. 
"How are we going to make a peaceful future? How are we going to take a green path?" LaDuke said in her remarks to the Macalester students, staff and faculty in attendance. 
"It is upon us to make something beautiful … and we are in a place to do that … It is a time of great challenges, but we are here with a fifth of the world's water … It is a place to be a water protector because, without water, there is no life, and we have much to care for with opportunity and responsibility … This is also a place where the movement for Black Lives Matter was renewed with the death of George Floyd. This is a place of great histories and social movements being born here and carried on through generations. And you are born and you are living in this place of great movement. Hold your head up proud to see that movements change the world … And then remember that education is inside a school and it is also in the society in which we live … We need you. We need your good minds, your critical thinking, your good hearts, because the fact is … that the solutions to the problems we have today are not likely to be found in the paradigm which created them … We have such great wealth to draw from and such great spiritual opportunity to be the ones that do something beautiful."
President Rivera's honorary degree citation for Winona LaDuke
Winona LaDuke. Economist. Activist. Author. Farmer. Environmentalist. Leader.
You've said there's no such thing as a "social-change fairy . . . only change made by the hands of individuals." For decades, you have fought for change through collective action. You are driven by a deep commitment to interwoven solutions that lift up Indigenous rights, renewable energy, sustainable development, local food systems, and grassroots organizing.
After studying rural economic development at Harvard University, you moved to the White Earth Reservation in northern Minnesota, where you worked as a high school principal and completed a master's degree. In 1985, you helped found the Indigenous Women's Network. Soon after, you founded the White Earth Land Recovery Project, an organization dedicated to recovering the reservation's original land base, strengthening cultural heritage, and fostering sustainable development. You served as that organization's executive director until 2014. In 1996 and 2000, you ran for vice president of the United States on the Green Party's ticket with Ralph Nader. In the face of environmental destruction and the escalating climate crisis, you have sounded the alarm and made sure others are listening.
Today you run Winona's Hemp & Heritage Farm on the White Earth Reservation and serve as the executive director and co-founder of Honor the Earth, an organization that raises awareness and support for Indigenous environmental initiatives. You lead the community development initiative Akiing as well as the Anishinaabe Agriculture Institute. You are the author of many books, most recently To Be A Water Protector: The Rise of the Wiindigoo Slayers. You also are part of our Macalester community as a parent of a 2013 Mac grad. At every step, you have built webs of support when gaps existed and persisted, and amplified voices and stories that others have tried to silence.
You have described Ojibwe as a language of eight thousand verbs, fitting for what you call a people of action. Today we honor you for all of the action for which you have pushed, and all the action you've empowered others to take. Your work has shaped the present and will create a stronger future.
We hereby bestow upon you the degree of Doctor of Humane Letters, honoris causa.