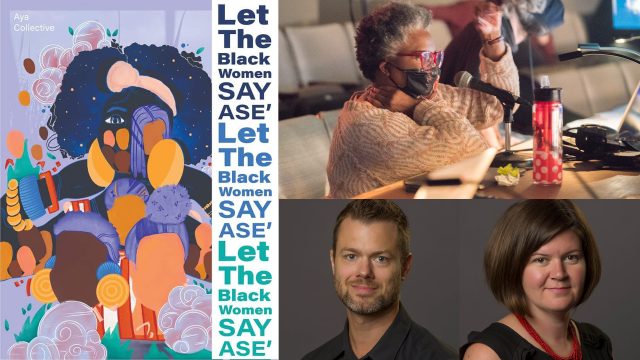 Maccolades is a monthly round-up of the most recent accolades and accomplishments earned by members of the Macalester community. Below are highlights from September 2022.
Bragging writes
Jake Mohan, a writing counselor and instructor in the Macalester Academic Excellence (MAX) Center, received the Martinson Award for Innovation from the Small Liberal Arts Colleges-Writing Program Administrators. Said the award committee: "Over the past several years, MAX has championed the needs of multilingual writers and equitable writing practices through new tutor education materials and a revised mission statement. While many centers have engaged in antiracist practice with attention to multilingual writers, what impressed us most about the work of MAX is how it engaged faculty in changemaking." 
Mohan is a resource for faculty who aim to make their feedback on student writing more humane and inclusive. "I appreciate the public recognition of the work we do in the MAX Center to make the college a more welcoming place for all students, especially for those who wish to develop their academic writing skills," said Mohan. 
Dance film honors those impacted by 9/11
Karen Charles, a visiting artist in the Theater and Dance Department, received the Best Music Video/Performance award from the New York City Film and Television Festival for her dance film Out of the Ashes. The production was Charles' first foray into the collaboration between concert dance and film. 
"Out of the Ashes honors those impacted by 9/11 and asks whether we can resurrect a better way of living from this tragic event," she said. "This piece was originally commissioned by the Ordway Center for the Performing Arts for a live performance piece. Covid serendipitously necessitated re-imagining this work via film."
Taking center stage
History professor Katrina Phillips received the 2021 George Freedley Memorial Award from the Theatre Library Association for her book Staging Indigeneity: Salvage Tourism and the Performance of Native American History. The $500 award honors exemplary work in the field of live theater or performance. 
"My love for theater is partly what drove me to write this book," Dr. Phillips said. "I trained as a dancer and as an actor before becoming a historian, so having the ability to combine my work as a historian with my knowledge of the performing arts allowed me to shape this book in a way that spoke to who I am both within and outside of academia."
Enriching institutional equity
Reverend Kelly Stone, chaplain and associate dean of the Center for Religious and Spiritual Life, was selected for the inaugural cohort of the Leadership for Social Justice Program at United Theological Seminary of the Twin Cities. This tuition-free nine-month continuing education program assists clergy in developing and deepening contextually-sensitive, sustainable, and community-based ministries in social justice. The program will support Rev. Stone in reflection and action designed to enrich her work in institutional equity at Macalester. 
"Work done through this cohort will be context based, meaning Macalester will be a site for exploration and implementation of learning," she said. 
Elevating Black women's stories
Ebony Aya, program manager for the Jan Serie Center for Scholarship and Teaching, published a new book called Let the Black Women Say Ase', a collection of essays, short stories, and poetry from more than 20 Black women. 
"Asé is a word of affirmation, of agreement, that the storytellers in this anthology give to each other," said Aya. "Rather than solely looking for that affirmation from the outside world, the storytellers gather together to share and bear witness to the life unfolding before them." 
The book connects to a course Aya teaches at Macalester called Endarkened Feminist Epistemology. "The class focuses on the importance of Black women remembering ourselves and our spirituality," she said. "The book also relates to my work in the Serie Center in terms of expanding and transforming our pedagogy in such a way that dominant voices are not the central paradigm."
Holding court
Macalester graduate Gordon Gallagher '91 was nominated by President Biden for the United States District Court for the District of Colorado.
Lifting up other women at work
Macalester graduate Catherine Brown '01, partner at Oliver Wyman Financial Services, was named in the 2022 "Top 100 Women Executives" list by INvolve, a consultancy and global network that focuses on diversity and inclusion in the workplace. Brown was recognized for her mentorship of and advocacy for women, as well as the company's ranking increase during her tenure.
Remarkable rankings
US News & World Report has again ranked Macalester among the top liberal arts colleges in the nation, including 9th for most innovative and 11th in undergraduate teaching. The Washington Monthly, which places a high value on public good, recently ranked Macalester 16th among all liberal arts colleges, and Princeton Review ranked the college #4 on its list of "Top 20 Best Schools for Making an Impact" in the private schools category. 
How to be considered for future Maccolades
If you or someone you know recently earned an award, fellowship, or honor and would like it to be considered for inclusion in next month's Maccolades, please let Communications & Marketing know by filling out this Maccolades form. For recent book publications, please use this book publication form.