Spring Break Schedule
The MAX Center will close for Spring Break at 4:30 p.m. on Friday, March 9, and reopen at 7 p.m. on Sunday, March 18 to resume its regular hours:
Mon – Fri 9:00 a.m. – 4:30 p.m.
Sun – Thu 7:00 – 10:00 p.m.
Visit us for assistance with writing, science, math, economics, study skills, and time management! Make an appointment by following the links in the right-hand menu, or just stop by.
What's New at The MAX Center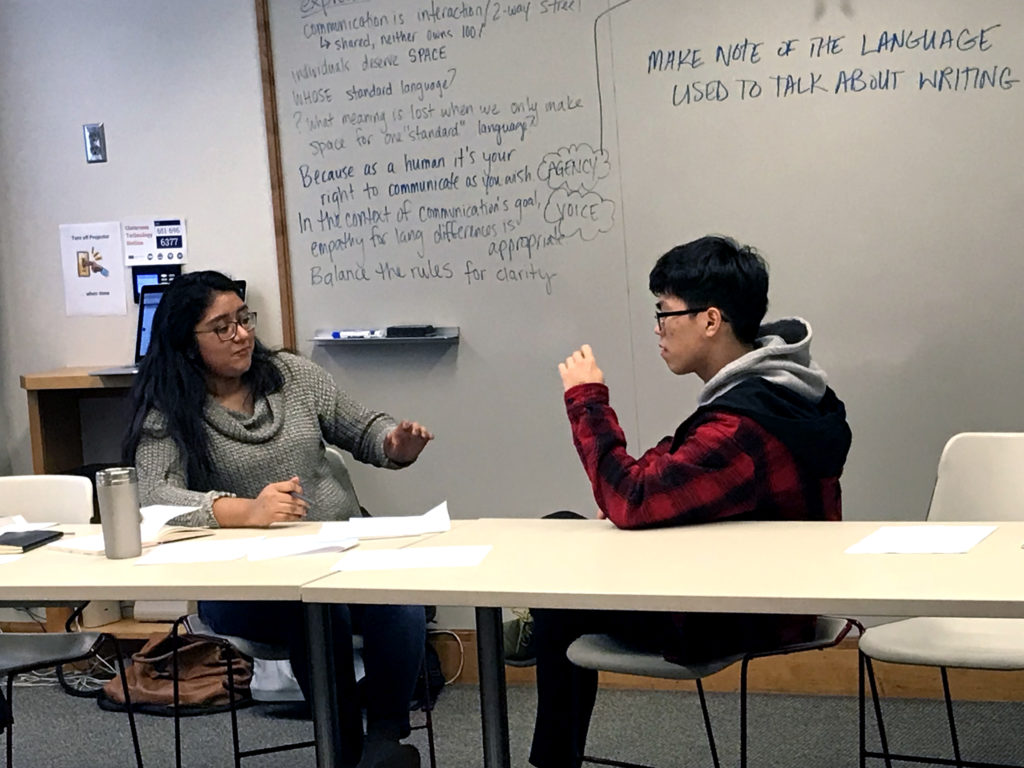 MAX Center writing tutors Iridiana Magana '20 and Jeongyeob Hong '20 visited ENG194: Writing in U.S. Academic Culture to model a tutoring session and talk about effective writing feedback. The course, offered for the first time this semester, is led by Dr. Jacqueline Schiappa, the Mellon Postdoctoral Writing Fellow, with assistance from Jake Mohan, MAX Center Writing Counselor. Photo by Jake Mohan.
The MAX Center: Where underprepared students prepare, prepared students advance, and advanced students excel.
The MAX Center assists students with:
the disciplines of math, science, and writing
the skills required for good time-management and study habits
building a culturally diverse learning community
academic accommodations for students with documented disabilities. We offer individual and group assistance at no charge in mathematics, biology, chemistry, writing, study skills, time management, and other areas.
Beyond classroom work, we provide assistance with:
capstone papers and honors projects
personal statements and applications for scholarships
study-abroad programs
graduate school and professional school
preparation for graduate school examinations
When Is a Tutor Available?
Note that the math and science calendars do not show scheduled appointments, only tutors' scheduled work hours.
Contact Reports MAX Center clients and tutors can report an appointment here.
Tutor Resources (private Google doc)