MSCS @ Mac
The largest department at Macalester, we graduate a diverse group of 70–90 majors each year. Many Mac students enter with substantial previous work in mathematics or experience with computers; others start with little background. We tailor our program to both kinds of students—there is a place here for you.
Headline News
Brent Hecht Discusses the Ethics of Computer Science
Brent Hecht was interviewed by Nature about a proposal that computer science researchers should disclose the negative societal impacts of their research or risk rejection during peer-review. Brent graduated from Macalester in 2005 with a double major in Computer Science and Geography. He is now an assistant professor at Northwestern University.  Read more about his interview at: https://www.nature.com/articles/d41586-018-05791-w
Brent will be our Math and Society Speaker this fall on October 18th, 2018.
MSCS Alumni take top honors in 2018 WNAR competition
Anu Mishra and Phuong Vu, both MSCS alumni and Biostatistics PhD students at the University of Washington, took top honors in the 2018 WNAR student paper competition this year! Congrats to Anu and Phuong, along with the other student winners, Katherine Wilson and Kelsey Grinde! Read about their work at: https://bit.ly/2lPQhh1
Mathematics of Political Redistricting Webinar
Karen Saxe will be a panelist on a Webinar for the National Academy of Sciences on the topic of "The Mathematics of Redistricting." Professor Saxe will join Jonathan Mattingly to discuss the mathematics of political redistricting — the process of redrawing congressional and state legislative electoral districts.This is part of the Mathematical Frontiers Webinar Series. It will be held May 8, 2018 at 2 p.m. ET. You can join the webinar here.
Andrew Beveridge Promoted to Full Professor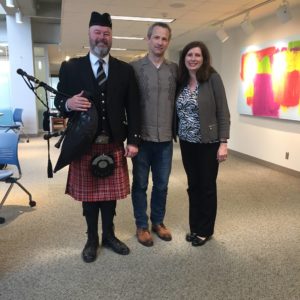 Andrew Beveridge as recently promoted to full professor. The department celebrated with bag pipe music and donuts. Congratulations Andrew!
1st Place in Case Study Category at the 2018 Public Health Scholar Bowl
Macalester's Public Health Scholar Bowl team of: Annalivia Robinson, Emily Hodel, Euijin Kim, Kelsey Porter, Quinn Rafferty, Thao Hoang, and Caroline Duncombe won 1st place in the "Case Study" competition at the 2018 Public Health Scholar Bowl, held at Saint Louis University.  The Public Health Scholar Bowl is an annual competition where teams of undergraduate students come together from around the country to compete in Case Study and Trivia Bowl categories.  The 2018 competition marks Macalester's 5th time competing in the Public Health Scholar Bowl, and our 5th consecutive year with a prize.  John's Hopkins took home 1st place in the Trivia Bowl category.  Congratulations to our team!
1st Place 2018 Math Jeopardy
Math Jeopardy is an annual event hosted by Augsburg University.  Teams from Macalester, Augsburg, Concordia College, and the University of St Thomas compete in this fun Jeopardy themed competition with questions that range from math in pop culture and history to challenging math puzzles.
Prize for Clara Drew (class of 2017)
Clara Drew has won 1st place in the Undergraduate Research Project Competition (USRESP) sponsored by the American Statistical Association (ASA) and the Consortium for the Advancement of Undergraduate Statistics Education (CAUSE). Please see here for more details about this national competition: USRESP. Clara's submission was entitled, "The Halo Effect in Politics: The association between appearance and political success of leaders after a coup d'état", and was based on her Senior Honors Project (completed in Spring 2017).  This marks the 4th consecutive USRESP competition in which MSCS students have won prizes, including 1st place in the past two competitions.
Danny Kaplan wins 2017 Lifetime Achievement Award in Statistics
The Consortium for the Advancement of Undergraduate Statistics Education (CAUSE) has awarded its 2017 Lifetime Achievement Award in statistics education to Danny Kaplan! The award was announced at Penn State University on Friday, May 19th at the Awards Banquet of the 2017 United States Conference on Teaching Statistics. This biennial award is presented to an individual who, over an extended period of time, has made lasting contributions with broad impact to the field of statistics education especially, but not limited to, the teaching and learning of college-level statistics.
Capital Currents

News Blog from Karen Saxe, Director, Washington DC Office of the American Mathematical Society
1st Place Undergraduate Research Prizes
Hope Johnson and Elle Weeks have won 1st place in the Undergraduate Research Project Competition (USRESP) sponsored by the American Statistical Association and the Consortium for the Advancement of Undergraduate Statistics Education. See here for more details about the competition: 
https://www.causeweb.org/usproc/
.  Hope and Elle's project was entitled, "Racial Difference in the Predictive Accuracy of a Recidivism Risk Assessment Instrument".
Muath Ibaid and John Mohoang won 2nd place in the same competition!  Muath and John's project was entitled, "Analyzing the Survival Time of Crowdfunding Campaigns: A case study on 
www.gofundme.com
".
MSCS students have now won prizes in 3 consecutive editions of USRESP: Bryan Martin won 3rd place in 2015, and Omar Mansour and Clare Speer won 2nd place in 2016.
Student Awards at JSM
Congratulations also to James Meyerson and Zach Gilfix (both class of 2016) for their prize winning project, "Managerial Duration Across Professional Soccer Leagues". James and Zach won the 2016 Joint Statistical Meetings Statistics in Sports undergraduate research competition. In their work, they found a nationality bias in Major League Soccer whereby American managers enjoy lengthened survival over their non-domestic counterparts (such an effect did not exist in the other leagues investigated).
Why are There So Few Women Mathematicians?
Article in The Atlantic highlighting recent work of Macalester MSCS professors Shilad Sen and Chad Topaz on the number of women mathematicians holding positions on editorial boards.
Andrew Beveridge wins the Midstates Janet Anderson Lecture Award
Congratulations to Andrew Beveridge, who has been awarded the 2016 Midstates Consortium for Math and Science Janet Anderson Lecture Award. This award is given to faculty members who have vigorous research programs involving undergraduates, who are exceptional mentors for undergraduate research students, who are engaged and skilled teachers, and who create interdisciplinary research opportunities for undergraduate students. Professor Beveridge will give the keynote address at the Undergraduate Research Symposium at Washington University in St. Louis, November 4-5, 2016. 
Data Science Minor Recognized in SIAM News
The Macalester College MSCS Department Data Science Minor is the subject of an article Data Science in the Liberal Arts in the July 22, 2016 "Happening Now" column of SIAM News, the newsletter of the Society for Industrial and Applied Mathematics. The article highlights Professor Karen Saxe's minisymposium talk, "Data Science: A Natural Fit in the Liberal Arts Curriculum" at the SIAM Annual Meeting.