Why Mac for Economics?
Economics at Macalester means a wealth of opportunities both in and beyond the classroom.
Global focus. The college has a long tradition of internationalism and service and the Economics Department is proud of the contributions our graduates make to economic development and expanding opportunity. Almost half of Econ majors at Mac are international students. When you're discussing currency valuation in China, sustainable development in the Serengeti, finance in Dubai, or inflation in Argentina, chances are you're in class with someone who's seen it firsthand.
Quantitative skills. In our cutting-edge econometrics courses and throughout our curriculum, we combine advanced statistical programs with unique, interactive teaching methods. Students gain extensive experience in data processing, coding, estimation, visualization, and experimental design. Many add majors in applied mathematics or computer science.
Collaborative research. Faculty and advanced undergraduate students frequently undertake collaborative research on cutting edge questions and funding is available for summertime research. Honors projects give students the chance to complete long-term independent projects on fascinating topics. Such collaborative efforts often yield publishable papers, look impressive on resumes, and make for great conversation in interviews.
Urban location.  Our location gives students access to internships and jobs just minutes from campus. The Twin Cities are home to 20 Fortune 500 companies, including UnitedHealth Group, Target, Best Buy, 3M, and General Mills, a thriving startup community, and many governmental and non-profit organizations like the Federal Reserve Bank of Minneapolis and the African Development Center. The Twin Cities also offers many recreational opportunities with teams in each of the major professional sports, 949 lakes, two large rivers, the best park system in the country, 58 theaters, 30 museums, many nightclubs and a strong system of public transportation to get to them.
Career oriented. Many classes are practice-focused, providing quantitative, accounting, and financial knowledge and skills that are in demand for real jobs. Our faculty members bring their expertise and industry experience to bear in consulting with you on career development, graduate school applications, internship and job interviews. Our students land jobs across the country and around the world in consulting, investment and commercial banking, insurance, technology, marketing, for- and non-profit start-ups, government, academics, think tanks, and international organizations.
Links for Economics Students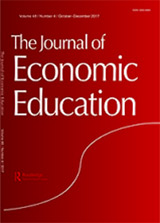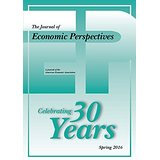 Macalester College is home to Tim Taylor, the longstanding managing editor of the Journal of Economic Perspectives.
Economics in the News
As tracked by Macalester College at Pinboard