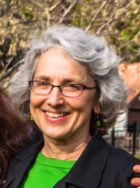 Dr. Minnick joined Macalester College in 2009. She previously held positions in academic administration at SUNY-New Paltz, Michigan State University and the University of Minnesota. As Director of Academic Programs and Advising she is responsible for the following areas:
Academic Advising: Macalester uses a faculty advising model. Academic Programs and Advising manages advising assignments, provides resources and support to advisors, meets with students in academic difficulty, and supports students in major decision-making.
Academic Integrity: The Director investigates reported integrity violations and assigns appropriate sanctions.
Academic Standing: The Director convenes the committee that reviews student performance at the end of each term and communicates the assigned statuses to students and college personnel. The Director and Dean of Students partner in providing outreach to students in academic difficulty.
First-Year Courses: All incoming first-year students are required to take in their first semester a course designed to assist them in their transition to college, specifically to the liberal arts model, and to Macalester's academic expectations of them. First-Year Courses typically emphasize college-level writing and library research skills. Academic Programs and Advising recruits faculty, oversees learning outcomes, manages student enrollment, hires and supports writing assistants, and facilitates associated co-curricular activities.
Honors Program: In the spring of their Junior Year students apply through their departments to conduct an honors project in their Senior Year. Academic Programs and Advising monitors this process, provides logistical support to both students and faculty, and organizes various events to recognize the work of those participating in the program.
Prizes and Awards: Academic Programs and Advising collaborates with departments in recognizing the outstanding performance of students. In addition to managing the disbursement of funds and running several of the competitions, the office coordinates the annual Honors and Awards Lunch each spring.
Scholarships and Fellowships: The majority of scholarships and fellowships that require institutional nomination are managed by Academic Programs and Advising. The Director is responsible for recruitment, mentoring, selection and nomination.
Speaker's Fund: Academic Programs and Advising has resources to support outside speakers making in-class presentations. Honoraria are typically $100 per speaker per course; faculty may make multiple requests per semester/year as funding allows.
Student Travel Fund: Academic Programs and Advising has resources to support student travel to present at academic conferences. Students are typically allowed one $350 award per year through this competitive process.