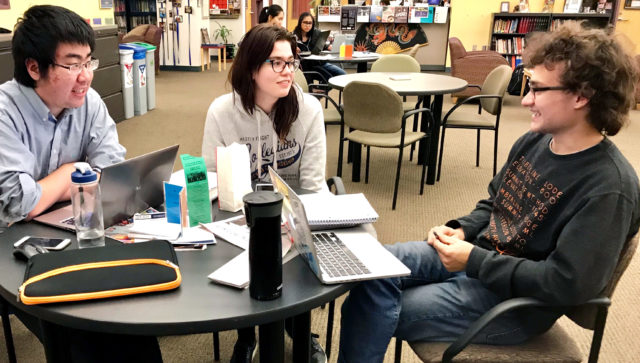 Having trouble balancing academics and life at Macalester?
The MAX Center staff will help you establish learning goals, develop effective learning strategies, and set academic priorities that optimize use of time and learning outcomes.
In either a group setting or individually, you will learn how to get the most out of your writing, reading, and organizational skills.
We can help you develop an individualized approach to your studies that reduces procrastination levels while establishing study routines that fit your working style and personal preferences.
You can also schedule an appointment with our staff counselor by calling or emailing: Becky Graham at 651-696-6602. You are welcome to schedule regular ongoing appointments with Becky.
Study Skills Job Description
Peer study skills tutors meet with students who wish to strengthen their study skills through better time management, more efficient reading strategies, and effective study habits. Tutors participate in weekly tutor training meetings and complete the tutor training program. After completing 25 hours of tutoring, they earn College Reading and Learning Association (CRLA) certification. Study Skills tutors work with students one-to-one or in groups and engage in research and ongoing projects in the MAX Center and on campus. They have excellent writing and communication skills and the ability to work well with individuals and groups.
Study Skills
Time Management
---
Other Resources