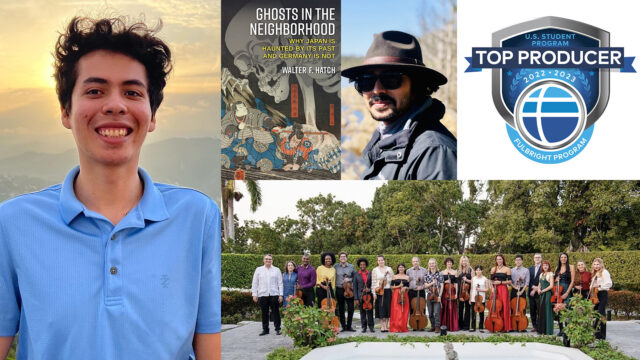 Maccolades is a monthly round-up of the most recent accolades and accomplishments earned by members of the Macalester community. Below are highlights from February 2023. 
A coveted summer plan
Macalester student Juan Pineda '24 earned a position in the Broad Institute Summer Research Program at the Massachusetts Institute of Technology and Harvard. This nine-week program includes a $5,400 stipend, free travel and housing, and the opportunity to present summer research at a national scientific conference. Pineda will work in a lab that focuses on neurodegenerative and neurological diseases. His research interests involve understanding the mechanisms of these diseases and developing possible therapeutics for them. 
"I am excited to do research at the prestigious Broad Institute and associated Harvard Hospitals because it will allow me to make valuable connections, meet like-minded people, and be in charge of my own independent project while receiving help from renowned scientists," Pineda said. 
Honoring 40 years of service to Minnesota courts
The Minnesota Association of Black Lawyers congratulated and thanked the Honorable Michael J. Davis '69 for 40 years of service as a judicial officer in Minnesota. Judge Davis is the first African American judge appointed to the District of Minnesota. In 2008, he became the first African American chief judge of the district. 
"Judge Davis is a legacy MABL member, mentor, distinguished jurist, and benefactor to
Black law students and the larger legal community," said Dana Mitchell, board president for the association, in a statement. "He is admired, respected, and celebrated for his intellect, passion, fidelity to the law, and courage."
A high note in Havana
A string quartet of music students traveled to Havana, Cuba to play alongside Cuban musicians in a collaborative program sponsored by the Cuban American Youth Orchestra. The students received instruction, coaching, and opportunities to perform at the residence of Benjamin Ziff, Chargé d'Affaires of the United States Embassy in Havana. Students included Elisa Gehrke '24 and Roan Floer-Martinez '23 on violin, Olivia Laske '24 on viola, and Ryan Chu '24 on cello. Instructors James Garlick and Tom Rosenberg accompanied the group. 
Their day in (mock) court
A successful run at the regional tournament in Des Moines means Macalester's mock trial team will advance to the Opening Round Championship Series tournament hosted at Macalester from March 10-12. Spud Webb Tu '23 and Yike Zhou '23 captained the team that placed third to secure an advancing bid, which included Will Robertson '23, Amarah Friedman '25, Rylan Mueller '25, Jean Pateman '25, Ainsley Meyer '26, and Chantal Pangula '26. 
Amy Paine '24 and Severin Chmielewski '24 captained the team that received an honorable mention. The team included Ryan Connor '25, David Truman '26,  Nicole Emmerson '26, Willow Albano '26, Kai Tan '26, and Liv Dalby '26. In addition to team success, Friedman and Tan received individual outstanding attorney awards.
Coexisting with nature
A new research paper published in the journal Nature Sustainability and co-authored by Dr. Stotra Chakrabarti, a visiting assistant professor of animal behavior, offers new ways to reimagine conservation that incorporate both human needs and the delicate efforts required to preserve biodiversity. In this Q&A, Dr. Chakrabarti discusses his paper, "Prioritizing India's landscapes for biodiversity, ecosystem services and human well-being," and explains why India is an ideal place to reshape conservation. 
On board for advancing higher education
President Suzanne Rivera was elected to the board of directors of the American Association of Colleges and Universities, a global membership organization dedicated to advancing the democratic purposes of higher education by promoting equity, innovation, and excellence in liberal education. 
The ghosts of global politics
Macalester graduate Walter Hatch '77 published a new book, Ghosts in the Neighborhood: Why Japan is Haunted by its Past and Germany is Not, available for free on Kindle and online. 
A reviewer wrote: "Ghosts in the Neighborhood has an intriguing new take on an old question—Why has Germany managed to reconcile with its neighbors while Japan has not? Hatch's fascinating book explains how international institutions and U.S. policy shaped regional relations, offering important new insights into the postwar global order."
Dr. Hatch is professor emeritus of government at Colby College. "I became interested in global politics and foreign policy during my time at Macalester," he said. "For example, I pushed the college to divest from companies operating in Apartheid South Africa. April Stoltz '77, was co-leader of this campaign!"
Swimming in good grades
The men's and women's swimming and diving teams were named Scholar All-America teams by the College Swimming Coaches of America Association. Coached by Kyllian Griffin, both teams were recognized as posting top 10 team grade point averages. The women's team recorded a 3.73 team GPA  for the 2022 fall semester to tie for fourth among Division III institutions. The men's team registered a team GPA of 3.69 during the fall, which ranks ninth.
Prize-winning sociology papers
Sociology majors Sophia Kaufmann '23 and Stella Kirszner '23 were awarded second and third prizes, respectively, in the 60th Annual Midwest Sociological Society Undergraduate Student Paper Competition. Kaufmann's paper, "Un-Scene: How Responses to Sexual Violence Reproduce Legal Hegemony in the Bay Area's Punk and DIY Community," is based on ethnographic research and in-depth interviews. Kirszner's paper, "Hiding and Hoarding: How the New York City Public School Application Process Reinforces Privilege and Inequality," uses public school data to examine patterns of admission to middle and high schools. 
Looking on the Fulbright side 
The U.S. Department of State's Bureau of Educational and Cultural Affairs named Macalester a top producer of U.S. Student Fulbright awards. Ten Macalester students received 2022-2023 Fulbright scholarships to study, conduct research, and teach abroad. This puts the college in 9th place among baccalaureate institutions and tied for 11th among all schools. As the U.S. government's flagship international educational exchange program, Fulbright is among the largest and most diverse exchange programs in the world.
"We are very proud of Macalester's long streak of being named a top producer of accepted applicants for the Fulbright U.S. Student program. Their success speaks volumes about the talent and compassion of our students, their curiosity about the world, and their desire to make it a better place," said President Suzanne Rivera. 
How to be considered for future Maccolades
If you or someone you know recently earned an award, fellowship, or honor and would like it to be considered for inclusion in next month's Maccolades, please let Communications & Marketing know by filling out this Maccolades form. For recent book publications, please use this book publication form.