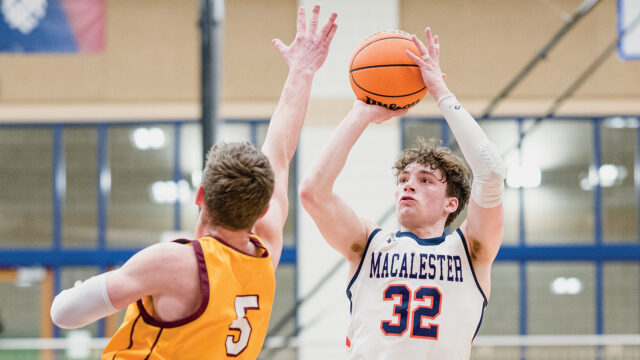 Caleb Williams '24 (Wild Rose, Wis.) was selected to the Division III Academic All-America first team for men's basketball by the College Sports Communicators (CSC) in March. Williams is one of six student-athletes named to the first team, and he is the first Macalester men's basketball player to be named an Academic All-American in the history of the program.
"An amazing and well-deserved honor for Caleb," head coach Abe Woldeslassie '08 says. "He strives for excellence in all that he does and we are grateful to have Caleb at Macalester."
Williams has a 3.91 grade point average as a physics major at Macalester. Last year he earned a spot on the Academic All-MIAC team before making the CSC Academic All-District team last month.
On the court, Williams has emerged as one of the top players in the MIAC and region, earning All-MIAC honors twice while leading the Scots in scoring in each of the past two seasons. This season he averaged 21.5 points per game to rank 23rd in Division III and 3rd in the MIAC. His 74 three-pointers are the second-most in the MIAC, and he also is second in the conference with 1.8 steals per game. In just his 53rd game as a Scot, Williams became the 24th men's basketball player in the program's history to score 1,000 career points. He currently ranks 17th all-time at Macalester with 1,066 points.
The Scots finished another strong season 15–11 with a tough loss of 56–54 to St. Olaf in the MIAC quarterfinals.